Online Sports
Betting NJ Apps
Having explored NJ's online sports betting apps, I've tested each for user-friendliness, features, and reliability. I've compiled the top for the best betting experience. Whether you're seasoned or new, these apps suit your needs.
Approved by
Division of Gaming Enforcement
#

Casino
Rating
Bonus
Hightlights
Play

#1

$25 FREE

On Sign Up

T&C apply

Offer is limited to new customers only.
Terms and Conditions apply to this promotion.
Participants must be at least 21 years old.
This promotion is only available to residents of New Jersey.
All promotions are subject to qualification and eligibility requirements.
Rewards will be issued as non-withdrawable site credit unless otherwise stated in the applicable terms.

No Max Cashout No Playthrough Bonus
MGM online casino NJ promo code: PlayNJFree
Total Casino Sign-up Bonus: Up to $1,025

#2

100% Up to $500

$10 Sign Up Bonus

Deposit Code: CASINO500
Access to 250 top-tier games

#3

Get up to $1,000 Risk-Free Bonus

+ $100 in site credits

Get up to $1000 back
Cashback on Blackjack
Built on GAN's GameStack platform
Best New Jersey Sports Betting Platforms
Wagering on mobile apps can be relatively easy if you find a good sportsbook with impressive offerings. Several best NJ mobile casinos check multiple boxes, but in the end, it all depends on your requirements. Below, we have listed our top six bookmakers that guarantee safety, security, entertainment, and all the good things that would interest you.
First Bet Offer up to $1,000
T&C apply
Offer is limited to new customers only.
Terms and Conditions apply to this promotion.
Participants must be at least 21 years old.
This promotion is only available to residents of New Jersey.
All promotions are subject to qualification and eligibility requirements.
Rewards will be issued as non-withdrawable site credit unless otherwise stated in the applicable terms.
Best NJ Casino Based: BetMGM Sportsbook
This sportsbook offers superb features like speed, reliability, ease of navigation, and effectiveness. Place instant bets using multiple excellent options, including live streams, stats, and parlay builders. The functionality of this app is neat, with all buttons placed properly, resulting in a pleasant gambling experience. Other benefits include; convenience, multiple payment options, promotions, and a loyalty reward program.
App store rating: Android (4.6), iOS (4.8)
Key takeaway: Wide variety of betting options
Best feature: Bet editing
NJ bonus offer: $1,000, code (PLAYBONUS)
2nd Chance Bet Credits up to $500
New Jersey Overall Best: BetRivers Sportsbook
Get access to more payment methods and a 100% match deposit of up to $500 that requires 1x wagering, which is the most generous we have seen in any sportsbook. You can enjoy various promotions from this Rush Street sportsbook that offers a casino and sportsbook and a highly rewarding iRush rewards program that offers loyalty points that can be redeemed on any of its sister casino sites.
App store rating: Android (3.9), iOS (2.7)
Key takeaway: Multiple payment options
Best feature: iRush rewards
NJ bonus offer: $500, code (PLAYRIV)
$1,000 No Sweat First Bet
Top NJ Choice: FanDuel Sportsbook
Another sportsbook topping the leaderboard, FanDuel offers impressive bonuses without a promo code, promotions, wide wagering limits, and various New Jersey sports betting options. They offer exquisite software and are beautifully designed with easy navigation and accessibility. It is also well-known for processing and approving payments quickly and accepting multiple payment options.
App store rating: Android (4.7), iOS (4.8)
Key takeaway: Ease of navigation and tons of promotions
Best feature: Same-game parlay
NJ bonus offer: Up to $1,000
Get started with $1,250 on Caesars today
T&C apply
This promotion is only available to residents of New Jersey.
Participants must be at least 21 years old.
Offer is limited to new users only.
The maximum deposit match bonus is $200.
Minimum wagering must be completed within 7 days to unlock bonuses.
Offer is void where prohibited by law.
Multiple NJ Payment Options: Caesars Sportsbook
Get playing immediately with this simplistic offering from Caesars. Enjoy massive welcome bonuses that may differ from time to time, like the current match deposit reward of up to $1,500 plus a risk-free bet worth $1,500. You get fair wagering requirements, odds boosts, and a superb loyalty reward program. You can also enjoy a user-friendly sportsbook that does the job as needed.
App store rating: Android (4.4), iOS (4.6)
Key takeaway: Simple but effective
Best feature: Props betting
NJ bonus offer: $1,250 (LEGALFULL)
The Best Sports Betting Apps NJ Plus Ratings
There are various online gambling apps in New Jersey so it can be difficult to pick a good sportsbook to place wagers on. We have listed our best NJ sportsbook apps to make this selection easier. Every New Jersey sportsbook meets the selection criteria, offering various sports betting options, bonuses, and incredible odds, and is cleared to operate in the Garden State.
| Sportsbook | Android | iOS | Rating on App Store |
| --- | --- | --- | --- |
| Draftkings | Yes | Yes | 4.8 |
| BetMGM | Yes | Yes | 4.8 |
| Caesars | Yes | Yes | 4.6 |
| FOX Bet | Yes | Yes | 4.5 |
| Bet365 | Yes | Yes | 3.0 |
| WynnBet | Yes | Yes | 3.6 |
| PointsBet | Yes | Yes | 4.7 |
| BetRivers | Yes | Yes | 2.3 |
| FanDuel | Yes | Yes | 4.8 |
| UniBet | Yes | Yes | 3.0 |
Getting Started on a Mobile Sportsbook
After picking your best NJ sportsbooks app from our list of legal and carefully selected options, the next step is downloading the application and signing up. Irrespective of your device's operating system, whether iOS or Android, the procedure to download and install the software is the same, with only a few tweaks here and there. To get started, here are steps you must follow:
Step 1

Choose the right mobile sportsbook

First of all, you need to choose a sportsbook that meets your expectations and offers a wide range of sports and betting options. Also, pay attention to safe payment methods and reliable customer support.

Step 2

Install the mobile app

Download the app from the App Store or Google Play Store once you have selected an acceptable mobile sportsbook.

Step 3

Create an account

After installing the app, enter your personal information and come up with a unique password. Note that some sports clubs require additional verification documents for security purposes.

Step 4

Fund your account

Before you make a bet, fund your account. Many mobile sports clubs offer the following payment methods: e-wallets, credit/debit cards and bank transfers.

Step 5

Become familiar with the available betting options

Take some time to learn about the different sports and betting options available in the app. Many mobile sports betting sites offer betting markets such as moneylines, point spreads, sweepstakes, over/under totals, and more.

Step 6

Place your bet

Select the betting market you are interested in and place your bet after selecting the odds and entering the bet amount. Before you confirm your bet, double-check your bet to avoid any mistakes.

Step 7

Keep track of your bets

Now follow the results and updates in real time. Many mobile sports betting sites offer live streaming and live betting for an even more exciting experience.
If the app you wish to use is unavailable on your device's store (which is highly unlikely), you may need to download the APK from the sportsbook's official website. After downloading the file, head to your settings and allow installations from "unknown sources." Finally, complete the process and start playing!
Top sportsbook NJ Bonuses
After picking an online sportsbook to bet on your favorite leagues or players, the next step is to register an account and start wagering. These sportsbooks typically offer new users bonuses to kickstart their gameplay; most sites offer a casino as well, so you may be able to claim bonuses to play slots, table games, and online poker in New Jersey if you wish. There are three common bonuses to enjoy on these apps.
| Sportsbook | Bonus |
| --- | --- |
| Draftkings | $50 + Up to $1,000 |
| BetMGM | Up to $1,000 |
| Caesars | Up to $1,250 |
| FOX Bet | Up to $1,000 |
| Bet365 | Up to $200 |
| WynnBet | Up to $1,000 |
| PointsBet | Up to $2,000 |
| BetRivers | Up to $500 |
| FanDuel | Up to $1,000 |
| UniBet | Up to $250 |
Deposit bonus: You can claim a bonus following your initial deposit; it may match your deposit to a certain percentage and amount and must be used to wager on games on the sportsbook.
Free bets: These are risk-free rewards that do not require a deposit. Some sites offer certain amounts, up to $50, for you to enjoy wagering on your favorite tournaments.
Risk-free promos: Sports bettors may be able to place risk-free following initial deposits and get returns up to the amount staked if they lose.
Before claiming any rewards, we recommend reading the associated terms and conditions to determine features like eligibility, wagering, and bonus duration.
Sports Betting Options in New Jersey
Those who wish to wager on sports games on NJ sports betting apps must be within the state because every New Jersey sportsbook uses geolocation services, restricting gameplay within the state. Players must not be residents in New Jersey to access the online betting apps; however, they must come within state limits to carry out activities like funds deposits, winnings withdrawals, and staking on the gameplay.
Racetracks and casinos
If you're looking to get into legal sports betting immediately, you can do so physically. Some casinos and racetracks operate licensed wagering within the state. Even before sports betting became legal in the state, regulators offered temporary licenses to these operators, allowing them to immediately offer odds for betting on sports.
One gambling house accepting sports bets is Monmouth Park which was the first in the game, taking a chance on sports betting in New Jersey getting legalized and investing $1.5 million to convert a bar into a sportsbook. Following them, Borgata Atlantic City made its move, stepping in to provide odds from the first day the state legalized it. Some other places you can choose to play include; Ocean Resorts, Meadowlands, Wild Wild West, and Harrah.
Kiosks and self-service machines
Instead of physically visiting these gambling locations, NJ players may use self-service machines or kiosks that allow betting on individual NJ sportsbooks instead of physically visiting these gambling locations. The law also permits this form of sports wagering.
Online sports betting
Perhaps a player favorite, NJ online casinos permit interested players to bet live. Although federal law prohibits online sportsbooks in some states, you can bet on online slots and sportsbooks NJ licensed casino platforms if they are within the state limits. The best sportsbooks provide odds and games that can be accessed via the operator's website or a dedicated casino app that hosts the sportsbook online.
Off-limits options
Not all forms of sports betting are permitted in the state. NJ gamblers are not allowed to bet on games from colleges and high schools; furthermore, they may not place a stake in games that feature any New Jersey college teams like Rutgers. Aside from these, the best NJ sports betting sites allow bets on any games, including professional sports and college games outside the state, using odds such as; money line, parlay, over/under, prop bets, and line. Following the updated gambling regulations, you may also wager on esports on these sportsbooks.
Winnings can be confiscated
According to the law, casinos may split your winnings with the state if you fail to collect them within a year. To prevent this, cash your winning tickets early; you can learn how to by checking the ticket for information or visiting the operator.
Verification using personal information
Money laundering and fraud are big issues states must deal with, especially casinos, as they present a perfect solution for washing cash. To monitor this and prevent fraudulent activities, the state demands certain personal details from NJ bettors. These sportsbooks must collect the necessary personal information from NJ players betting massive amounts meeting or exceeding a $10,000 limit.
Play at licensed sports betting platforms
Sportsbooks require a "sports wagering license" to operate within the state, and defaulters of this law would be prosecuted and could face fines between $25,000 and $100,000. New Jersey players must be careful to sign up to bet only on casinos licensed by the New Jersey Division of Gaming Enforcement.
iOS Sports Betting
Apple is very friendly toward these NJ sportsbooks, and all the apps listed on this page are available for download on all iOS devices, iPhones, and iPad alike. Installing the software onto your device is relatively easy, only requiring you to use the app store. You can bet on all games mentioned above and enjoy multiple payment options to fund your account.
Android Sports Betting
These sportsbooks have lower ratings on Android compared to iOS. This could be because their functionality is not as great or because there are fewer players; there is no guarantee. However, bettors can access their favorite sportsbook software on Google Play Store and download them easily.
Advantages & Disadvantages of Mobile Sports Betting
Betting on sports has become a major part of our lives, serving as a means of entertainment and an additional income stream. Most bettors prefer to engage with their mobile devices to enjoy all that online sports betting offers. Learn about the pros and cons of this method of wagering on sports odds to determine if it is ideal for you:
Mobile Play: You can place stakes from anywhere and at any time

Live Betting: You can stream matches and place bets

Convenience: You get a user-friendly sportsbook app
It may be difficult to utilize an app as you may need to keep scrolling and switching back and forth, especially with live NJ betting, which may lead to lost seconds that can determine the outcome of your odds.

Ease of access may result in gambling addictions if you are not careful.
Best NJ Sports For Betting
If you are new to sports betting, you may wonder about the available betting options amongst NJ online gamblers. Eight main sports betting options are available in New Jersey live casinos for gamblers. This section discusses these options and the best sportsbook app nj for each sport.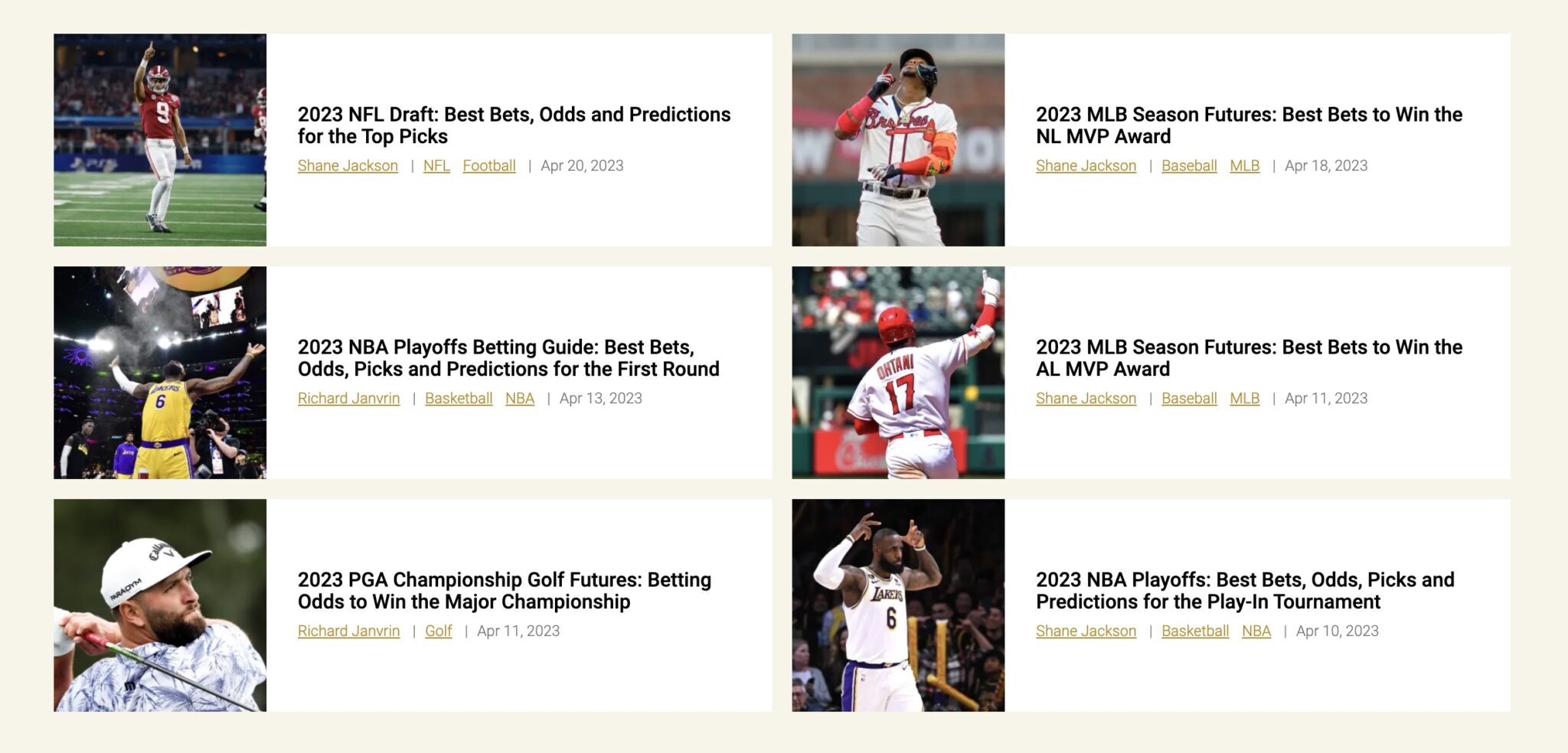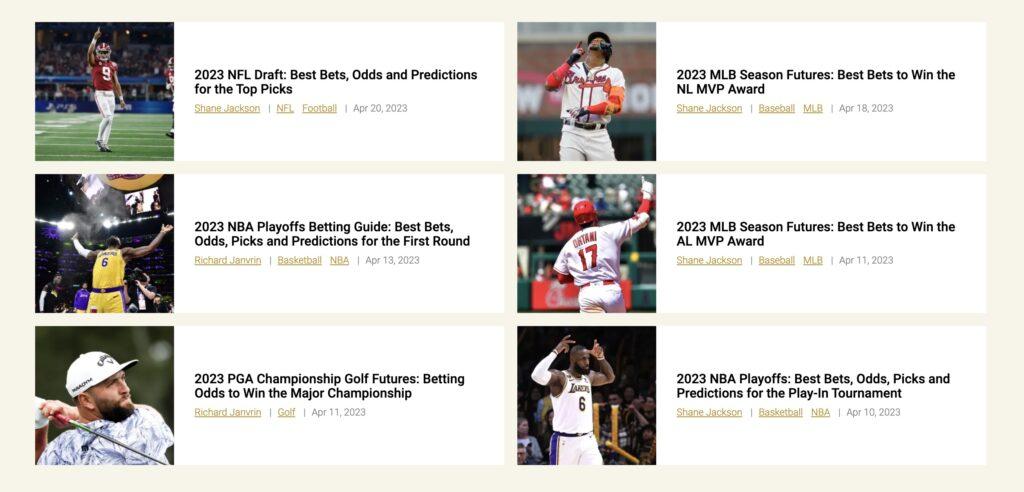 Baseball betting
A baseball is a popular option for NJ sports betting, offering multiple opportunities. With the Major League Basketball (MLB) games, you can access thirty teams and 162 games and a large volume of analytics and trends to calculate.
DraftKings covers each game, providing impressive sports betting lines, incredible money line odds, and props you will love. The sportsbook has a strong interest in MLB, with a history of launching its Daily Fantasy Sports contests with baseball and the sweet bonuses it offers for wagering on these games.
Football betting
Football fans in NJ have plenty of options when it comes to betting on the NFL. The seasonal Super Bowl is a great time to launch into these options, placing stakes on fun odds that pay well for a chance at lucrative wins. BetMGM is the best choice for NFL, offering impressive bonuses and prizes to users, alongside many sports betting options on the pro games, alternative spreads, totals, and same-game parlay. You can claim cash prizes in the "Tackle the Weekend" contest which has a prize pool of $1 million and is free to enter. Other excellent sportsbook platforms include; DraftKings and FanDuel.
NBA betting
Take advantage of the variety of sports betting options basketball offers. Fans can bet Caesars odds with attractive spreads for the NBA and WNBA. You get a massive welcome bonus and generous NBA rewards during the season. Bet low margins on the money line, and with some study of the trends and statistics from a more motivational point than a logical one, you can hit it running consecutively. Don't forget to weigh in on in-game live NJ betting, as the NBA offers wild swings during the gameplay, offering remarkable opportunities to earn from in-game overcorrections.
NHL betting
Betting on hockey can be tricky, with only three markets to choose from: Money Line, Goal Totals, and Puck Line. You get 82 games each from 32 teams during the regular season, resulting in 1,271 games to look forward to.
Our recommended sportsbook for NHL betting is FanDuel, a sportsbook with a deal with the NHL. This partnership means you can enjoy live-streaming and in-game wagering within the mobile app, so there is no need to keep shuffling different apps and screens. Bet on options like goalie props, assists, game props, points, alternate puck lines, player goals, totals, and shots, and a chance to wager on European hockey markets.
College basketball betting
College basketball promises fans variety and game availability. You are spoilt for choice with over 300 teams and conference games regularly lined up. You get up to 500 opportunities multiple times a week, giving you a chance to find high-value returns on your wagers. The non-conference play also offers better handicaps, translating to more opportunities to massive net wins. Don't forget to take advantage of the variety of betting options in March, the NCAA tournament, and other post-season tournaments, all with great odds and value to your bankroll.
Academy Awards betting
This may be new to some, but you can bet on the results of the Oscars nominations. This relatively new option first came into play in New Jersey in 2019 and has gained traction in betting markets. The only market for the Academy Awards is Money Line, and you can place these stakes on the FanDuel sportsbook to a maximum of $1,000.
FAQ for Online Sports Betting NJ Apps
Did New Jersey legalize online sports betting?
Yes, it is. The state allows online sports betting and has a body (The New Jersey Division of Gaming Enforcement) in charge of monitoring and licensing over twenty legal mobile sportsbooks with permissions to serve bettors within state limits.
Which is the best sportsbook NJ platform?
Various leading sites in New Jersey offer players an incredible gambling experience from the comfort of their homes. Read through the review for the best legal NJ sportsbook apps you can place wagers at.
Which apps allow live betting in New Jersey?
You can bet live on your favorite sports using apps from these top sportsbooks; PointsBet, DraftKings, FOXBet, Caesars, FanDuel, BetMGM, Golden Nugget, Bet365, and Hard Rock.
Can I play safely in these online sportsbooks?
Yes, they are. These sportsbook apps are run using secure SSL encryption services and other security measures like advanced firewalls to prevent security breaches that may result in theft of personal or financial information and loss of money.