Book of Shadows Slot Review & Demo
Slot data
Volatility
Medium volatility
Feature
Wild Symbol, Scatter Symbol, Free Spins, Respins, Sub Symbols In Feature
What is Book of Shadows Slot?
This marks NoLimit City's inaugural entry into the immensely popular genre of book-themed slots. It appears that the moment had finally arrived for them to immerse themselves in the world of "bookworms" as well. We applaud the bold decision of this developer to eschew the conventional and take a risk with their debut offering. Book of Shadows is poised to create a significant impact within the gaming community, attributed not only to its remarkable potential for a maximum win of 30,338x but also due to its inclusion of uniquely unconventional features.
Book of Shadows Slot is a 5-reel, 3-5 row, 10-20 paylines video slot that features a Book of Shadows theme. The game has a non-progressive jackpot feature and is played on a modern PC or mobile device.
Here are the details of the Book of Shadows video slot game:
| | |
| --- | --- |
| Software | NoLimit City |
| Reels | 5 |
| Paylines | 10/15/20 |
| RTP | 96.01% |
| Volatility | Medium |
| Minimum Bet | $0.1 |
| Maximum Bet | $100 |
| Bonus Features | Shadow Rows, Lucky Locks, Free Spins, Expanding Symbols, Gamble Options |
| Wild Symbol | Yes |
| Scatter Symbol | Yes |
| Multiplier | No |
| Progressive | No |
| Autoplay | Yes |
NoLimit City developed this game, and it is available on all major online casinos powered by NoLimit City software.
The theme of Book of Shadows Slot is based on a witch living in the woods, far from civilization. It can be compared with 50 lions slot machine but with horror notes: she has a book of spells that will help her get rich and powerful. Her goal is to cast a spell on you so you'll be forced to sit at her table until all your money is gone.
The theme itself deviates significantly from the usual Ra-inspired imitations, instead transporting you to a eerie graveyard adorned with symbols rendered in a cartoon-style. The game adheres to the familiar 5×3 reel arrangement accompanied by 10 paylines. However, right from the outset, you have the option to transform this layout into a 5×4 or 5×5 configuration using the Shadow Rows feature. This enhancement does come at a slightly higher cost per spin. It also brings a minor boost to your RTP and naturally expands the number of paylines (from 10 to 15 or 20). The adjustable RTP ranges vary from one casino to another.
Book of Shadows should be your next choice after Blood Suckers Slot if you love playing slots for fun and are looking for something different than the usual themed games.
Book of Shadows Slot Symbols And Payouts
The Book of Shadows slot machine has bonus features and symbols, including the bonus symbol, scatter symbol, wild symbol, multiplier symbol, and the possibility of winning up to 30,330x your bet.
The Book of Shadows itself on the slot machine represents the scatter and wild symbol. When you spin three or more of these symbols in any position on the reels, you will receive 10 free spins with a special expanding symbol. The free spins can be retriggered if you spin in more Book of Shadows symbols during your free spins round.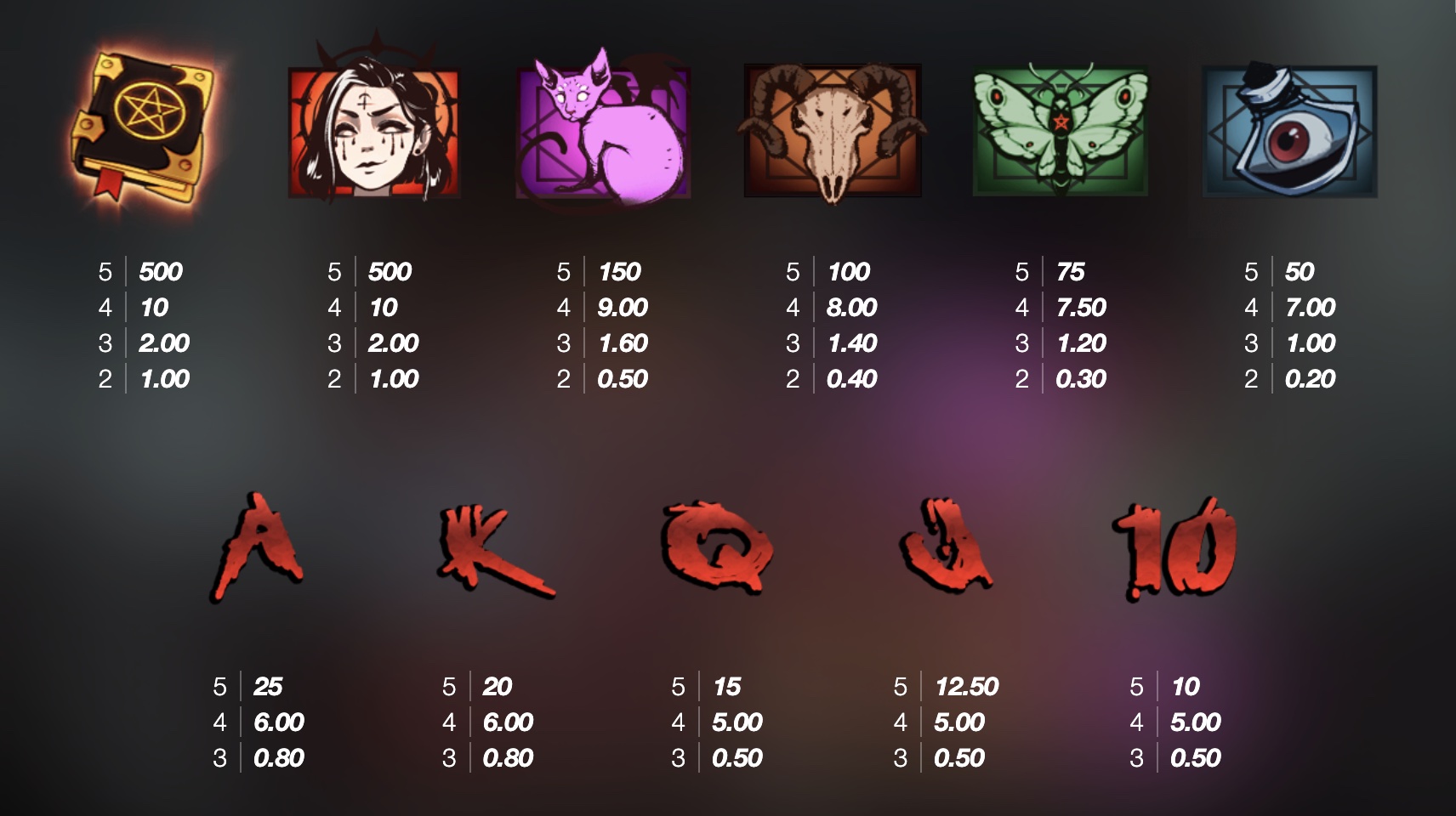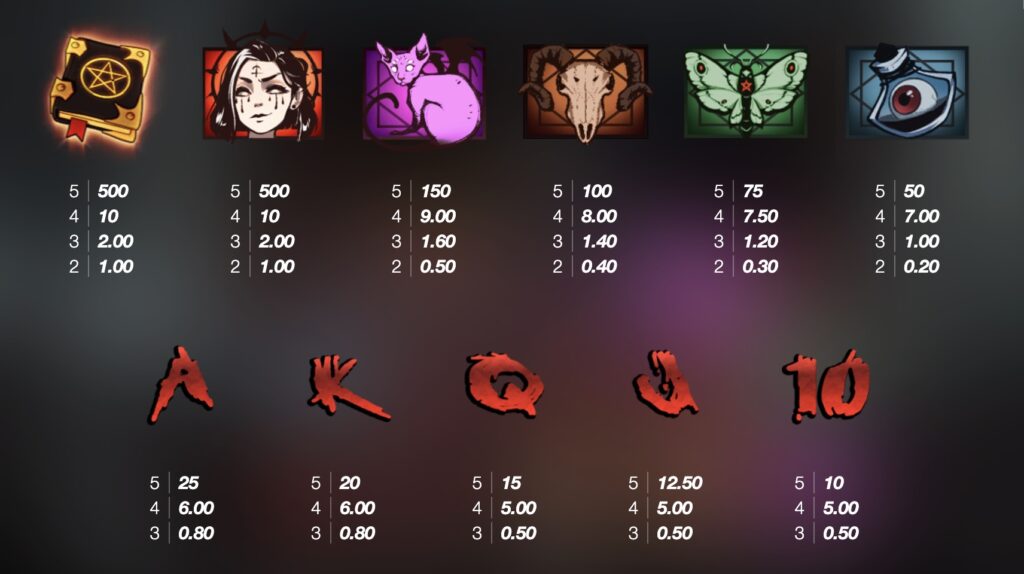 Paylines
In the Book of Shadows slot game, players have the unique opportunity to choose from three different payline configurations, which directly impact the gameplay experience. With options of 10, 15, or 20 paylines, players can customize their betting strategy according to their preferences. By opting for more paylines, the chances of forming winning combinations increase, thereby enhancing the potential for higher payouts. Note that selecting a higher number of paylines also increases the cost of each bet. This adaptable payline system caters to a wide range of players, from cautious beginners to experienced high rollers, offering a customizable and engaging experience for all.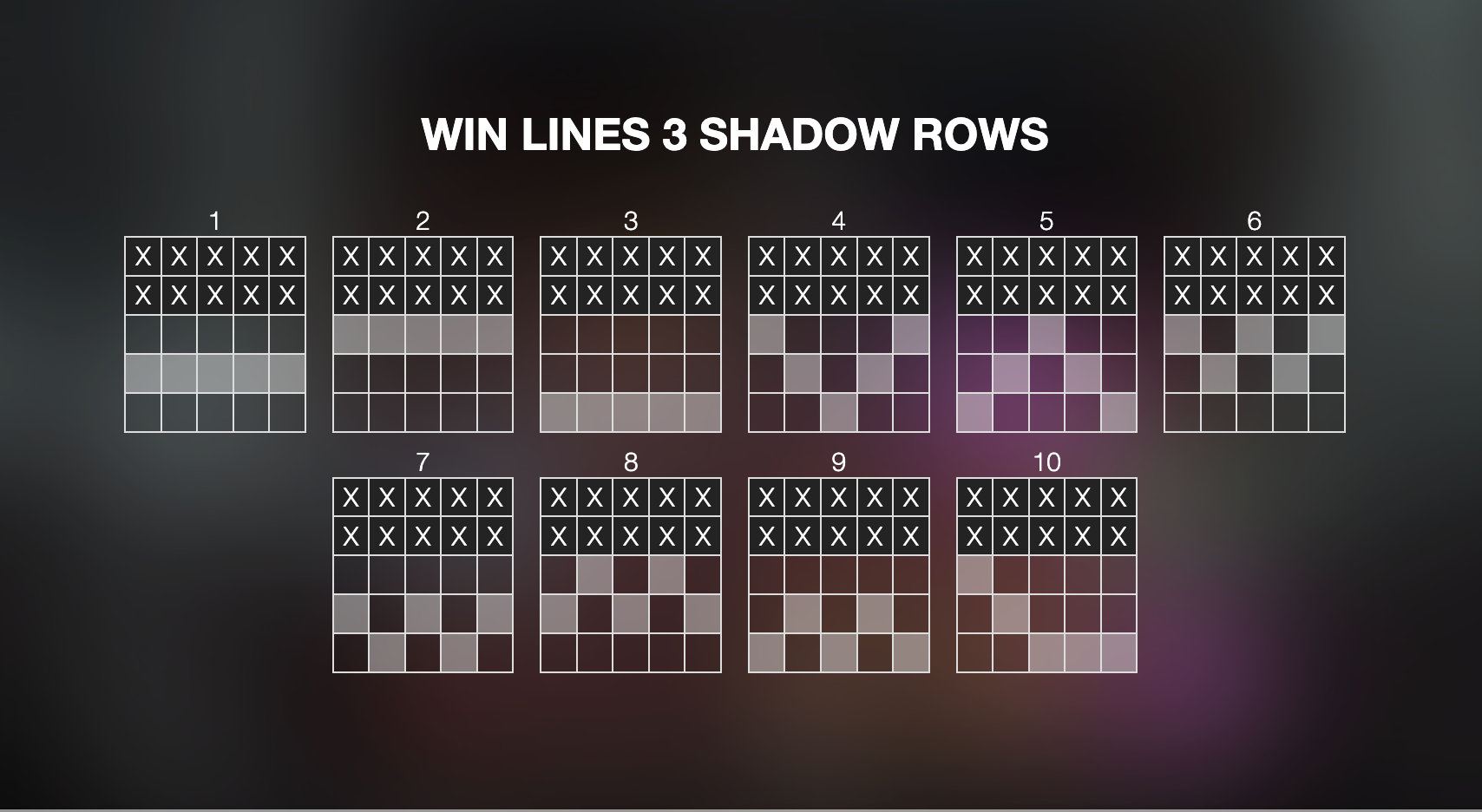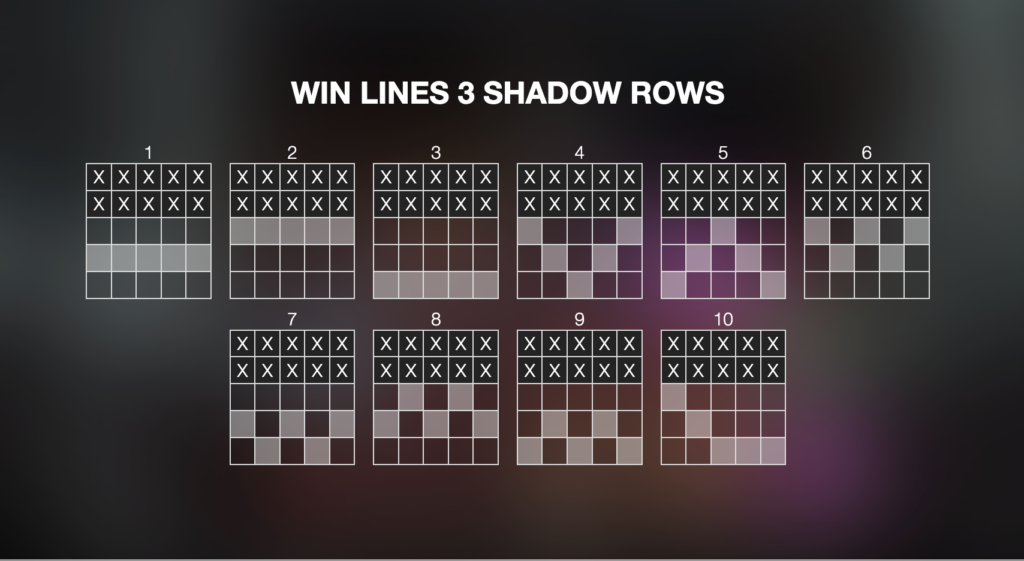 Book of Shadows Slot RTP & Volatility
The Book of Shadows slot machine RTP is almost the same like in Ghostbusters Online Slot – 96.01%. This is the average amount a player can expect to get back from every dollar they bet on the slot machine if they play long enough.
The volatility of this slot machine is high. There are times when more money can be won and other times when less money can be won. The volatility will vary depending on how lucky you are. If you are lucky enough to hit some of the higher-paying symbols then your loss will be smaller than that of someone who did not hit any jackpots or bonuses.
Min/Max Bets
Book of Shadows caters to a diverse range of players by offering a flexible betting range. With minimum bets as low as $0.10 and maximum bets soaring up to $100, players can choose their level of risk according to their preferences and bankroll. This wide betting range ensures that both casual players and high rollers can enjoy the magical world of Book of Shadows.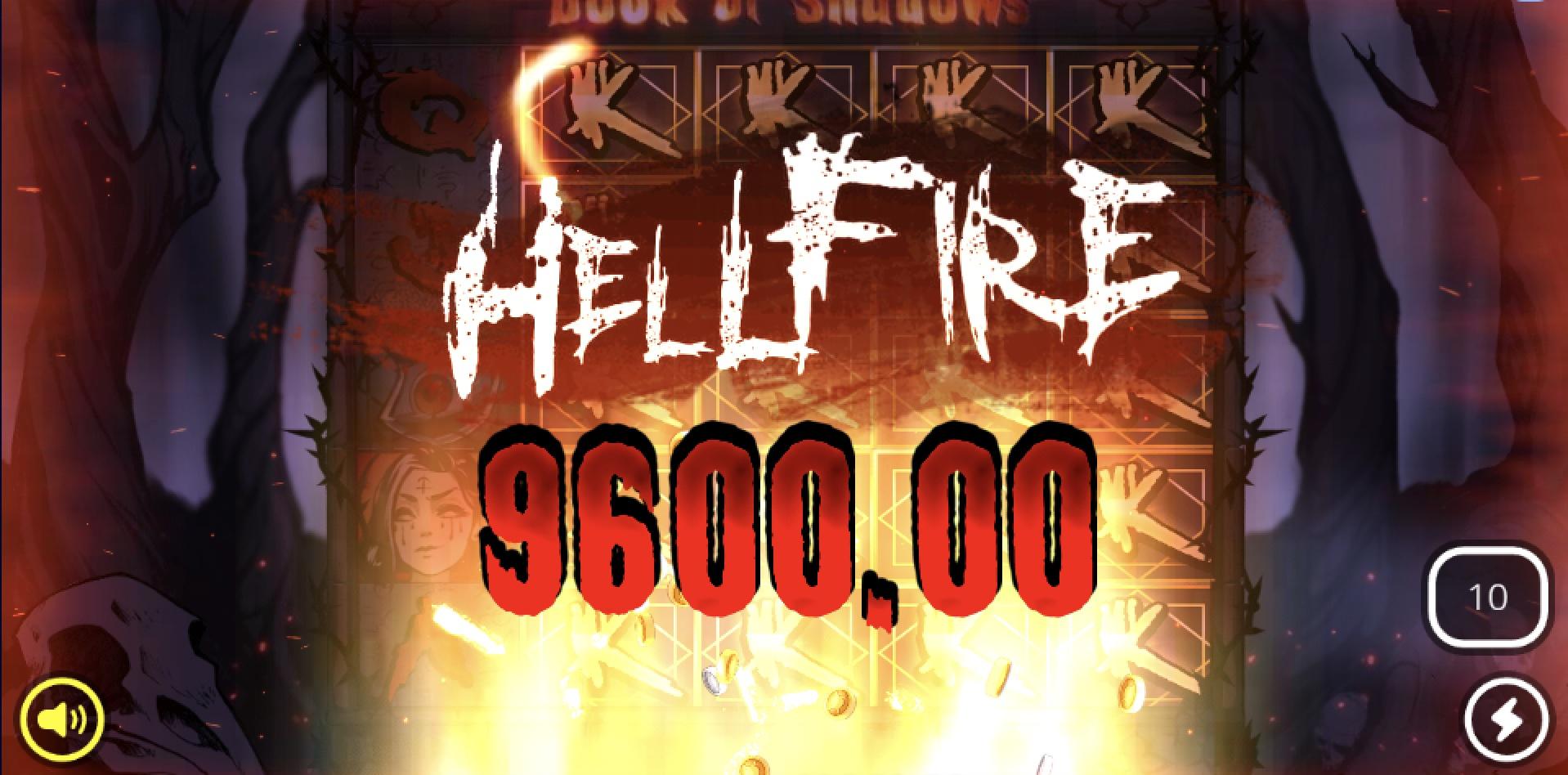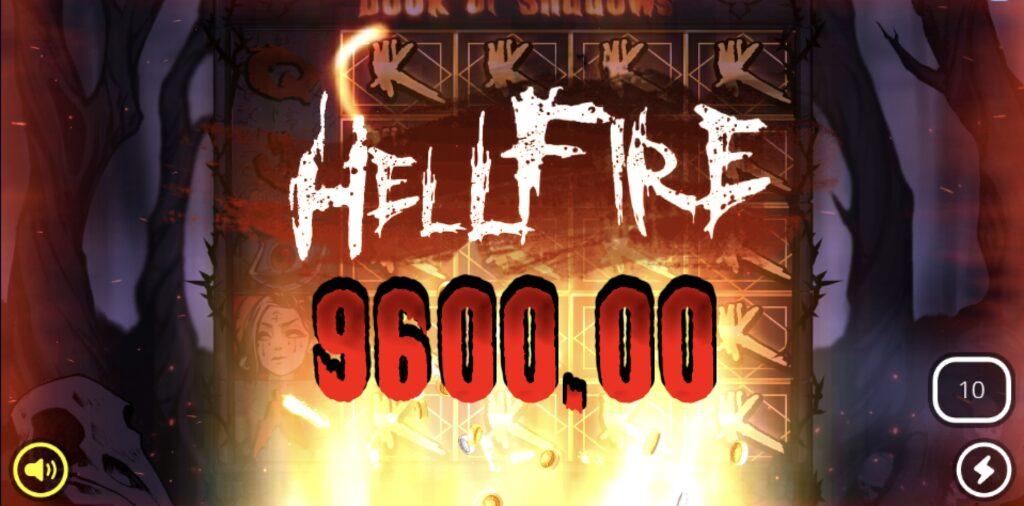 Maximum Win
While Book of Shadows may not feature a progressive jackpot, it does boast an impressive maximum win potential of 30,330x your bet. This enchanting prize is attainable during the free spins feature, where expanding symbols and wilds can work their magic to bring massive rewards to lucky players. This alluring jackpot ensures that the Book of Shadows slot remains an attractive choice for players who seek life-changing wins.
Book of Shadows Slot Features
The Book of Shadows slot game has many different features that players can expect to find when they start playing this game. The Book of Shadows slot features combine the classic and modern, but with a touch of fantasy. Some special symbols will help you win big while you are playing this game, such as the Witch Symbol, the Potion Symbol, and the Cat Symbol. These symbols will help you win big prizes when they appear on your reels in winning combinations during your gaming session.
First, there's the Lucky Locks attribute, akin to Microgaming's Hyperspins feature. Following each spin, you can fix up to 4 reels in position while spinning only the remaining ones that are unlocked.
The expense of every Lucky Locks spin is, naturally, contingent on the number of locked reels, the symbols displayed on those locked reels, and similar factors. For instance, you might decide to lock 2 scatters with the aspiration of landing a third one. But this endeavor would understandably come at a higher cost than a spin lacking the potential to trigger such a promising outcome.
The opportunity to gamble your winnings is also here, a characteristic commonly found in book-themed slots. You can venture into a double-or-nothing game following standard wins or bonus round successes. The mechanism is uncomplicated: you choose between the colors red or black on a card. Should you choose to gamble, you can repeat this process up to 5 consecutive times, yet the maximum winning amount caps at €500,000.
What truly distinguishes this game is the ability to even gamble for the chance to secure the coveted free spins bonus round. This attribute, the Wheel of Bonus, is influenced by your betting size, with your odds of winning rising in tandem. Note that your bet cannot surpass 60 times your stake. The Wheel of Bonus presents a crimson section within a pentagram wheel of fortune that revolves. As your bet size increases, so does the proportion of the wheel attributed to the red segment. This bonus feature has the potential to award you 10 free spins.
The game also includes Shadow Rows, Lucky Locks, and two gamble options to increase your winnings.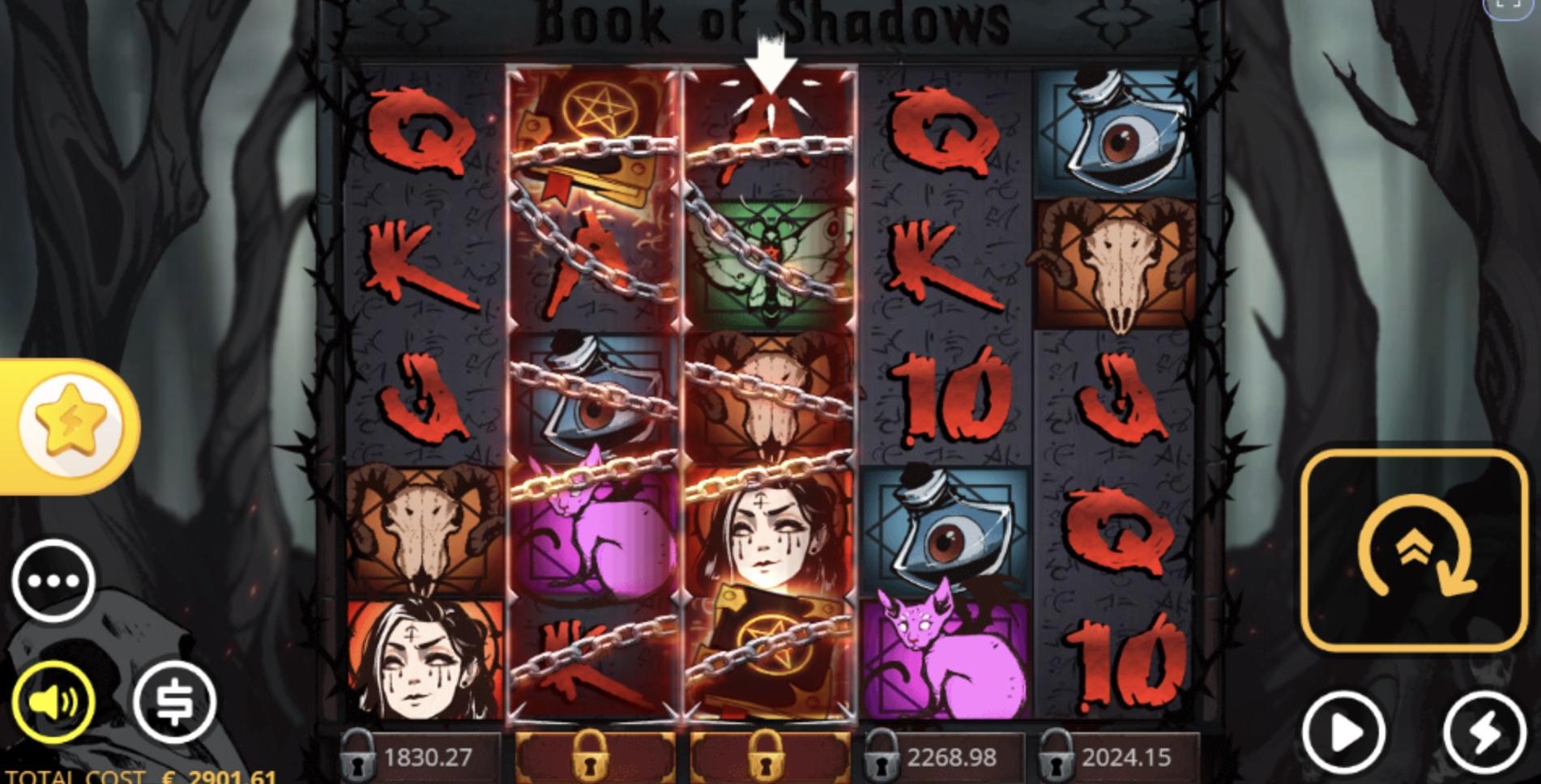 How to Play
Undoubtedly, Book of Shadows stands apart from its counterparts within the series. This section delves into a comprehensive overview of the optimal approach to playing this game. The interface itself maintains a user-friendly nature, and we're here to provide you with a step-by-step walkthrough of all the essential elements.
The dollar sign icon is positioned at the lower left corner, enabling you to select a wager level ranging from 10p to £100 per spin. However, this range applies solely to the default setting with 3 rows. Below this is a partially transparent black blind that conceals rows 4 and 5 (termed as "shadow rows" in-game). By clicking the upward-pointing arrow, you can activate these supplementary rows. It's worth noting that this action will result in an incremental bet increase of either 1.5x or 2x. Moreover, as you unlock additional rows, the RTP experiences a slight uptick, progressively reaching 96.01%, 96.07%, or 96.19% accordingly.
Consider that the game offers the flexibility of adjustable RTP ranges. It means that specific casinos might offer lower values than those mentioned. Regardless, the game's volatility remains consistently high, irrespective of the chosen row configuration. The base game's fundamental aspect revolves around matching symbols on one or more of the 10 paylines, spanning from the leftmost to the rightmost reel, to generate winning combinations. Upon integrating the 4th or 5th row, the avenues for winning expand to encompass 15 or 20 paylines, respectively.
To access the paytable, navigate to the hamburger menu. You'll have to initially peruse through the feature details. Among the symbols, the most valuable ones are the book scatter/wild and the goth girl. Only 2 premium symbols on a payline are sufficient for a win, while 3 are required for the lower-value royals. The 5 standard premium symbols yield payouts ranging from 500x to 50x. The book scatter also functions as a wild symbol, doubling its role.
You have the option to activate the fast play mode using the lightning icon situated next to the spin button. The autoplay function is also at your disposal, allowing you to select a range of autospins between 10 and 1,000. This feature can be programmed to halt when your balance reaches a specific percentage increase or decrease. Furthermore, the option to buy a bonus round is accessible via the golden star icon on the left-hand side.
Select from 3, 4, or 5 rows, offering 10, 15, or 20 paylines.

Option to pay and lock up to 4 reels per spin.

Free spins featuring an expanding symbol of your choice.

High volatility and a maximum win potential of 30,338x.
Customizable RTP ranges.

Potential high volatility may not suit more casual players.
My Experience of Playing Book of Shadows Slot
I enjoyed playing the Book of Shadows slot in demo mode as it has some great features that make it more interesting to play than other slots. For example, there are Shadow Rows and Lucky Locks that add to the gameplay. This is based on which row configuration you choose and the reels you lock in place. The game has a high volatility, which keeps it engaging and exciting for players.
Opting for an immersive experience, I unlocked the two shadow rows, transforming the game into an expansive 5×5 grid. This shift elevated our wager from €4 to €8, a decision prompted by our desire to explore the game's full potential. After a handful of spins, I achieved a modest win of about 3 times our stake and felt enticed to delve into the gamble feature. My intuition led us to pick the red card, resulting in a triumphant outcome.
Opting for the Wheel of Bonus feature, I spun the pentagram wheel with a three-eyed goat at its center. Unfortunately, Lady Fortuna intervened, and my gamble fell short. Persisting with determination, we scored a book scatter on the middle reel after a few additional spins. I employed the Lucky Locks feature to solidify our advantageous position, fixing the scatter. Another stroke of luck placed another scatter on the second reel, and I promptly secured it.
My perseverance bore fruit as I landed the essential third scatter on reel 5 during the subsequent spin, successfully triggering the coveted bonus round. Opting for the 10 royal symbols, I embarked on a series of teaser spins featuring two book scatters, each yielding minor wins. With four spins remaining, the appearance of the first golden symbol expanding reels feature was pivotal, granting me a substantial 10x win.
Then, I impulsively decided to purchase the 5-row bonus round for €480, our optimism intact. This time, the A-royal symbol was designated, resulting in an immediate triumph of 16.8x with three expanded rows. Subsequent spins yielded modest gains until I struck gold with four expanded A rows and only two spins remaining. This feat delivered a commendable 120x my initial stake, culminating in a total victory of €627.2 from the acquired bonus round.
Bewitching Bonus Bonanza
Book of Shadows boasts an array of spellbinding bonus features that bewitch players and keep them enthralled throughout the game. The primary bonus feature is triggered by landing three or more Book of Shadows symbols on the reels, granting 10 free spins accompanied by expanding symbols. Additionally, the Lucky Locks feature allows players to lock up to four reels in place, further increasing their chances of spinning winning combinations. With these captivating bonus features, Book of Shadows offers an enchanting gaming experience that is both thrilling and rewarding.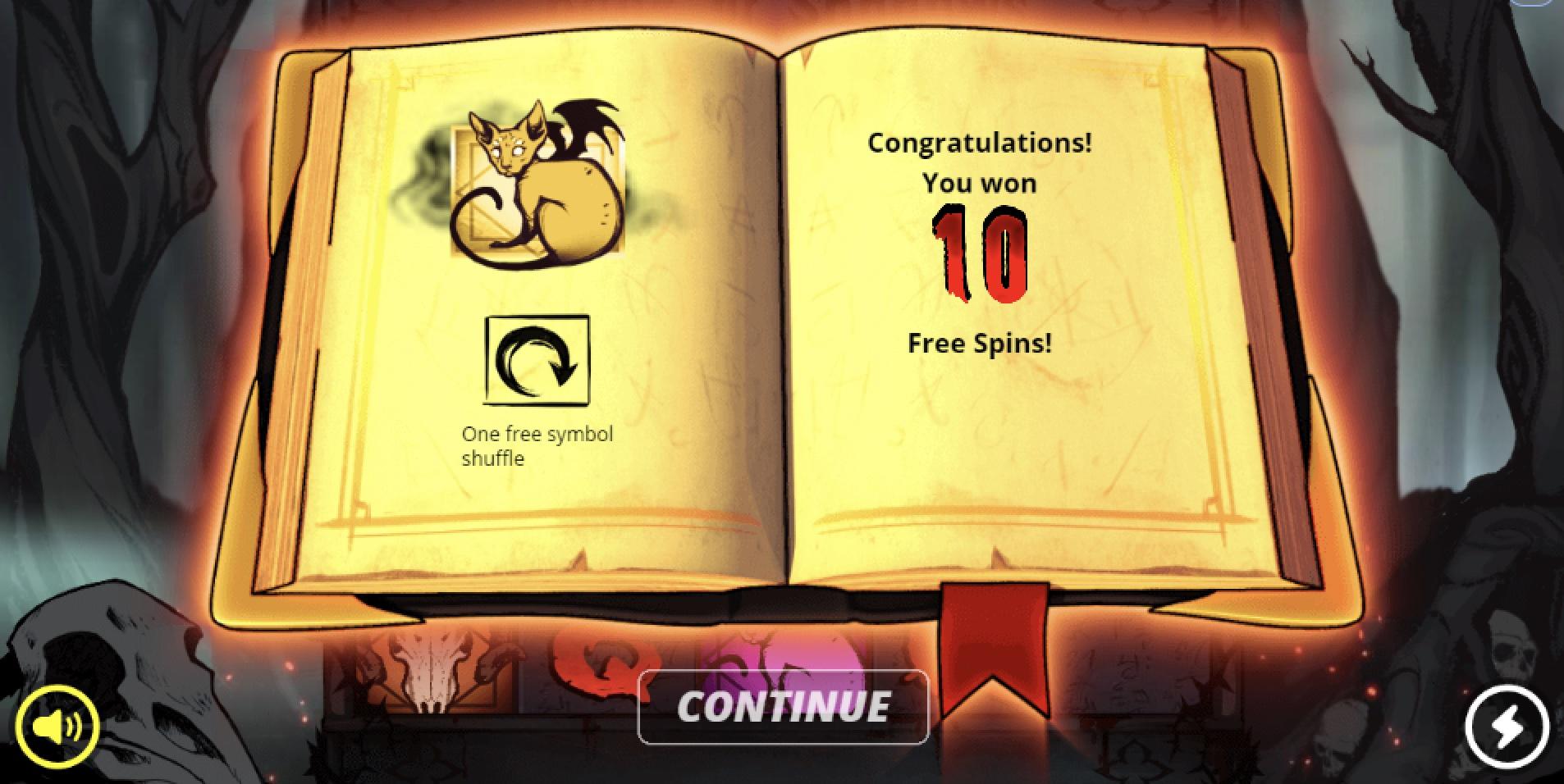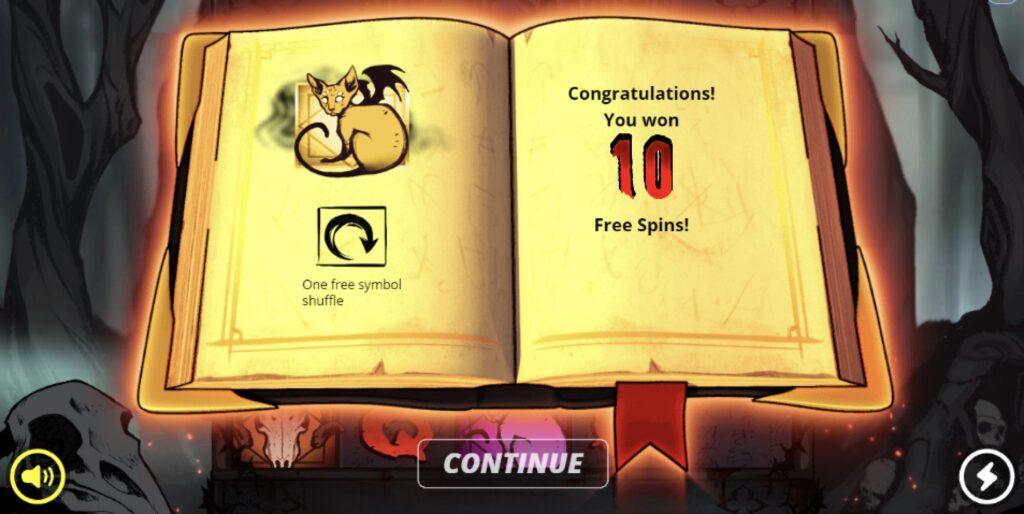 Book of Shadows Slot Graphics & Sound
The graphics of the Book of Shadows slot are unique and well-drawn. The symbols on the reels are all about witches and witchcraft, which is suitable for a game created by NoLimit City.
The sound effects are also very fitting for this slot game. There are a lot of eerie sounds that you would expect from a game like this one.
FAQ for Book of Shadows Slot
What is Book of Shadows Slot?
Book of Shadows Slot is a video slot game, featuring five reels and 10 paylines. The game was developed by NoLimit City and is available on all major online casinos.
What are the symbols in Book of Shadows Slot?
The game features various symbols, including the bonus symbol, scatter symbol, wild symbol, multiplier symbol, and a progressive jackpot. The bonus symbol is represented by a cauldron, and the game also has special symbols like the Witch Symbol, Potion Symbol, and Cat Symbol.
What is the RTP and volatility of Book of Shadows Slot?
The Book of Shadows Slot RTP is 96.01%, which means that the player can expect to get back an average of 96.01 cents for every dollar they bet on the slot machine, if they play long enough. The volatility of this slot machine is medium, meaning there are times when more money can be won and other times when less money can be won.
Is Book of Shadows Slot available on mobile devices?
Yes, Book of Shadows Slot can be played on modern PC or mobile devices.