Buffalo Goes Wild Slot Review & Demo
Buffalo Goes Wild Details
Take a thrilling ride through the Great Plains with Mancala Gaming's Buffalo Goes Wild slot. This one of the best online slots NJ players game presents the mighty buffalo, charging amidst other wild creatures and encapsulating strength and abundance. With its gameplay features and vibrant graphics, Buffalo Goes Wild is an exceptional journey into the heart of the wild. Its immersive features and graphics make it an engaging choice for experienced and new players.
Look at the table to find more details:
| | |
| --- | --- |
| Software | Mancala Gaming |
| Reels | 5 |
| Paylines | 20 |
| RTP | 95% |
| Volatility | High |
| Minimum Bet | $0.2 |
| Maximum Bet | $20 |
| Bonus Features | Free Spins, Bonus Rounds |
| Wild Symbol | Yes |
| Scatter Symbol | Yes |
| Multiplier | Yes |
| Progressive | No |
| Autoplay | Yes |
Buffalo Goes Wild Slot Symbols and Payouts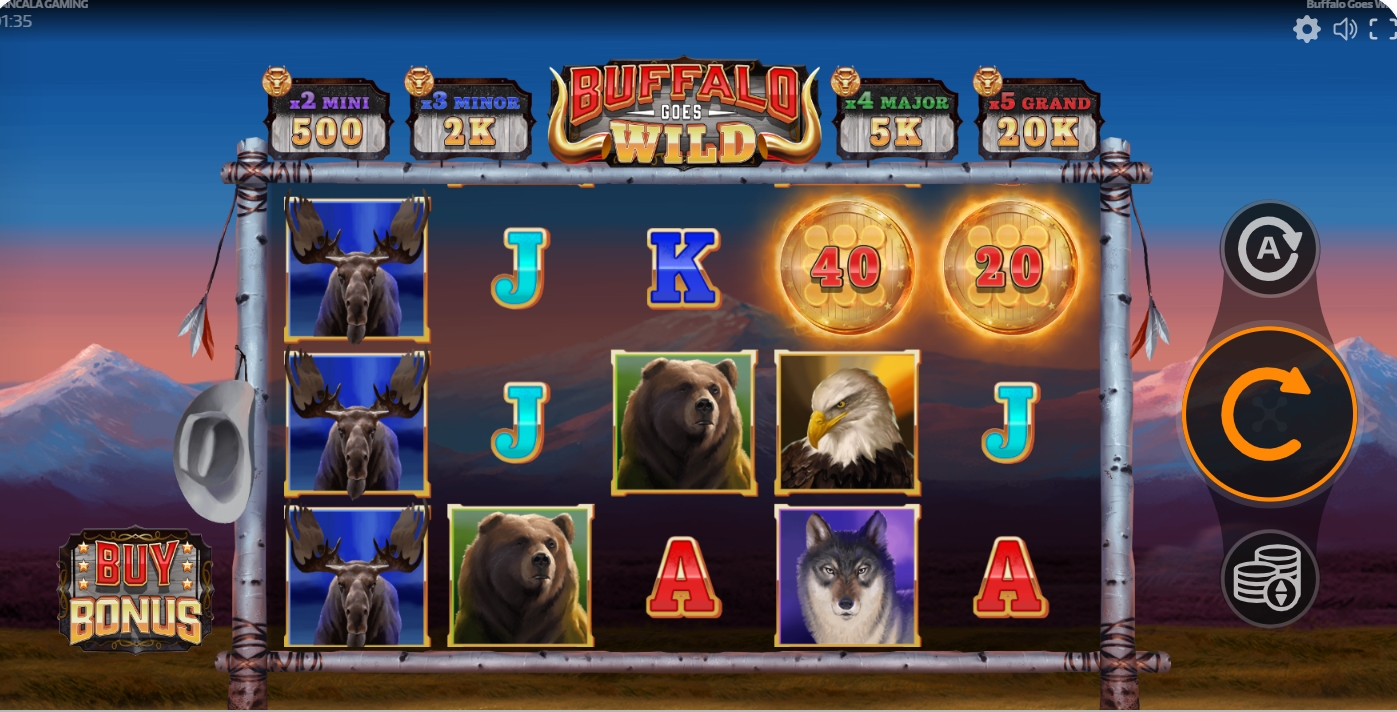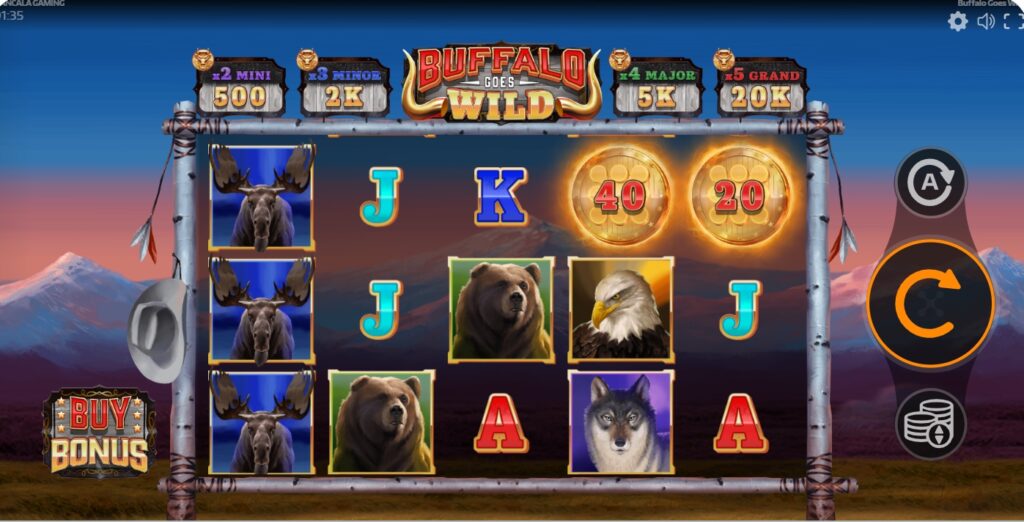 Similar to Buffalo Diamond Slot, Buffalo Goes Wild online slot offers exciting symbols, each carrying the spirit of the wild and contributing to the game's payouts. There are majestic buffalos and other wild animals; players enjoy even unique coins and jackpot symbols. Each icon holds the potential for impressive rewards. The game's best symbol is the mighty buffalo, which brings the most significant payouts.
Symbols
Mancala Gaming has masterfully designed a vibrant range of symbols for Buffalo Goes Wild. The animal-themed symbols include the high-value buffalo and other Great Plains inhabitants. They add a unique touch to the game. Special coins and jackpot symbols are the game's bonus triggers and offer great features.
The wildlife of the Great Plains inspires the main symbols. You'll find images of fierce predators and gentle herbivores, each animal offering a different payout value.
The game's bonus features, such as respins and the jackpot bonus game, are activated by unique coins and jackpot symbols. The jackpot bonus game is initiated once 6 or more symbols land on the reels. It offers a chance to win one of the game's four jackpot levels.
Adding to the game's charm are the Wild symbols. In Buffalo Goes Wild, the Wild symbol doesn't just substitute for other symbols; it also multiplies each payline's wins, boosting potential rewards.
Paylines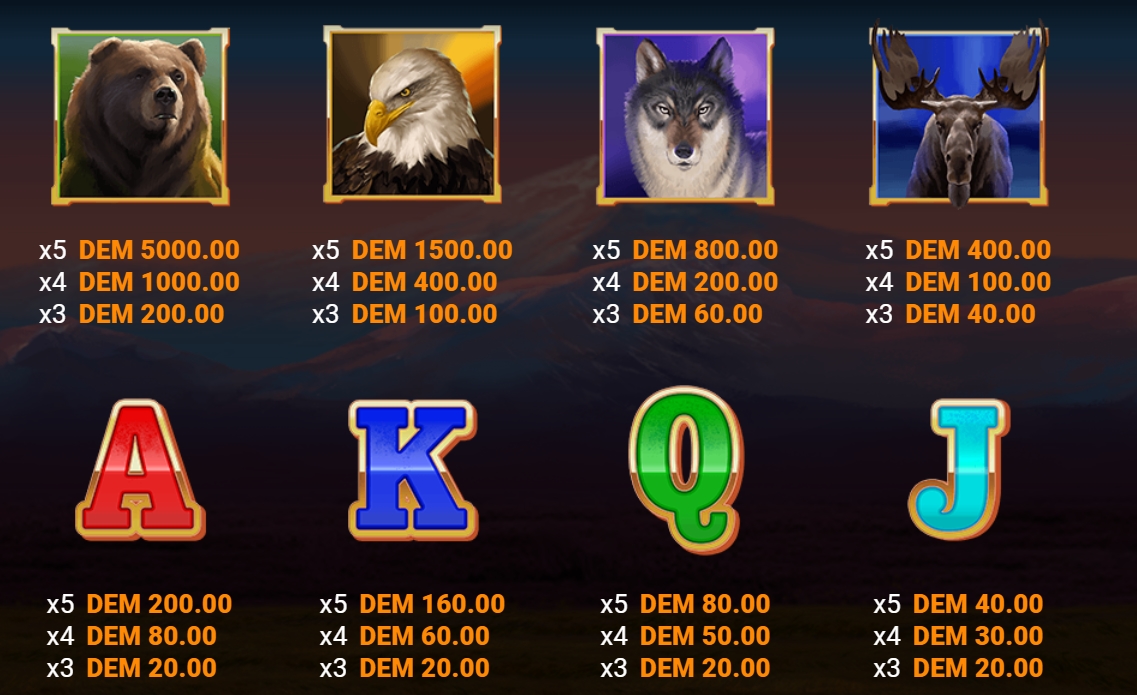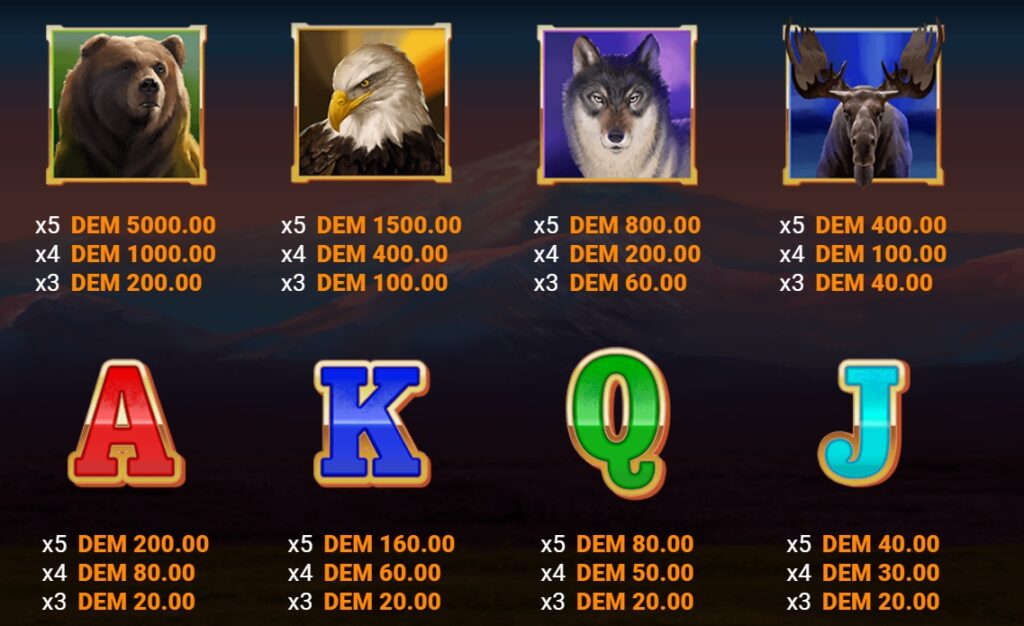 Buffalo Goes Wild features 20 paylines spread across five reels and three rows. This offers players plenty of opportunities to land 243 ways to win format. It means winning combinations are made with three or more matching symbols on adjacent reels, starting from the leftmost reel. This system doesn't require the symbols to be on a specific payline. Hence, it's as if every possible payline is in play on every spin. This system increases the player's chances of forming winning combinations, creating a more thrilling gaming experience. The payouts are given for matching symbols from left to right on these paylines.
RTP Compared to the Market
With an RTP of 95%, Buffalo Goes Wild falls slightly below the average compared to other games. However, players still have a decent chance of securing wins. High volatility slots are usually more appealing to players with higher risk tolerance. They are ready to play for more extended periods to hit large prizes. The RTP is a long-term average. In the short term, you could experience periods of both bigger wins and more significant losses. According to experts, games with higher RTP rates are more player-friendly. These titles return a more significant percentage of wagers to players over time.
Volatility
Buffalo Goes Wild is characterized by high volatility. Volatility is a term used to describe the level of risk associated with a particular game.
Buffalo Goes Wild has a theoretical Return to Player (RTP) percentage of 95%. This Buffalo Goes Wild volatility means that while wins might not come around as frequently when they do, they are significant, offering the chance to win big.
Minimum and Maximum Bets
The minimum bet limit is $0.20 per spin, making it accessible for casual players and those who prefer to play with a lower stake.
On the other hand, the game allows a maximum bet of $20 per spin. It appeals to players comfortable placing higher stakes and aiming for more immense rewards. With 20 fixed paylines, you could be wagering up to $1 per line on a maximum bet.
"Buffalo Goes Wild" provides many betting options to suit your style of play and budget.
Jackpot and Wins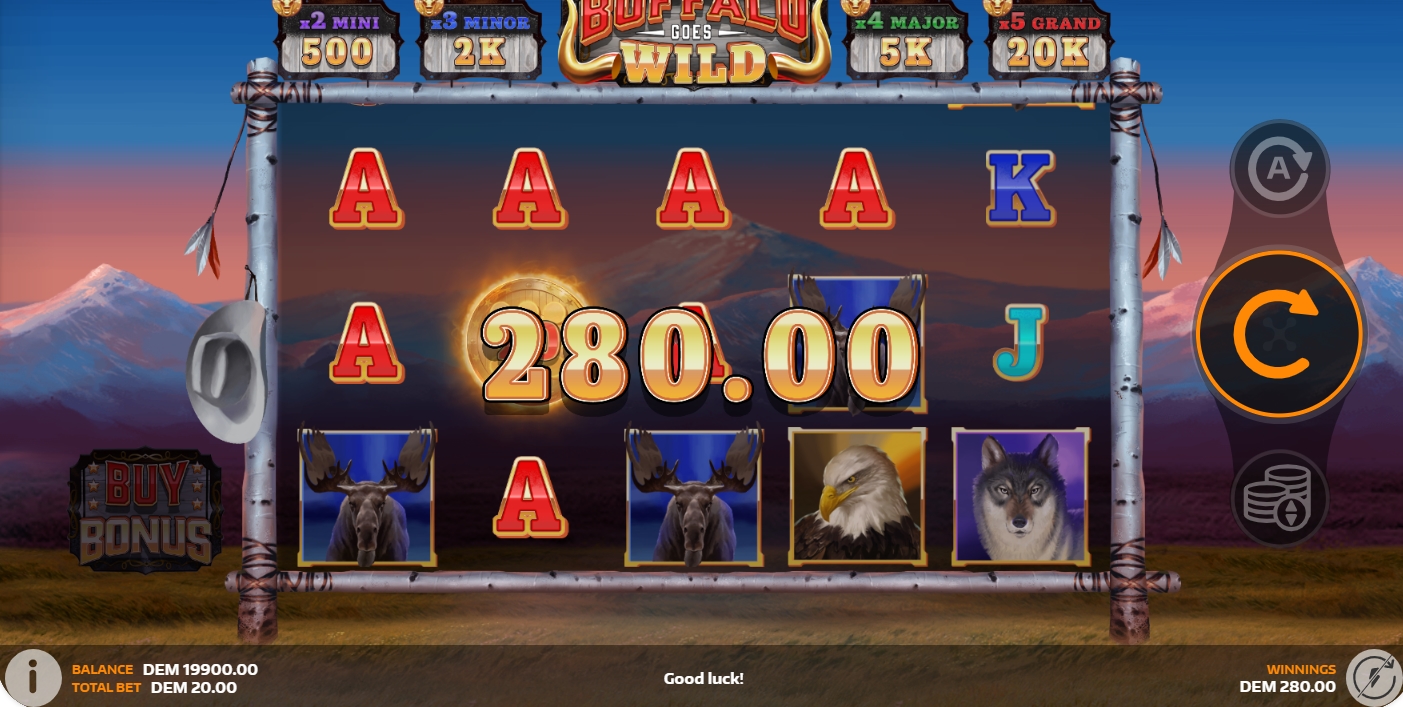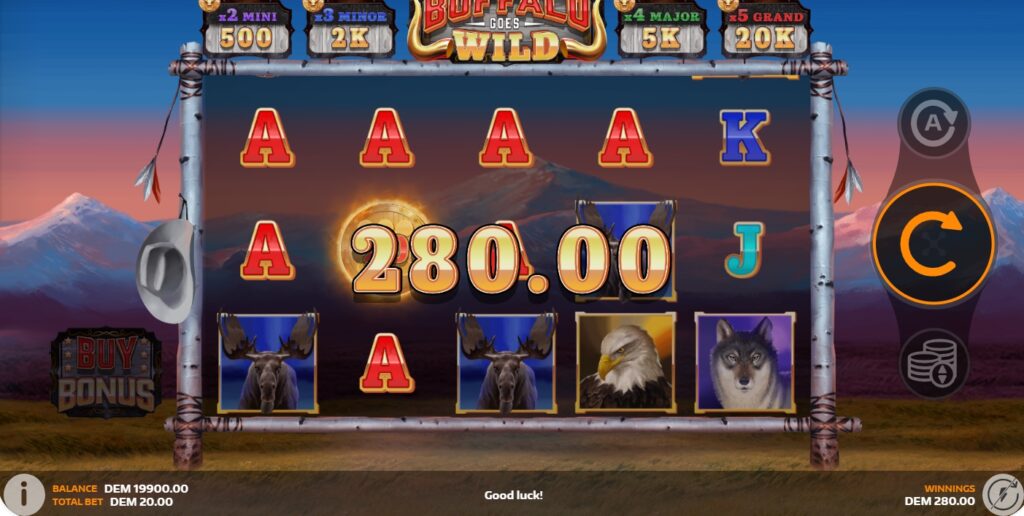 The Jackpot feature in Buffalo Goes Wild adds a layer of anticipation to each spin. The game includes a four-tiered progressive jackpot that can be triggered during the bonus game. The tiers of the jackpot progressively increase in value. The maximum win in Buffalo Goes A combination of the betting size, symbol values, and unique features influences wild. It offers a substantial potential payout, making each spin a thrilling endeavour. While the specifics vary based on gameplay, Buffalo Goes Wild promises a rewarding journey. The Buffalo Goes Wild slot stands out from many other slots thanks to its enticing four-level progressive jackpot. This feature offers four distinct tiers of potential winnings. Each grows progressively larger, allowing players to walk away with a prize. The jackpot accumulates a small fraction of all bets placed. It is triggered randomly on any spin, adding an extra layer of suspense to every play. The maximum win amount in Buffalo Goes Wild is determined by the combination of symbols that appear on the reels. The Buffalo Goes Wild symbol has the highest payout.
Features of the Slot Game
Buffalo Goes Wild has different symbols with stacking multipliers that enhance the winnings of each payline they appear on. The game also offers a bonus game triggered by landing six or more special coin symbols. This game begins with three respins and may lead to substantial rewards. Players buy instant access to it, and a feature adds excitement to the gameplay.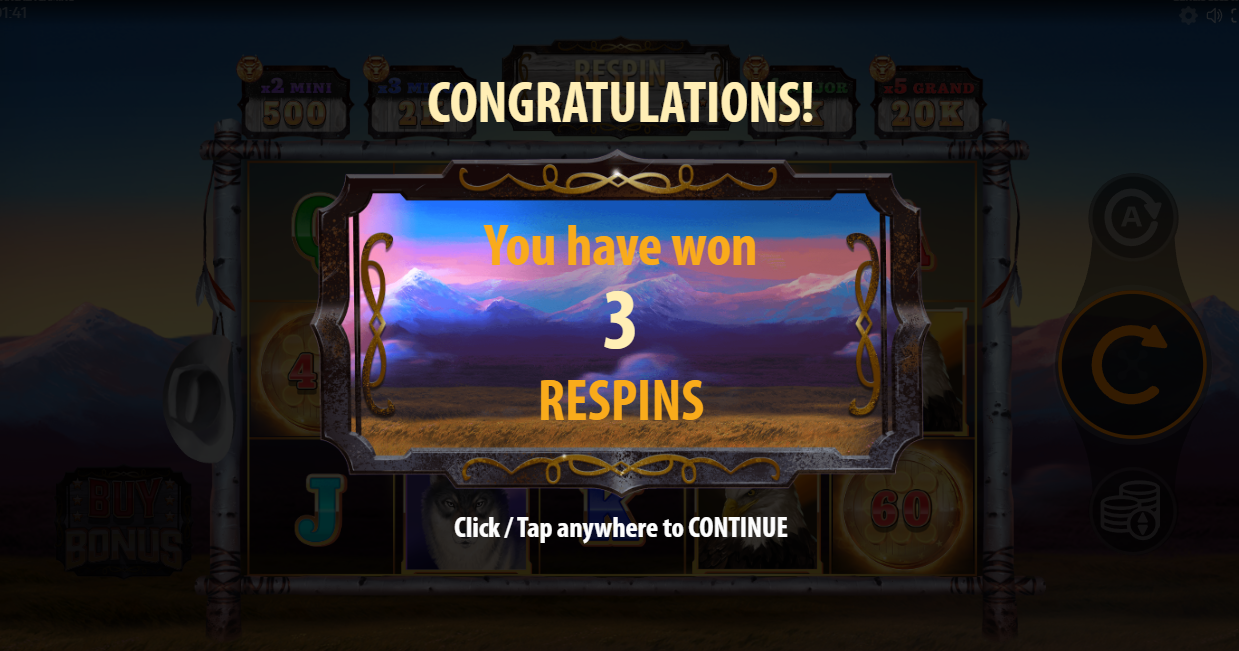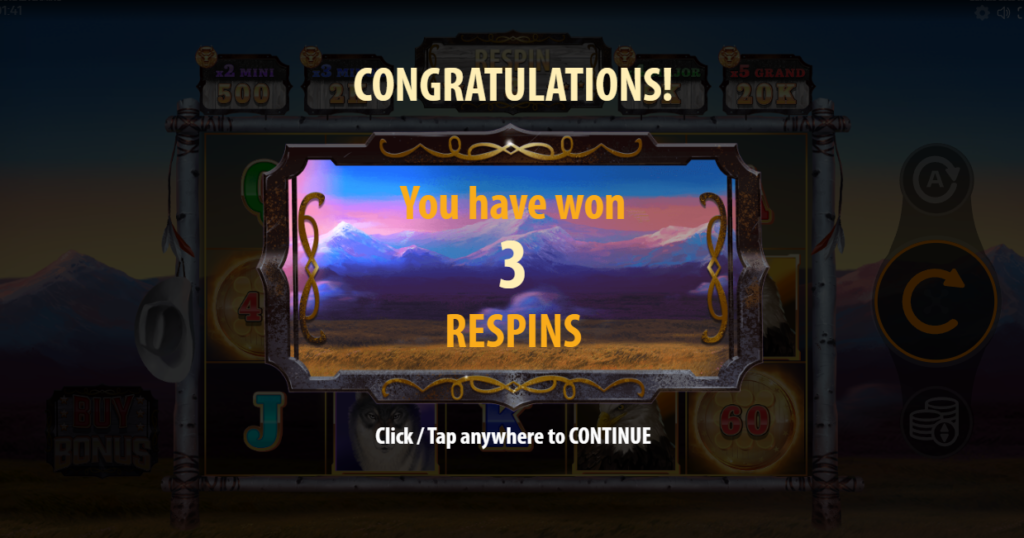 My Own Experience
I recently had the opportunity to play Buffalo Goes Wild. It was an exciting experience. The game's graphics and sound effects allow dive into its atmosphere. One of the standout features of Buffalo Goes Wild is the respin feature. I landed six or more symbols and entered the jackpot bonus game. Since starting the game, I'd eagerly anticipated winning one of the four jackpot tiers. What caught my attention was the unique 'Buy Bonus' feature. This option allowed me to access the bonus game instantly. It was a game-changer. I could immediately dive into the action-packed bonus play and enjoy its rewards. Throughout my gameplay, I also encountered various special symbols, such as wilds and scatters. They increased my chances of making a killing. I eagerly anticipated the next bonus round or a special symbol to appear on the reels. So, the game's innovative features, captivating gameplay, and the potential for significant wins made it a truly memorable slot experience. Buffalo Goes Wild is a must-try for any slot enthusiast looking for new adventures.
Graphics & Sound
The visual design immerses players into a rugged, wild environment reminiscent of the American frontier. Iconic symbols such as the mighty buffalo and other native fauna of the Great Plains might grace the reels. High-quality, vivid graphics and smooth animations offer a visually appealing gaming experience.
The sound design of "Buffalo Goes Wild" complements the graphics. Ambient wild sounds, such as the wind rustling through the grasslands and the calls of distant animals, form the background audio, creating an authentic atmosphere.
The spinning of the reels, along with the sound effects for wins and activated features, would be designed to add excitement to the gameplay. The music score could be an inspiring composition with a Western touch, adding to the overall adventurous mood of the game.
FAQs for Buffalo Goes Wild Slot
What is the RTP of Buffalo Goes Wild?
While the exact RTP is unknown, it is expected to be around 95%, which is standard for most online slots.
What are the minimum and maximum bets in Buffalo Goes Wild?
This information is game-specific. However, in similar games, you can usually bet as little as $0.20 per spin, or as much as $20 per spin.
What kind of slot is Buffalo Goes Wild?
Buffalo Goes Wild is likely a high volatility slot game with a theme based on the American West.
Does Buffalo Goes Wild have bonus games?
Most similar slot games feature bonus rounds, usually in the form of free spins. These are typically triggered by landing a certain number of scatter symbols.
What is the maximum win in Buffalo Goes Wild?
The exact maximum win depends on the game. In similar games, you can win up to 1,000 times your stake, especially during bonus features or free spins.