Ghostbusters Slot Review & Demo
Slot data
Volatility
Low Volatility
Feature
Mystic Themed Slot
Ghostbusters Game Details
Get ready to bust some ghosts with the thrilling Ghostbusters Slot which is among the best new online slots brought to you by IGT. This action-packed game is perfect for fans of the iconic Ghostbusters franchise, as well as New Jersey players looking for an exciting and immersive slot experience. With stunning graphics, captivating sound effects, and a whole host of bonus features, you'll be on the edge of your seat as you spin the reels in search of supernatural wins. Let's dive into the Ghostbusters Slot and see what fantastic rewards await you.
| | |
| --- | --- |
| Software | IGT |
| Reels | 5 |
| Paylines | 30 |
| RTP | 93.75% |
| Volatility | Low |
| Minimum Bet | $0.50 |
| Maximum Bet | $250 |
| Bonus Features | Free Spins, Bonus Rounds, Progressive Jackpots |
| Wild Symbol | Yes |
| Scatter Symbol | Yes |
| Multiplier | Yes |
| Progressive | Yes |
| Autoplay | Yes |
Ghostbusters Symbols and Payouts
Along with Blood Suckers Online Slot, the Ghostbusters features an array of symbols inspired by the iconic movie, including the main characters like Peter Venkman, Raymond Stantz, Egon Spengler, and Winston Zeddemore. Other symbols include Ecto-1, the Ghostbusters logo, Slimer, and various ghost-catching equipment such as proton packs and traps. The high-paying symbols are represented by the Ghostbusters themselves, while the lower-paying symbols are the ghost-catching tools. Keep an eye out for the Wild and Scatter symbols, as they can significantly boost your winnings.
Symbols
The Wild symbol in the game is represented by the Slimer, which can substitute for all other symbols except the Scatter. This can help you create winning combinations more easily. The Scatter symbol is the Ghostbusters logo, which triggers bonus features when you land a specific number of them on the reels.
Paylines
The Ghostbusters Slot offers 30 paylines, giving you multiple chances to win with each spin and making it similar to Book Of Shadows Online Slot with the almost same conditions. Wins are formed by matching symbols on adjacent reels from left to right, starting from the first reel.


RTP & Volatility
RTP (Return to Player) for Ghostbusters Slot is 93.75%, which is slightly below the industry average. However, the game's medium volatility means that you can expect a balance of both smaller, frequent wins and larger, less frequent payouts. This makes it suitable for players with varying risk preferences.
RTP Compared to the Market
Compared to the market, Ghostbusters Slot has a lower RTP, but the exciting gameplay, bonus features, and progressive jackpots make up for it. Players looking for a thrilling and engaging experience will still find this game appealing.
Volatility
With medium volatility, Ghostbusters Slot caters to players who are looking for a balance between risk and reward. You can expect a mix of smaller wins and occasional big payouts, which keeps the game exciting and engaging.
Min/Max Bets
The minimum bet in Ghostbusters Slot is $0.50, while the maximum bet is $250, accommodating players with various budgets.
Jackpot and/or Maximum Win
Ghostbusters Slot offers a progressive jackpot, which can be won through the Paranormal Pick bonus game. The maximum win in this game is determined by the current value of the progressive jackpot, which can potentially lead to massive payouts.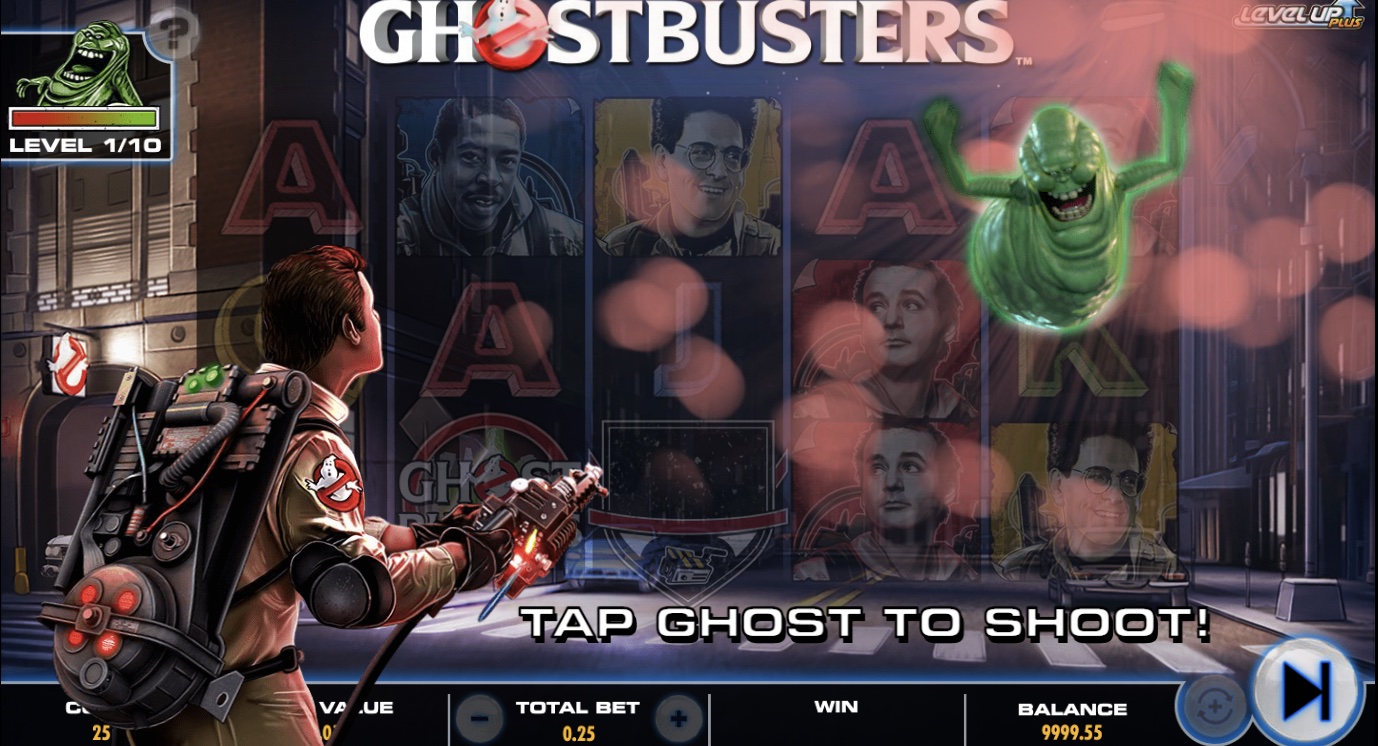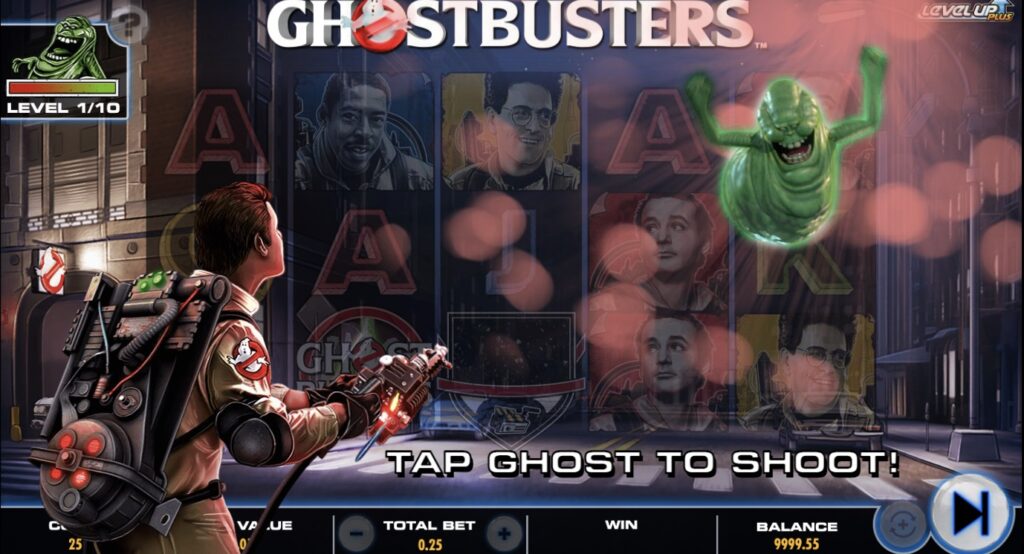 Slot Features
The Ghostbusters Slot is packed with bonus features, including free spins, bonus rounds, and multipliers. Some of the exciting bonus games include The Psychic, Stay Puft, Paranormal Pick, and Ballroom Buster, each offering unique gameplay and rewards.
The Ballroom Buster bonus round lets you don a proton pack akin to the movie Ghostbusters, aiding you in targeting elements and demolishing the room. With five chances to unearth concealed spirits, each captured ghost rewards you with credits, some even bearing multipliers to double your gains.
Enter the Stay Puft bonus round, where marshmallows descend from the sky. These marshmallows adhering to on-screen icons transform into wild multipliers, doubling your rewards upon forming winning combinations. The Psychic feature is a bonus game prompting you to select a card matching Dr. Venkman's choice shown on screen.
Within the Paranormal Pick bonus round, as eerie green clouds drift, you can potentially seize a progressive jackpot by following Slimer's guidance and picking one of five options. Regardless of your selection, a shot at winning paranormal progressives awaits, guaranteed with maximum bets. Accumulating three Ghostbuster icons on the central line grants access to bonus games and a progressive-winning chance.
The Cash Award feature delivers a humorous act from Slimer before granting payouts ranging from fifty to a thousand times your coin value. While the 2X or 5X multiplier features offer modest gains, extra wild features enhance winnings. Up to four symbols morph into wild icons, and if adjacent to the original wilds, they, too, transform. The Wild Reels feature excites players, 'sliming' one to three reels to wild status, ensuring substantial returns and global player popularity.
Ghostbusters slots offer a thrilling experience for movie enthusiasts and players alike. While not yielding massive wins, rewards manifest swiftly, providing ample amusement and enticing prizes.
Bonus Game
The Ghostbusters Slot features several exciting bonus games that can lead to significant rewards. The Psychic bonus game pits you against Venkman as you try to guess the card he's holding, while the Stay Puft bonus game involves marshmallows falling from the sky that stick to symbols, leading to multiplied earnings on wins.
In the Paranormal Pick bonus game, you'll follow Slimer and choose green clouds behind him, potentially winning progressive jackpots. Lastly, the Ballroom Buster bonus game lets you strap on a proton pack and shoot at ghosts for prizes. Each bonus game offers a unique gaming experience, keeping the Ghostbusters Slot entertaining and engaging throughout your gameplay.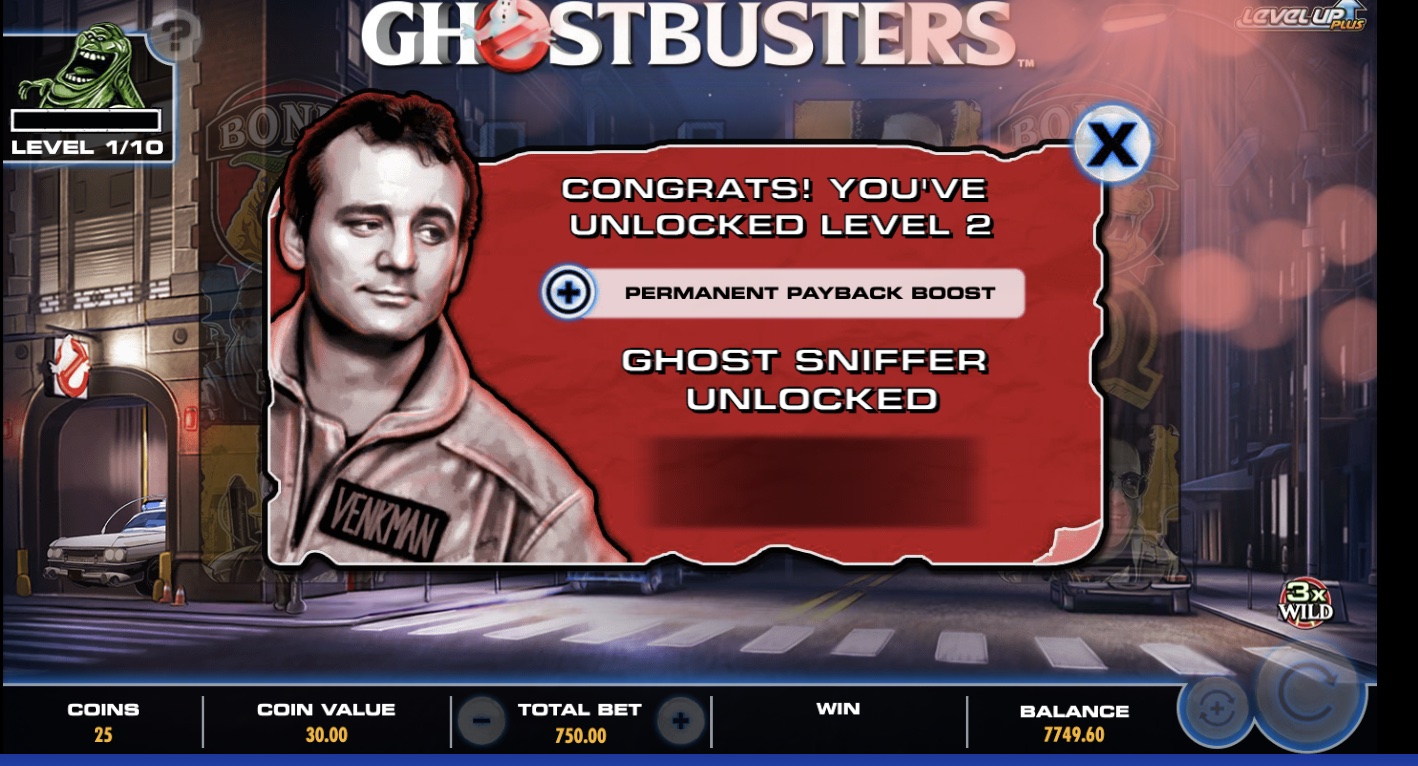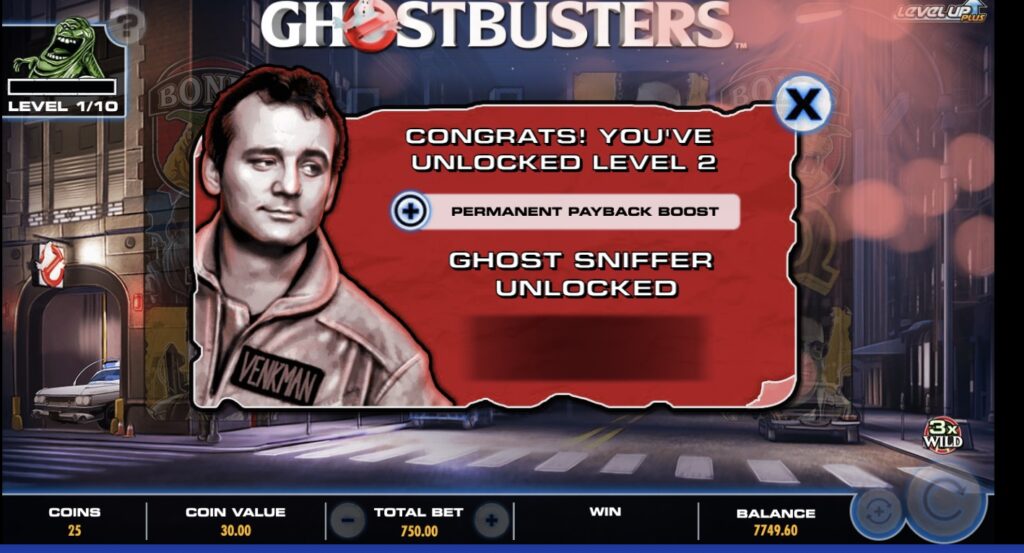 My Playing Experience
While playing Ghostbusters Slot, I found the game to be entertaining and engaging. The graphics and sound effects truly brought the Ghostbusters theme to life, and the bonus features kept me on my toes throughout the game.
Graphics & Sound
The game's graphics are impressive, with detailed symbols and a backdrop inspired by the Ghostbusters universe. The sound effects and soundtrack, featuring the famous Ghostbusters theme song, create an immersive and nostalgic gaming experience for fans of the movie franchise
FAQ for Ghostbusters Slot
Is Ghostbusters Slot available for free play?
Yes, you can try Ghostbusters Slot for free at various online casinos and gaming platforms before playing with real money.
Can I play Ghostbusters Slot on my mobile device?
Yes, Ghostbusters Slot is compatible with mobile devices, allowing you to enjoy the game on your smartphone or tablet.
What is the RTP of Ghostbusters Slot?
The RTP of Ghostbusters Slot is 93.75%.
Are there any progressive jackpots in Ghostbusters Slot?
Yes, Ghostbusters Slot features a progressive jackpot that can be won through the Paranormal Pick bonus game.
How many bonus games are there in Ghostbusters Slot?
There are four main bonus games in Ghostbusters Slot: The Psychic, Stay Puft, Paranormal Pick, and Ballroom Buster.
Can the progressive jackpot be won in the base game?
No, the progressive jackpot can only be won through the Paranormal Pick bonus game.
Is there a free spins feature in Ghostbusters Slot?
Yes, there is a free spins feature, which can be triggered during the Stay Puft bonus game.