Jeopardy Slot Review & Demo
Slot data
Feature
TV & Movies, Celebrity
Jeopardy Details
Jeopardy is a captivating slot game inspired by the iconic American television game show. Powered by the renowned software provider IGT, this slot game is designed to immerse players in the thrilling atmosphere of the TV show. The 40 payline slot comes packed with electrifying visuals and engaging gameplay, featuring symbols reminiscent of the show's popular themes, such as music, science, movies, geography, and sports. If you're a fan of game show-inspired slots or enjoy an engaging gaming experience, Jeopardy will be a perfect choice.
From high volatility and compelling bonus features to an RTP of 96.4% like in popular Jurassic World Slot, Jeopardy offers a potential for high rewards. However, due to its high-risk level, it is best suited to players with larger bankrolls who enjoy high stakes. This review provides all the details you need to know about the Jeopardy slot game.
More details are in the table below:
| | |
| --- | --- |
| Software | IGT |
| Reels | 5 |
| Paylines | 40 |
| RTP | 96.4% |
| Volatility | High |
| Minimum Bet | $0.60 |
| Maximum Bet | $6000 |
| Bonus Features | Free Spins, Bonus Rounds |
| Wild Symbol | Yes |
| Scatter Symbol | Yes |
| Multiplier | Yes |
| Progressive | No |
| Autoplay | Yes |
Jeopardy Slot Symbols And Payouts
Jeopardy Slot is known for its engaging gameplay and vibrant symbols. They include TV show hosts, lucky seven signs, and double and triple jeopardy symbols. In addition, they contain images representing the show's diverse categories like animals, music, science, movies, etc. The highest-paying regular symbol is the gray-haired host, which can award up to 2,000 for 5 matches. The game's logo and bonus symbols trigger special features, adding to the game's excitement.
Symbols
The symbols in the Jeopardy slot are vibrant and visually exciting. The graphics are designed to emulate the TV show, with symbols including the host, various topic symbols, and special symbols like the wild game logo and the bonus symbol. These symbols create an engaging visual experience and play key roles in the game's bonus features and high-potential payouts.
Paylines
Jeopardy slot comes with 40 fixed paylines. The 5 reels and 4 rows of symbols on each reel mean you can make winning combinations more than typical slots with 3 rows. As all 40 paylines are fixed, you get the maximum number of ways to win every time.
RTP & Volatility
The Return to Player (RTP) percentage of the Jeopardy slots game is 96.4%. This indicates that players can expect $96.40 in payouts for every $100 they wager. However, Jeopardy is a high-volatility game. Players might have experience periods without payouts but could land significant rewards when they hit a winning combination.
RTP Compared to the Market
Compared to the market average of about 96%, Jeopardy's RTP of 96.4% is slightly above average. The game offers better long-term returns than other slots.
Volatility
Jeopardy's high volatility indicates that the game is quite risky but with the potential for high rewards. Players should be prepared for long dry spells between wins.
Min/Max Bets
The minimum bet in Jeopardy is $0.60, and the maximum bet is $6,000. This range is suited for high rollers or those who prefer high-stakes gaming.
Jackpot And/Or Maximum Win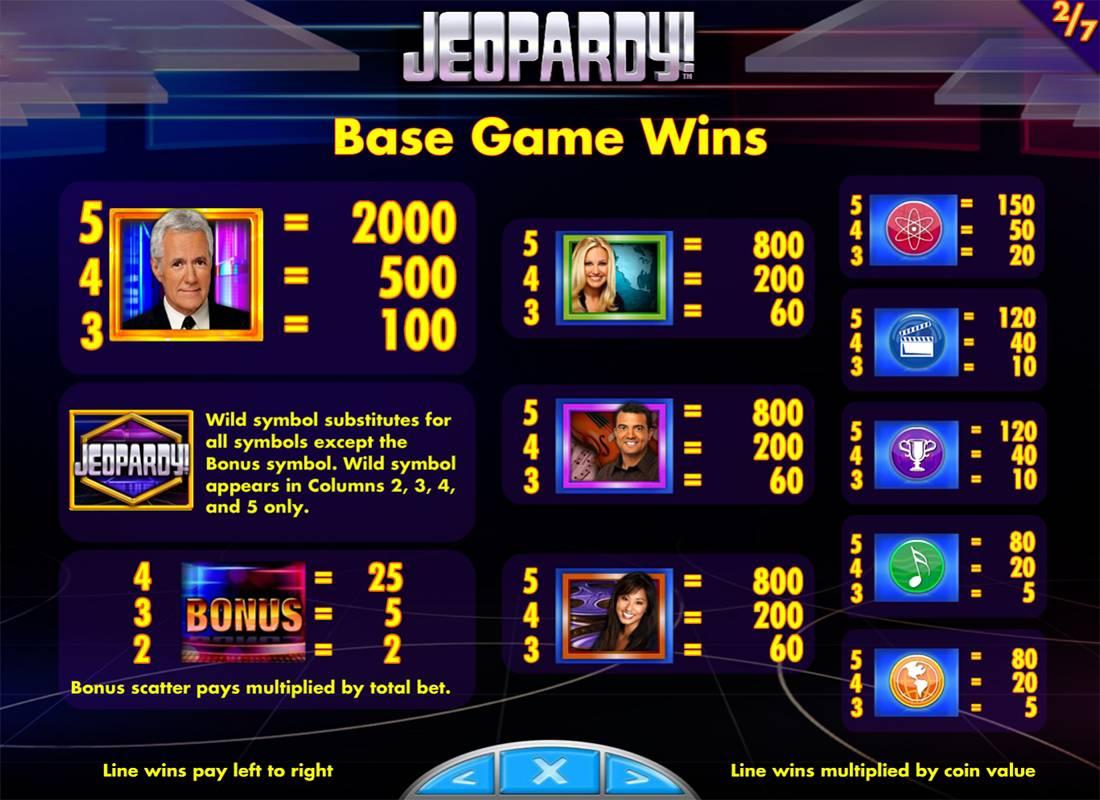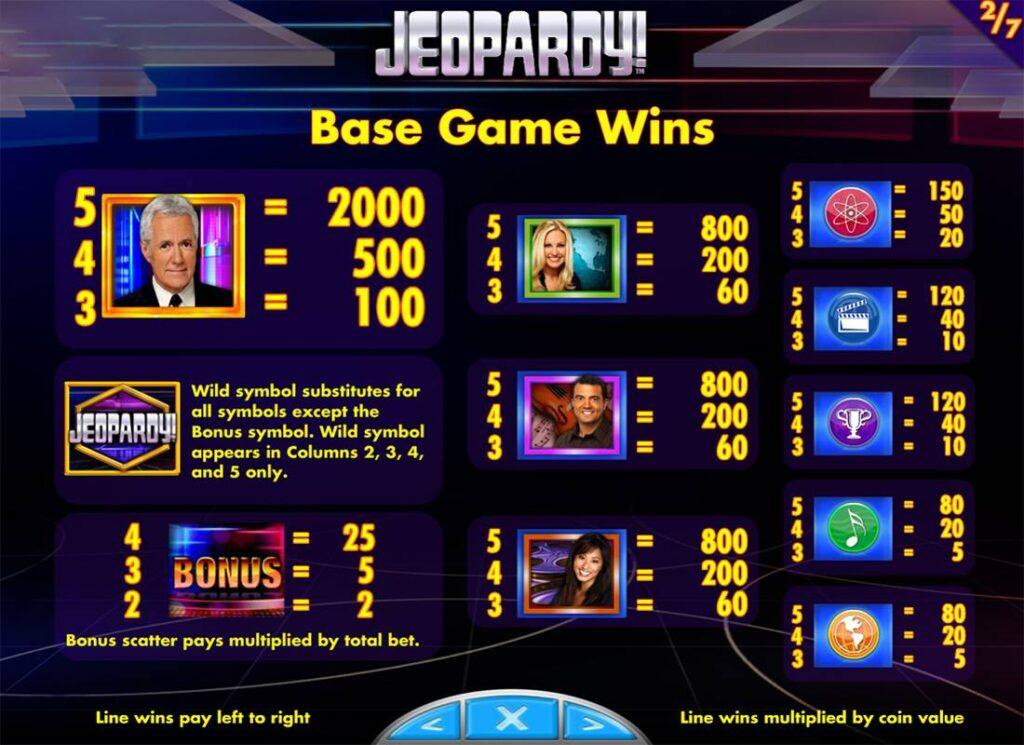 The potential for substantial rewards is quite high due to the game's high volatility. In the base game, the gray-haired host is the highest-paying symbol. If you're lucky to land this symbol five times on a payline, you may win up to 2,000 times your line bet.
However, the real thrill of this game is in the bonus round. With multipliers up to 12x, you could walk away with impressive rewards if you bet at higher levels. For instance, if you land the highest-paying symbols and apply the top multiplier, you can win 24,000 times your line bet. This combination of high volatility and substantial potential rewards makes Jeopardy an exciting choice for risk-takers.
Slot Features
Jeopardy Slot comes packed with exciting bonus features. They include the wild game logo. It substitutes for other symbols to create winning combinations and a scatter symbol that can trigger the gameboard bonus game. These features add depth to the gameplay and offer players more chances to win.
Jeopardy Slot Bonus Games
Jeopardy's bonus games are where the excitement of this slot truly takes off. If you land two or more bonus symbols, you trigger the gameboard bonus round. This exciting feature replicates the thrill of the actual TV show. The bonus symbol also functions as a scatter, meaning it can pay out from anywhere on the screen.
Upon triggering the bonus round, you'll be transported to a new screen featuring an array of symbols to select from. Your selection could reveal up to 19 free spins and multipliers of up to 12x. This gives you the potential to increase your winnings significantly.
Even better, during the bonus round, you can also encounter a final round where you get to answer quiz questions like on the TV show. Each correct answer increases your winnings further, adding another layer of fun and excitement to the game. The bonus games in Jeopardy are interactive and crucial for maximizing your winnings.
My Playing Experience
Playing Jeopardy was genuinely unique and exhilarating. I was thrilled to see the same engaging elements seamlessly translated into a slot game. The theme was well-executed, and I instantly became drawn into the gaming. Every spin brought a wave of nostalgia. These spins have dynamic graphics reflecting the familiar television studio's symbols derived from the show.
The game's bonus features were the highlights of my playing experience. Triggering the gameboard bonus round was an exhilarating moment. Picking symbols for free spins and multipliers reminded me of the TV show's suspenseful moments and added an immersive, interactive element to the gameplay. The chance to answer quiz questions like on the show during the final bonus round was a fun twist that elevated the whole experience.
Graphics & Sound
Jeopardy's vibrant and well-designed graphics create a visually engaging gaming experience. The sound design also complements the game perfectly, providing an immersive soundtrack that mirrors the tension and excitement of the TV show.
FAQs for Jeopardy Slot
What is the RTP of the Jeopardy slot game?
The RTP of Jeopardy is 96.4%.
Does Jeopardy slot have bonus games?
Yes, Jeopardy features a gameboard bonus game that offers free spins and multipliers.
What is the volatility of the Jeopardy slot?
Jeopardy has high volatility, suggesting risk but great rewards.
What is the minimum and maximum bet in Jeopardy?
The minimum bet is $0.60, and the maximum bet is $6,000.
Is there a jackpot in the Jeopardy slot?
Jeopardy does not feature a progressive jackpot. However, players may win up to 2,000 times their line bet with the highest-paying symbols.