Jurassic World Slot: Demo & Review
Slot data
Volatility
Medium Volatility
What is Jurassic World Slot?
If you decide to try more video slot games with interesting plots, this thrilling journey back in time with the Jurassic World Slot Machine is for you. Brought by Microgaming, this online slot carries the nostalgia of the blockbuster hit, Jurassic World, and weaves it into a heart-pounding gaming experience. Expect the same thrills, chills, and cinematic graphics from the 2016 film as you spin the reels in this immersive online slot.
Featuring a 5-reel, 3-row layout, the game uses a 243-ways-to-win mechanic. This fascinating slot game is packed with a host of features, including Wilds, Scatters, and three distinctive Free Spins bonus rounds, offering you ample opportunities for big wins.
Just like in the movie, the stakes are high, the excitement is palpable, and the rewards are colossal. Whether you're playing from your mobile device or desktop, this game promises a gaming experience as gigantic as the dinosaurs themselves.
Immerse yourself in this prehistoric world filled with beloved characters, 3D-rendered dinosaurs, and the chance to win big, or try Jeopardy Slot to play with the wild cats. Buckle up and get ready for some dino-sized action and fun with the Jurassic World Slot Machine.
| | |
| --- | --- |
| Software | Microgaming |
| Reels | 5 |
| Paylines | 243 Ways to Win |
| RTP | 95.45% |
| Volatility | Medium |
| Minimum Bet | $0.30 (USD) |
| Maximum Bet | $7 (USD) |
| Bonus Features | Three Free Spins bonuses: Gyrosphere Valley, Creation Lab, Raptor Den |
| Wild Symbol | Yes (Dinosaur Skeleton on a blue background, can be stacked up to 10-high) |
| Scatter Symbol | Yes (Able to trigger Free Spins feature) |
| Multiplier | Yes (In Gyrosphere Valley Free Spins feature, multiplier increases with each non-winning spin) |
| Progressive | No |
| Autoplay | Yes |
Playing Jurassic World – A Safe Guide
Once thoroughly acquainted with all the core game features, you may feel ready to experience the thrill of playing Jurassic World for real money. To ensure a safe and enjoyable betting experience, follow these five simple tips:
Create a verified account with a reputable online casino.
Deposit your betting balance securely by linking your account to your bank.
Launch the game and select your initial bet.
Place a wager within your comfortable stake range and add more funds as needed.
Always exercise responsible gambling and avoid betting more than you can afford to lose.
By adhering to these guidelines, you can confidently engage in Jurassic World's online gameplay, free from scams and with real money on the line. Carefully assess your finances and betting limits.
How to Play Jurassic World for Free
Jurassic World offers a feature-laden demo version, allowing you to play the game for free. This demo version will help you get well-acquainted with the game's mechanics and features without risking any real money.
Jurassic World Slot Symbols and Payouts
In the Jurassic World Slot, symbols are beautifully crafted, bringing the Jurassic World universe right onto your screen. The low-value symbols are represented by several dinosaur species, while high-value symbols include well-known characters from the film such as Owen Brady (Chris Pratt), Claire Dearing (Bryce Dallas Howard), and more.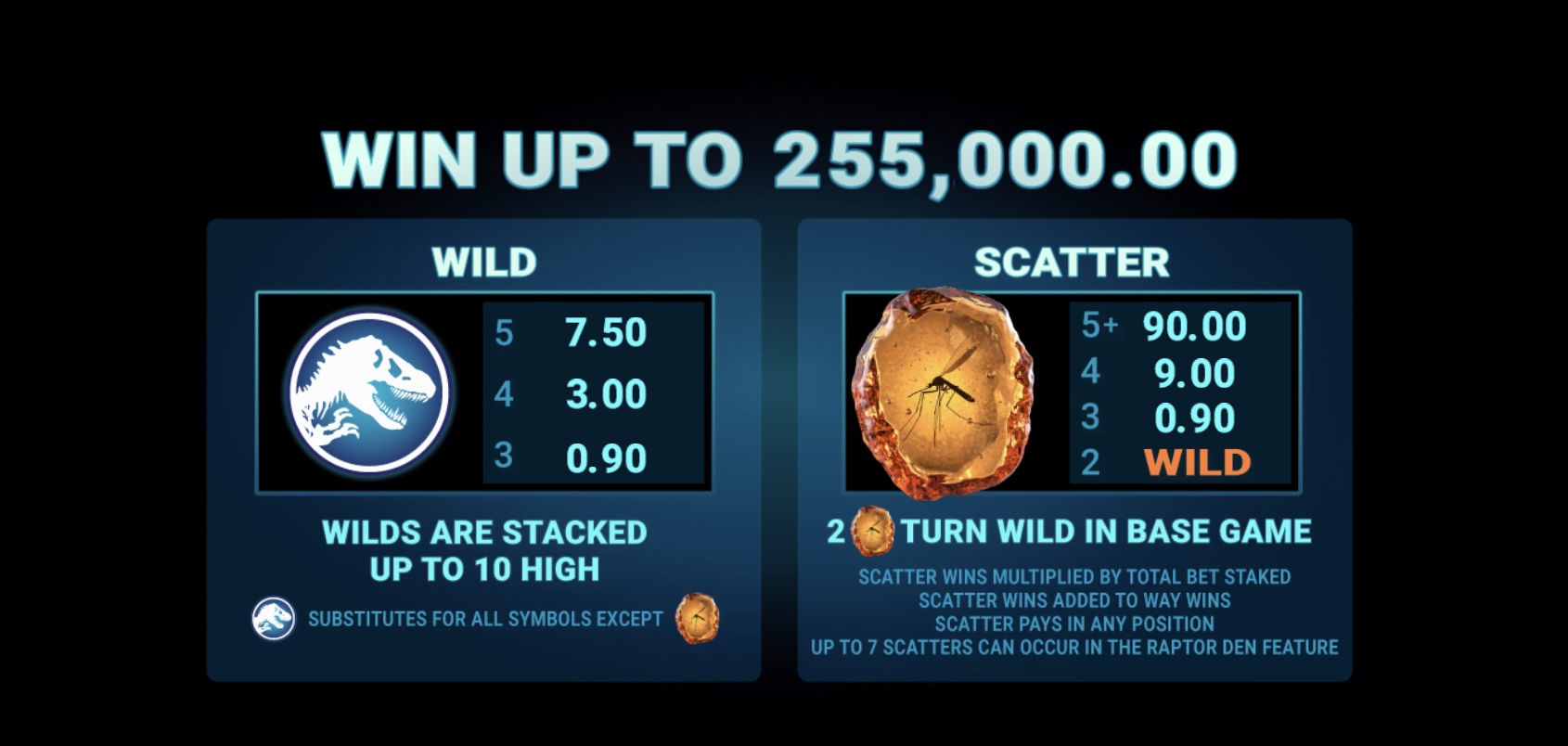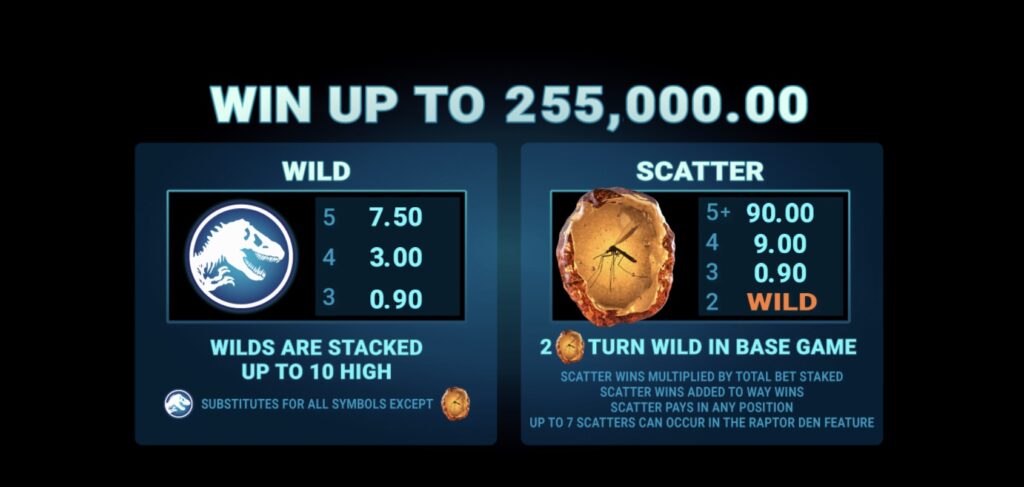 Paylines
Jurassic World Slot boasts a staggering 243 ways to win. This game doesn't use traditional paylines but instead, matching symbols just need to appear on adjacent reels, beginning from the leftmost reel. This mechanic allows for frequent combinations, increasing your chances of scoring big.
RTP and Volatility
The Return to Player (RTP) percentage for Jurassic World Slot varies depending on the online casino. It's always important to check this information before playing. On average, slot games typically offer an RTP ranging from 92% to 96%.
Jurassic World Slot has a medium volatility, which means: it offers a balanced blend of smaller frequent wins and larger occasional wins, making it ideal for both conservative and adventurous players.
Min/Max Bets
The minimum and maximum bets in the Jurassic World Slot may vary depending on the casino where the game is played. Always verify this information on your chosen online casino platform.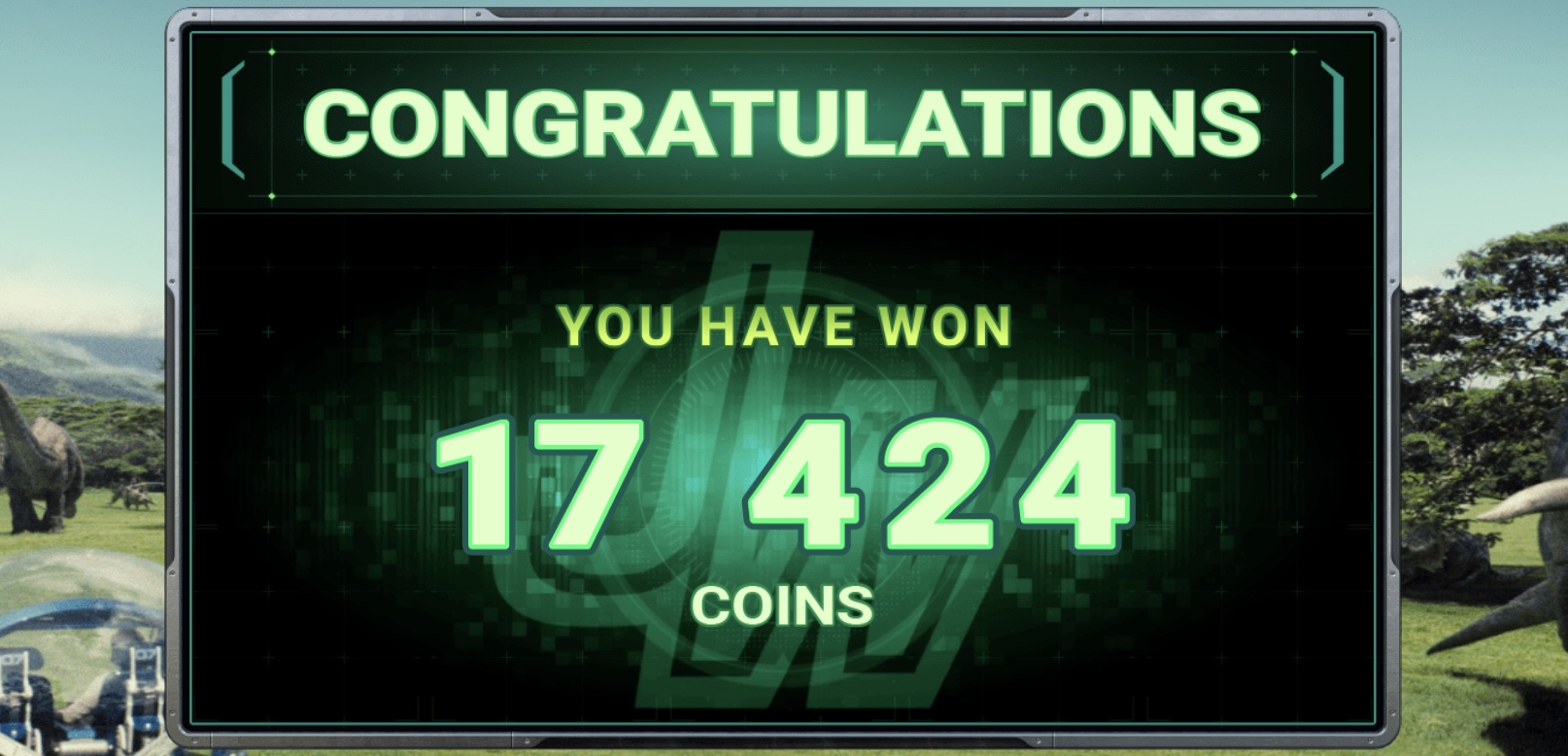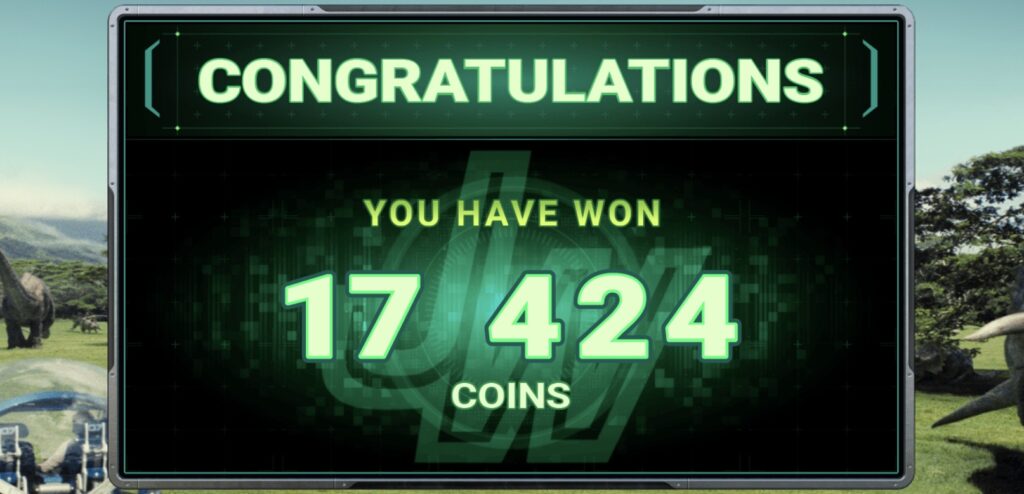 Jackpot And/Or Maximum Win
While there isn't a progressive jackpot in the Jurassic World Slot, the game offers substantial winnings through its 243 ways to win mechanic and unique bonus features.
Slot Features
Jurassic World Slot is teeming with exciting features. The Wild symbol, represented by a dinosaur skeleton, can stack up to 10-high on the reels, significantly increasing winning potential. There are also three different Free Spins features: Gyrosphere Valley, Creation Lab, and Raptor Den, each providing unique advantages and thrilling gameplay.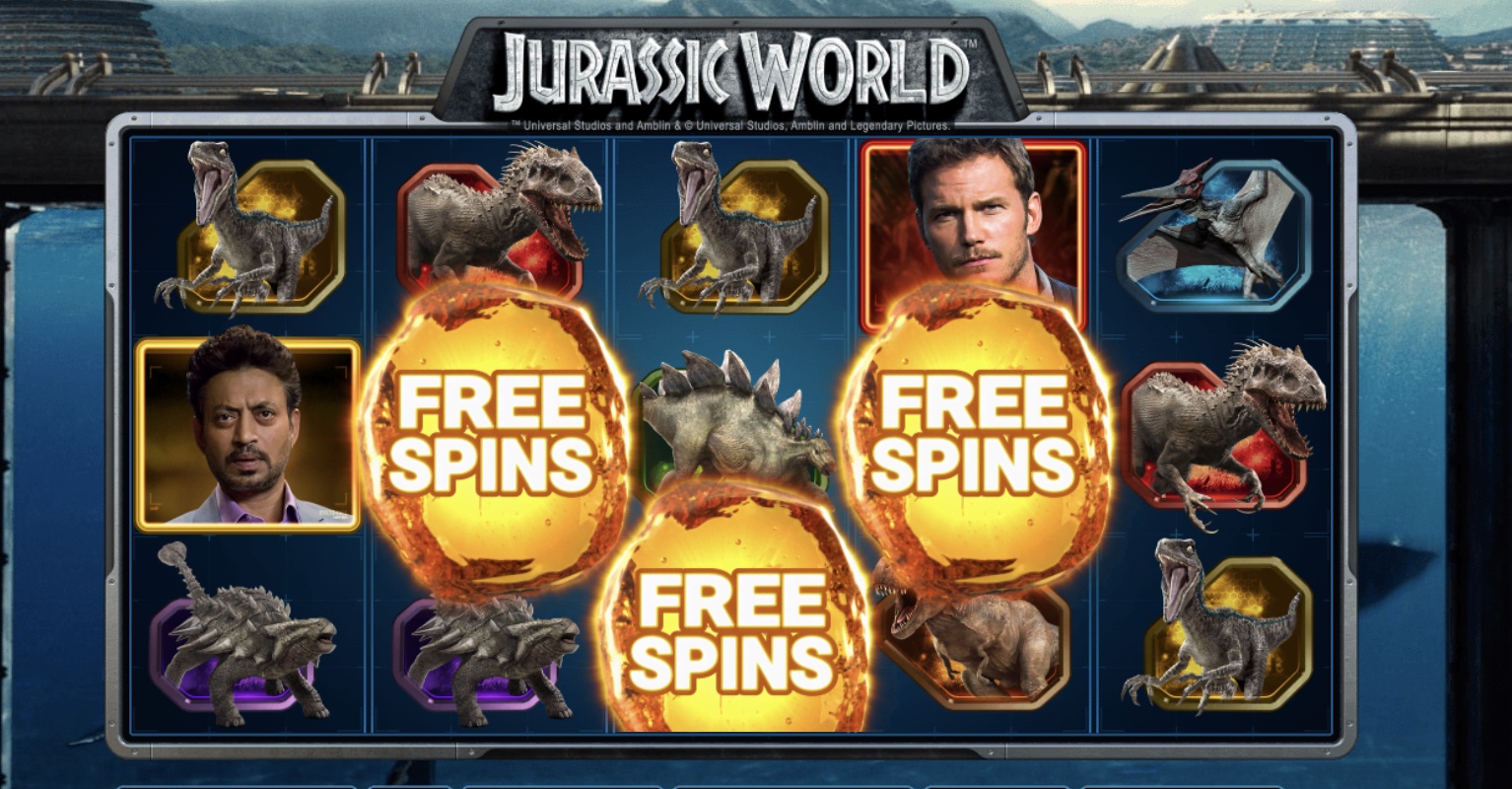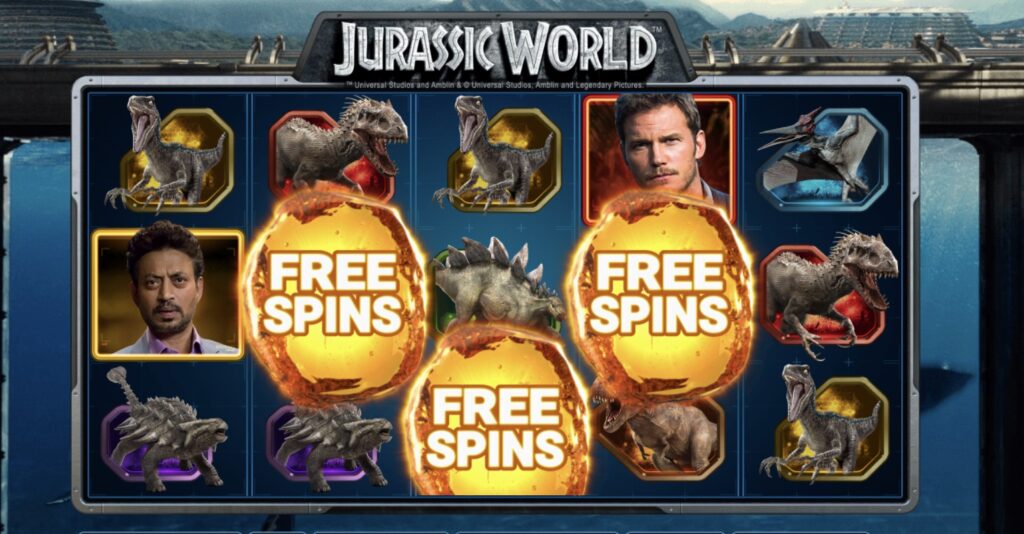 Jurassic World Slot Bonus Games
The Jurassic World slot introduces players to three unique bonus games, each of them represented as a free spins feature. These features enhance gameplay and increase winning potential, making every spin a thrilling experience:
Gyrosphere Valley: This feature awards 10 free spins and introduces an escalating multiplier. With every non-winning spin, the multiplier increases. This multiplier resets once you land a win. An exciting part of this feature is that the game ensures you do not end on a non-winning spin, guaranteeing a multiplied win before concluding.
Creation Lab: The bonus feature also awards 10 free spins, but with a twist – it incorporates the Rolling Reels mechanic. Every time you form a winning combination, the winning symbols disappear, making room for new symbols and potential additional wins. The Creation Lab also introduces Cryo Wilds, special wild symbols that remain in place for three consecutive spins.
Raptor Den: In this feature, the game also grants you 10 free spins, but this time, all scatter symbols function as wilds. These scatter-wilds are held in position until they trigger additional free spins. Landing three or more scatters anywhere on the reels can retrigger the feature, giving you five additional spins.
Each of these bonus games in the Jurassic World Slot brings a unique dimension to gameplay, ensuring each session on the reels is packed with action and opportunities for impressive wins.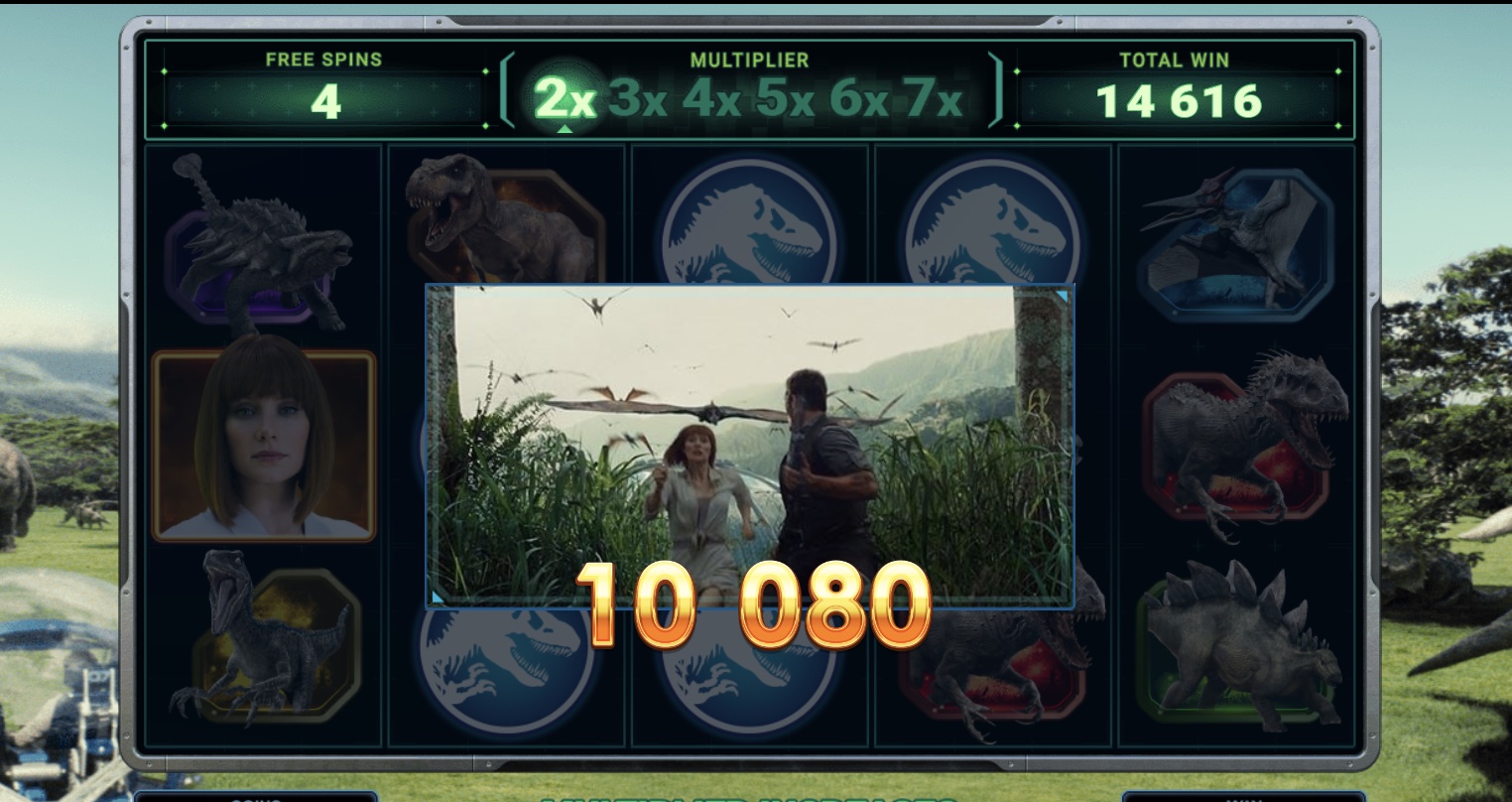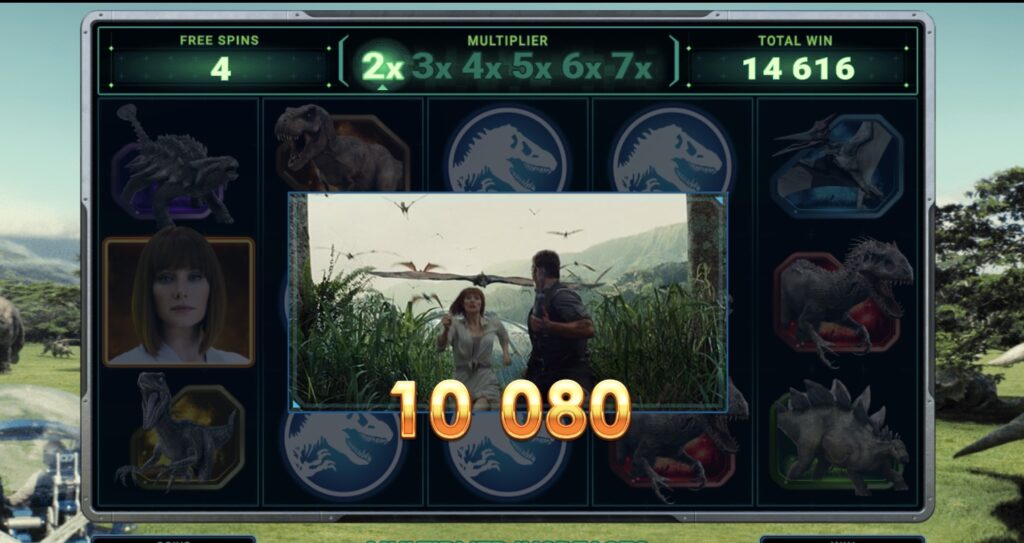 My Playing Experience
Playing the Jurassic World Slot was an exciting adventure. The cinematic graphics, combined with a dynamic soundtrack, transported me straight into the thrilling world of Jurassic Park. The 243 ways to win mechanic kept the gameplay fast-paced, and the variety of bonus features ensured every spin offered a new thrill.
Graphics & Sound
The graphics in the Jurassic World Slot are of top-notch quality, capturing the essence of the film. The symbols are meticulously designed, and the cinematic backdrop enhances the gaming experience. The slot also boasts an impressive sound design that complements the theme, immersing you in the suspenseful atmosphere of Jurassic World.
FAQ for Jurassic World Slot
What is the RTP of the Jurassic World Slot?
The RTP of the Jurassic World Slot can vary depending on the casino. Always check this information on your chosen online casino platform.
Does the Jurassic World Slot have a jackpot?
The Jurassic World Slot does not have a progressive jackpot but offers significant winnings through its 243 ways to win and unique bonus features.
Can I play the Jurassic World Slot on mobile?
Yes, the Jurassic World Slot is optimized for mobile play. You can enjoy it on various devices, including smartphones and tablets.
How many bonus features does the Jurassic World Slot have?
The Jurassic World Slot boasts three unique Free Spins features – Gyrosphere Valley, Creation Lab, and Raptor Den.
Does the Jurassic World Slot have a Wild symbol?
Yes, the Wild symbol in the Jurassic World Slot is represented by a dinosaur skeleton on a blue background and can stack up