Kitty Glitter Slot Review & Demo
Slot data
Volatility
Medium Volatility
Kitty Glitter Game Details
If you're a fan of adorable feline friends and thrilling online slot games, then Kitty Glitter is the purr-fect choice for you. Developed by IGT, a renowned online slots developer, Kitty Glitter offers an engaging and visually appealing gaming experience. This 5-reel, 30-payline slot game is filled with charming cats, exciting bonus features, and the potential for big wins.
| | |
| --- | --- |
| Software | IGT |
| Reels | 5 |
| Paylines | 30 |
| RTP | 94.71% |
| Volatility | Medium |
| Minimum Bet | $0.01 |
| Maximum Bet | $200 |
| Bonus Features | Free Spins, Bonus Games |
| Wild Symbol | Yes |
| Scatter Symbol | Yes |
| Multiplier | No |
| Progressive | No |
| Autoplay | Yes |
Kitty Glitter Slot Symbols and Payouts
Kitty Glitter takes players into a world filled with charming cats, each represented by unique symbols on the reels. The symbols stay true to the cat theme and include Persians, Siamese, Tabbies, Calicos, and even the glittering Kitty Glitter Logo, which serves as the wild symbol. The poker card symbols, ranging from Ace to 10, also make an appearance. These low-paying symbols have received a touch of glitter to match the game's theme.


When it comes to payouts, the White Persian Cat symbol offers the highest rewards, with 5 of them in a line paying out 1,000 coins. On the other hand, the familiar K, J, Q, and 10 symbols are the lowest paying, awarding 100 coins for 5 of a kind in a line. With adjustable 30 paylines and the possibility of betting up to 3,000 coins per spin at the maximum bet per line, Kitty Glitter offers flexibility in gameplay and the chance to win exciting rewards.
Paylines in Kitty Glitter Slot
Kitty Glitter features 30 adjustable paylines that provide various opportunities for winning combinations. Players can choose to activate any number of paylines they prefer, from a single line up to the maximum of 30. The more paylines activated, the greater the chances of hitting winning combinations. By adjusting the number of active paylines, players can customize their gameplay experience and betting strategy to suit their preferences.


RTP & Volatility in Kitty Glitter Slot
Kitty Glitter offers a return-to-player (RTP) percentage of 94.71%, which represents the average amount of wagered money that will be returned to players over time. With medium volatility, the game provides a balanced mix of smaller and larger wins, creating an exciting and engaging gameplay experience. Players can expect frequent payouts that keep the game thrilling, while still having the potential for significant wins.
RTP Compared to the Market
While Kitty Glitter's RTP of 94.71% is within a reasonable range, it's worth noting that RTP values can vary across different slot games. It's always a good idea for players to check the RTP percentage of a game before playing, as it can provide an indication of the expected return on their wagers. Comparing the RTP of Kitty Glitter to other slot games in the market can help players make informed decisions about their gameplay choices.
Min/Max Bets, Jackpot, and/or Maximum Win
In Kitty Glitter, players have the flexibility to adjust their bets according to their preferences and budget. The minimum bet per line starts at $0.01, allowing for cautious play, while the maximum bet per line goes up to $200, catering to high-rollers seeking larger wagers. The game's maximum win depends on the selected bet amount, the activated paylines, and the combination of symbols achieved during gameplay. While there may not be a progressive jackpot, the potential for significant wins exists, particularly with the game's bonus features.


Slot Features: Free Spins, Bonus Games, and More
Kitty Glitter offers several exciting slot features that enhance the gameplay experience. One notable feature is the Free Spins mode, triggered by landing 3 or more Bowl of Diamonds scatter symbols on the second, third, and fourth reels. This awards players with 15 free spins, which can be re-triggered by obtaining additional scatter symbols. During the Free Spins mode, the Bowl of Diamonds symbol acts as a wild, and collecting sets of Bowls of Diamonds can turn specific cat symbols into wilds, increasing the chances of winning combinations.
Kitty Glitter Slot Bonus Games
One of the exciting features of Kitty Glitter is the Free Spins mode, which is triggered by landing 3 or more Bowl of Diamonds scatter symbols on the second, third, and fourth reels. Once activated, players are rewarded with 15 initial free spins. What makes this feature even more enticing is the ability to re-trigger additional free spins by obtaining 3 or more scatter symbols on the middle reels during the Free Spins mode. These extra free spins are added to the remaining ones, providing extended gameplay and more chances to win.
During the Free Spins mode, the Bowl of Diamonds symbol not only acts as a scatter but also becomes a wild symbol. Each time the Bowl of Diamonds lands on the fifth reel, it is automatically collected in a special on-screen accumulator. Collecting three Bowls of Diamonds triggers an exciting transformation, turning all Persian cat symbols on reels 2 through 5 into additional wilds. This accumulation feature adds an extra layer of excitement and potential for big wins as more wilds are introduced to the reels.
My Playing Experience: Graphics & Sound
When it comes to visuals, Kitty Glitter doesn't disappoint. The game features high-quality graphics that bring the adorable cat symbols to life. The feline characters, including Persians, Siamese, Tabbies, and Calicos, are beautifully designed with attention to detail. The glittering effects add a touch of glamour to the gameplay, complementing the theme of the game perfectly.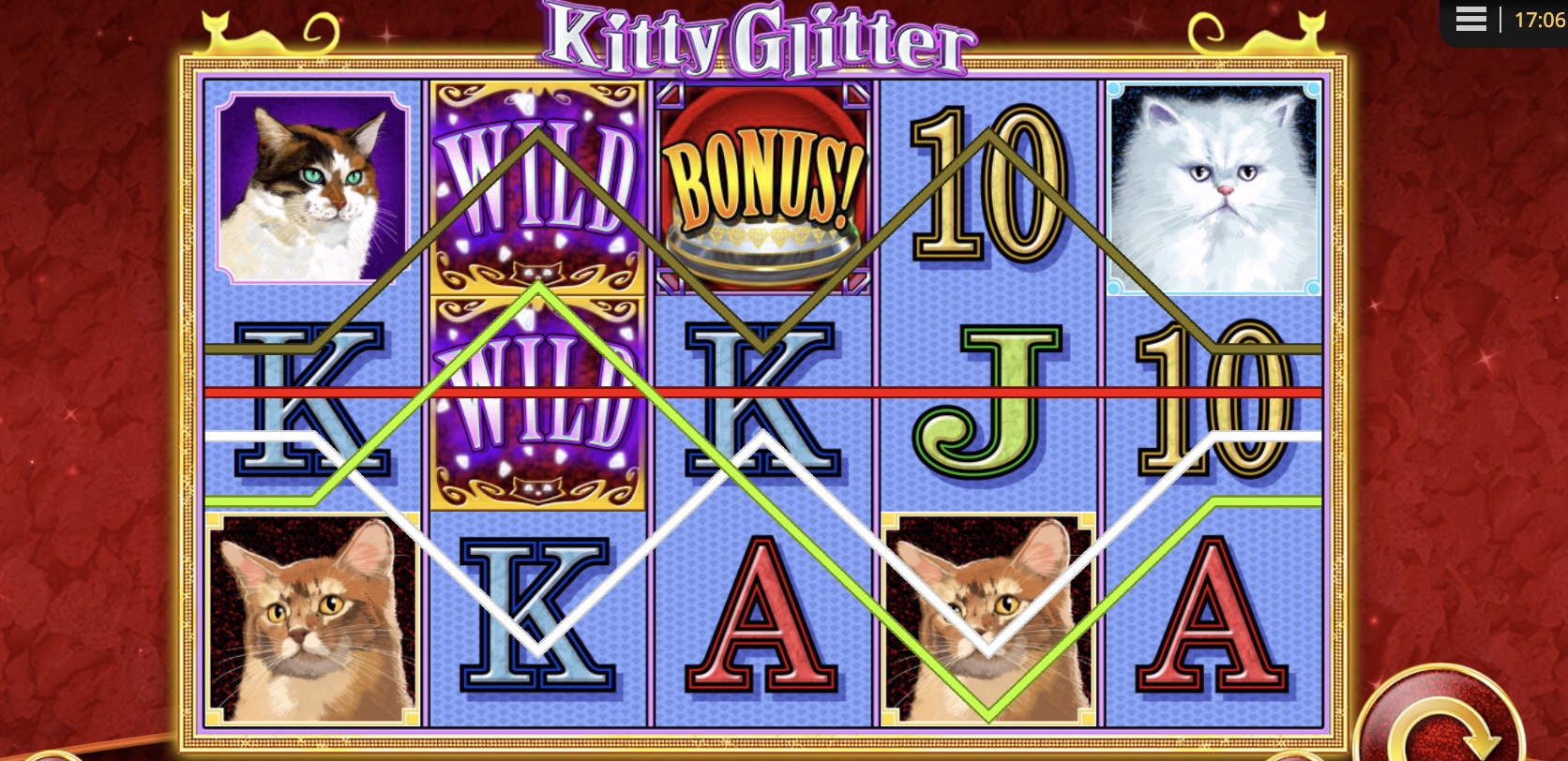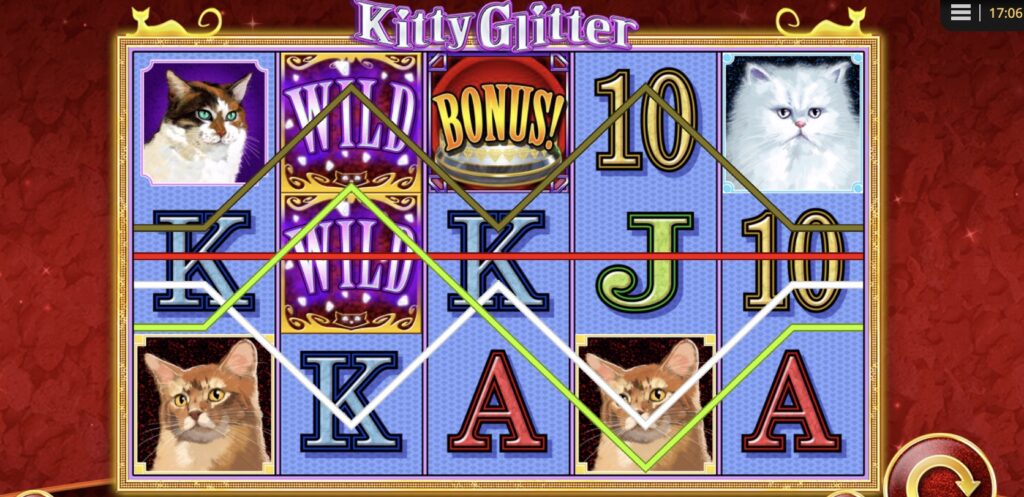 Accompanying the visuals, the game's sound effects and music further enhance the playing experience. The background music sets a playful and upbeat tone, creating an immersive atmosphere. The sound effects, such as the meowing of cats and the jingle of rewards, contribute to the overall enjoyment of the game. Combined with the visually appealing graphics, the audio elements complete the package, making Kitty Glitter a delightful and engaging slot game.
FAQ for Kitty Glitter Slot
Is Kitty Glitter slot machine available to play for free?
Yes, many online casinos offer the option to play Kitty Glitter for free in demo mode. It allows players to explore the game, understand its features, and experience the gameplay without risking real money.
Does Kitty Glitter online slot have free spins?
Yes, Kitty Glitter offers a Free Spins mode that is triggered by landing 3 or more Bowl of Diamonds scatter symbols on specific reels. Players can enjoy 15 initial free spins, with the potential to re-trigger more spins during the bonus feature.
Is Kitty Glitter slot machine safe to play online?
When playing Kitty Glitter at reputable online casinos, it is generally safe and secure. Ensure that you choose licensed and regulated casinos that employ proper security measures to protect players' information and provide fair gameplay.
How do I deposit real money to play Kitty Glitter online slot?
To deposit real money, you need to create an account at an online casino that offers Kitty Glitter. Once registered, navigate to the cashier section and choose your preferred payment method. Follow the instructions to make a deposit and ensure you meet any minimum deposit requirements set by the casino.
What is the volatility of Kitty Glitter slot?
Kitty Glitter has a medium volatility, meaning it offers a balanced combination of smaller, more frequent wins and occasional larger payouts. This volatility level provides an enjoyable and engaging gaming experience with a fair chance of hitting significant wins.