Ocean Magic Slot: Review & Demo
Slot data
Volatility
Medium Volatility
What is Ocean Magic Slot?
Immerse yourself in a deep-sea adventure with Ocean Magic Slots, an intriguing and captivating slot game from the renowned software provider, IGT. Set in a beautifully crafted underwater world, this 5-reel, 4-row game comes alive with vivid, colorful graphics and intriguing ocean creature symbols. From playful whales to treasure chests, every element in Ocean Magic Slots promises an exhilarating gaming experience.
With 50 paylines, this game has its place in the list of online slots and offers a wealth of opportunities for scoring wins. Moreover, the abundance of wild symbols, free games, and a captivating bonus game amplifies the excitement to new levels. Not to mention, there's no need to download anything – you can dive into the game instantly, whether you want to play for free or bet real money. So, what's stopping you from indulging in the thrilling underwater adventure of Ocean Magic Slots?
| | |
| --- | --- |
| Software | IGT |
| Reels | 5 |
| Paylines | 50 |
| RTP | 96.07% |
| Volatility | Medium Volatility |
| Minimum Bet | $0.50 |
| Bonus Features | Free Spins, Bonus Game |
| Wild Symbol | Yes |
| Scatter Symbol | Yes |
| Multiplier | No |
| Progressive | No |
| Autoplay | Yes |
Ocean Magic Slot Symbols And Payouts
Along with similar Goldfish Slot, Ocean Magic presents a wide array of symbols that perfectly encapsulate the vibrant, aquatic theme of the game. You will find beautifully designed creatures such as whales, a variety of fish, turtles, jellyfish, seahorses, and starfish. Each symbol holds a specific value, contributing to different payout combinations. Higher value symbols include the whale and the treasure chest, while the lower value symbols are represented by various marine creatures.
Symbols
The two standout symbols in Ocean Magic Slot are the Wild symbol and the Scatter symbol. The Wild symbol, depicted as a bubble, can substitute for any other symbol on the reels, except for the Scatter, thus increasing the chances of hitting a winning combination. A special feature of this game is the wild bubble feature; when bubbles float upwards and land on a symbol, that symbol is transformed into a wild symbol.
The Scatter symbol, represented by a treasure chest, is the key to unlocking the game's free spins feature. Landing three, four, or five Scatter symbols rewards players with 5, 10, or even 20 free games respectively.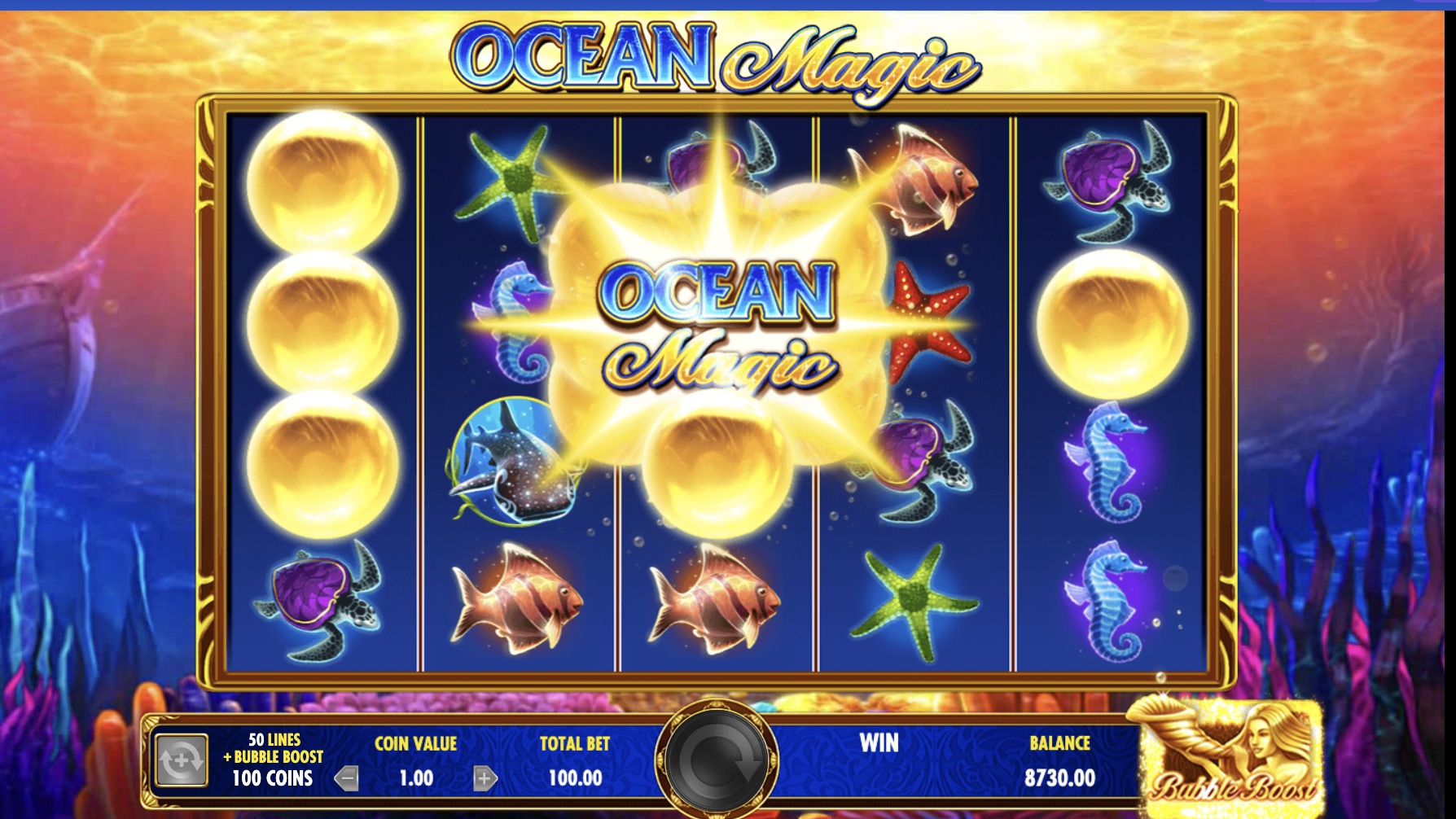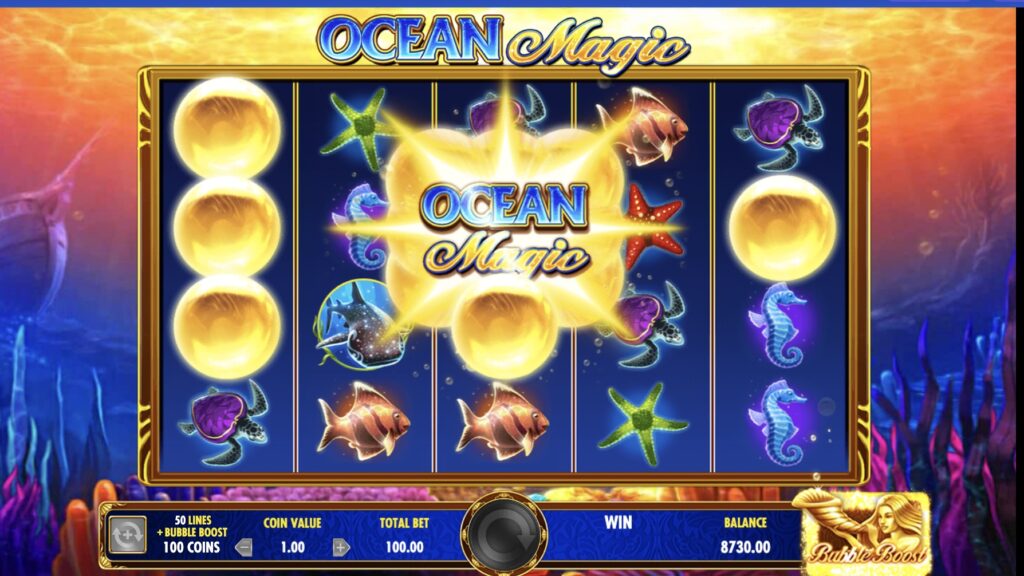 Paylines
Ocean Magic Slot boasts 50 paylines, providing a multitude of ways to win. This feature gives players an extensive range of possible combinations and sequences, adding an extra layer of excitement and unpredictability to every spin.


RTP & Volatility
Ocean Magic Slot comes with a Return to Player (RTP) percentage of 96.07%. This above-average RTP suggests that for every $100 wagered, players can expect a potential return of $96.07 over a long period of play, providing a favorable gaming environment. The volatility level of Ocean Magic Slot is yet to be confirmed, but it typically plays a vital role in determining the frequency and size of the payouts.
RTP Compared to the Market
Compared to other slot games on the market, Ocean Magic Slot's RTP stands competitive. This percentage value denotes the potential returns a player could receive over an extended playtime.
Volatility
Volatility is an essential factor for understanding the risk and reward ratio of a slot game. Higher volatility typically indicates larger but less frequent wins, while lower volatility implies smaller, more frequent wins. Ocean Magic Slot's volatility offers a balanced gameplay experience.
Min / Max Bets
The minimum bet in Ocean Magic Slot is $0.50, making it accessible for casual players. The maximum bet (needs confirmation from the provider) caters to high-rollers, looking for more significant risks and potential rewards.
Jackpot And/Or Maximum Win
Ocean Magic Slot does not feature a progressive jackpot. However, players can anticipate substantial winnings with the right combination of symbols and bonuses, especially during the bonus games.
Slot Features
Ocean Magic Slot is rich in features, offering wilds, free spins, and a special bonus game. The Wild symbol can replace any symbol, except the Scatter, to form a winning combination. Landing Scatter symbols can trigger free games, with up to 20 free spins available.
Ocean Magic Slot Bonus Games
If a player lands a wild symbol along with a scatter, a special bonus game is activated. This game involves bubbles floating on the screen, and the player must choose eight to reveal their prizes. This interactive and engaging bonus game is not just fun, but also offers a chance at impressive wins.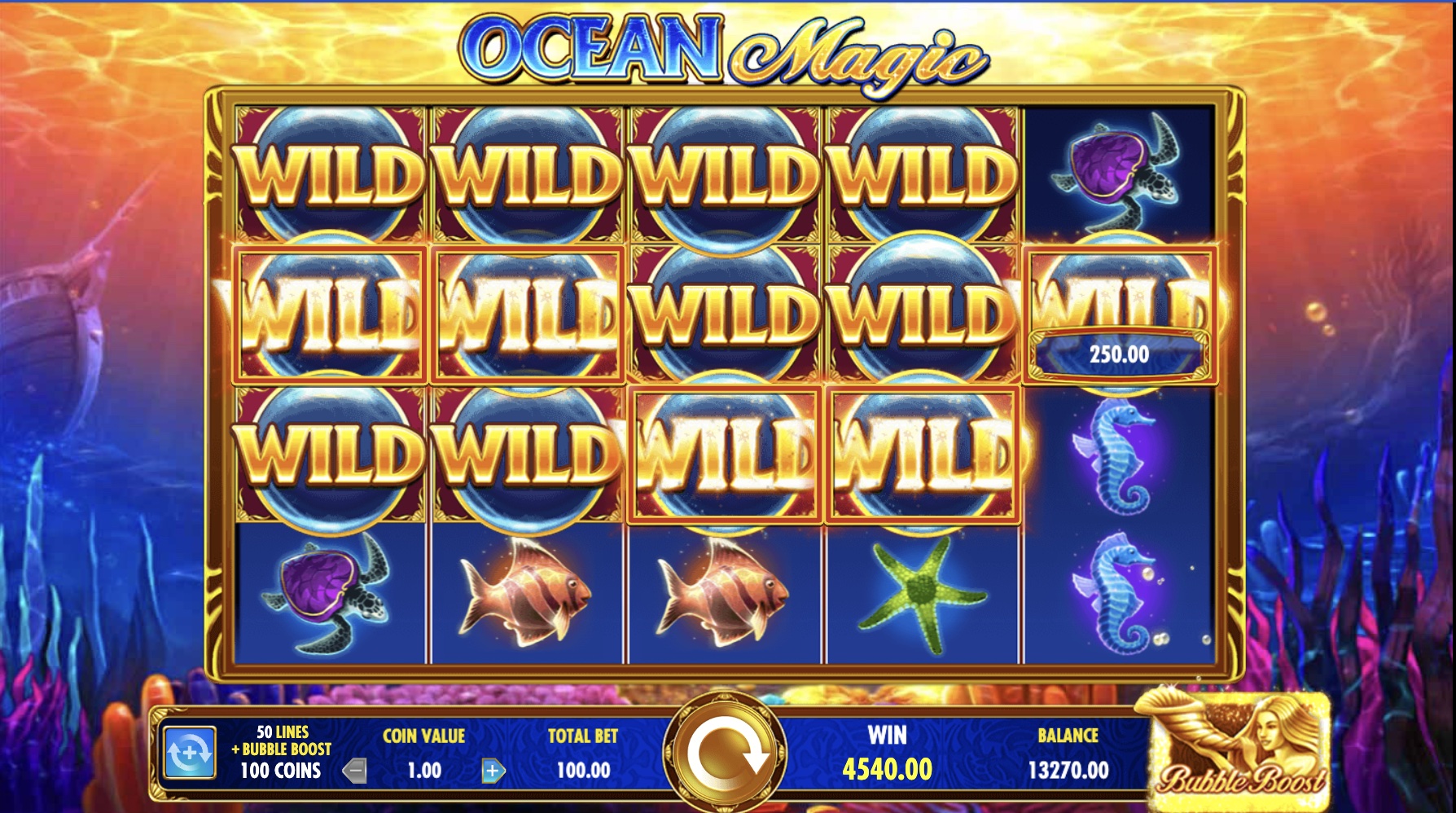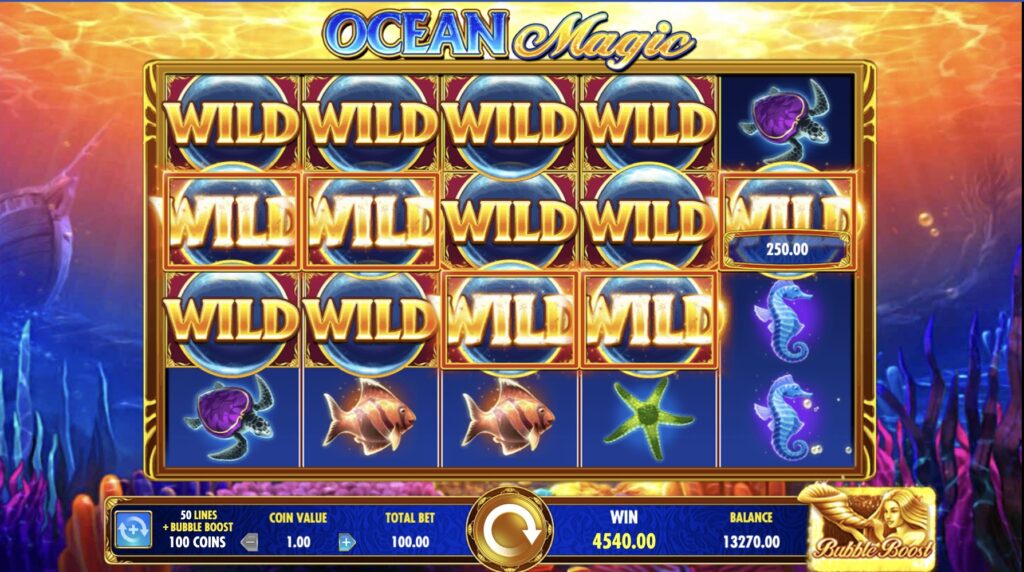 Ocean Magic Slots: Helpful Pointers
Like many other slots, the game operates on a random system. Your winnings can vary dramatically with each spin, ranging from substantial prizes to no rewards. While the Bubble Boost Feature does enhance your winning potential, it also comes at an increased cost.
Ocean Magic is accessible across various platforms, ensuring versatile gaming experiences:
Desktop computers.
Laptops.
Mobile phones.
Tablets.
With its no-download nature, this game is effortlessly playable on mobile devices. Should you engage on a mobile platform, ensure a stable Wi-Fi or cable Internet connection for seamless gameplay. As you contemplate this gaming option, you'll be presented with the choice between real money and the free online version of the Ocean Magic slot machine. Virtually every online casino offers both modes – real money and demo versions. The free online Ocean Magic slot machine lets you acquaint yourself with the game's symbols and mechanics before embarking on higher-stakes gameplay.
The free slot machine mode benefits newcomers seeking to acquaint themselves with online casino gambling. Therefore, we recommend newcomers begin with the demo slot version before venturing into real-money play.
My Playing Experience
The game's beauty lies in its intuitive mechanics, which allowed me to grasp gameplay dynamics quickly. Navigating through the controls felt effortless, enabling me to seamlessly adjust my bets, initiate spins, and activate features. This user-friendly approach contributed to a smooth and enjoyable experience, making the game accessible to both novice and experienced players.
One of the highlights of my gameplay journey was undoubtedly the bonus games. These features injected a sense of excitement and unpredictability into the experience. The anticipation of triggering a bonus round and unveiling its unique mechanics kept me in my seat. Whether it was uncovering hidden treasures or revealing the secrets of underwater realms, the bonus games added depth to the gameplay and provided a thrilling diversion from the regular spins.
The winning possibilities in Ocean Magic Slot were enticing. The frequent appearance of wild symbols and scatters contributed to the excitement of each spin. These symbols enhanced the potential for winning combinations and created moments of anticipation and hope.
The intuitive mechanics, thrilling bonus games, and the allure of substantial wins made each spin an adventure. The frequent appearance of wilds and scatters heightened the suspense and turned every spin into a potential game-changer. Overall, Ocean Magic Slot will captivate casual players and passionate slot enthusiasts alike.
Graphics & Sound
Visually, Ocean Magic Slot is a treat, with vibrant colors, detailed graphics, and a lively underwater theme. The bubble animations are a fantastic touch, adding to the immersive under-the-sea feel of the game. The sound, however, may not be to everyone's taste. Fortunately, you can mute the background music and still enjoy the enthralling gameplay.
FAQ for Ocean Magic Slot
Can I play Ocean Magic Slot for free?
Yes, you can play Ocean Magic Slot for free without any need for download or registration.
What is the minimum bet in Ocean Magic Slot?
The minimum bet in Ocean Magic Slot is $0.50.
Is there a bonus game in Ocean Magic Slot?
Yes, a special bonus game is triggered when a wild symbol and a scatter symbol appear simultaneously.
Does Ocean Magic Slot have a progressive jackpot?
No, Ocean Magic Slot does not feature a progressive jackpot.
Can I play Ocean Magic Slot on my mobile?
Yes, Ocean Magic Slot is mobile-friendly, and you can play it on various mobile devices.