River Dragons Slot: Free Demo & Review
Slot data
Volatility
Medium Volatility
What is River Dragons Slot?
If you like to check new video slots and games, try River Dragons firstly. With a rush of glistening scales and the thrill of the hunt, River Dragons emerges from the mythical waters, bringing an exhilarating and stylish online slot game created by AGS. Designed with intricate detail and comprehensive thematic features, the game offers a captivating journey into a world where dragon legends come to life.
This slot game stands apart with its unique payout system, allowing winnings from both left to right and right to left, enhancing the overall winning opportunities for players. This, combined with AGS's ingenious Reel Surge feature, which amplifies the winning ways from 576 to an astounding 4,608, makes for an unmissable gaming experience. Alongside these unique attributes, the game boasts a maximum jackpot of x2000 and the possibility of winning up to 128 free spins, offering players an unparalleled gaming adventure.
| | |
| --- | --- |
| Software | AGS |
| Reels | 5 |
| Paylines | 576 to 4608 |
| RTP | 95.92% |
| Volatility | Medium |
| Minimum Bet | $0.88 |
| Maximum Bet | $880 |
| Bonus Features | Reel Surge, Free Spins |
| Wild Symbol | Yes |
| Scatter Symbol | Yes |
| Multiplier | No |
| Progressive | No |
| Autoplay | Yes |
An enchanting blend of traditional elements and modern features, River Dragons draws inspiration from ancient oriental gaming terminals, imbued with AGS's distinctive charm and innovative gameplay. Set against a majestic waterfall and rocky landscape, the game board is guarded by two awe-inspiring dragons, which further enhance the immersive atmosphere. AGS's superior design reminds Big Bamboo slot machine and is evident in every aspect, from the captivating visuals and soundtrack to the smooth gameplay, tailored for a diverse range of devices.
With a promising RTP of 95.92% and high volatility, River Dragons slot assures an action-packed gaming experience for those who dare to spin. Although patience is key to landing high-value combinations, the rewards are worth the wait, with its exclusive Reel Surge feature and captivating free spins bonus round. Prepare yourself to dive into a world of mystic legends and grand winnings as you embark on your quest with the River Dragons.
River Dragons Slot Symbols And Payouts
River Dragons slot presents players with an assortment of intriguing symbols, each with its unique payouts. Traditional playing card symbols – ranging from nine through to ace – are the lower-value symbols. Higher-value symbols include the two beautifully crafted dragon symbols – the Red and the White dragons. Five of each of these dragon symbols can fetch you up to 100 times your stake. The River Dragons logo represents the highest paying symbol, and landing five of these on a payline can award you with a handsome 400 times your stake.
Paylines
With 576 ways to win in the base game, River Dragons ensures ample winning opportunities. When the Reel Surge feature comes into play, the win ways dramatically increase to a whopping 4,608, presenting more chances for players to create winning combinations.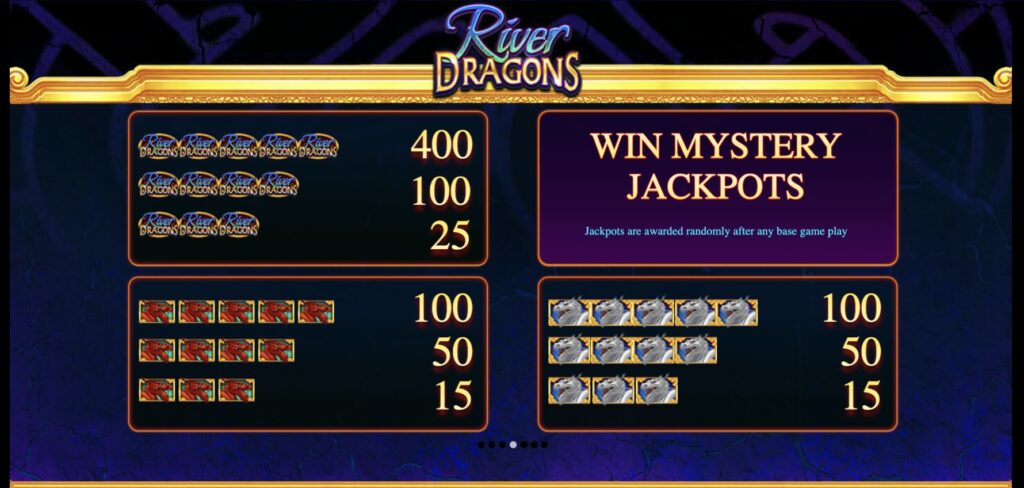 RTP & Volatility
The Return to Player (RTP) of River Dragons stands at 95.92%, which is slightly below the industry average. However, it's worth noting that the RTP is a theoretical figure and doesn't guarantee exact returns over a few spins. It implies that, on average, players can expect to win back $95.92 for every $100 wagered.
RTP Compared to the Market
The market average RTP for Dangerous beauty slot machine and other slots is around 96%, making River Dragons slightly below the market average. However, its high volatility and unique bonus features might more than make up for this slight difference.
Volatility
Along with Dragon Gold slot machine, River Dragons is a high-volatility slot game. This means it is likely to provide larger payouts, but less frequently. This volatility level is suitable for players who enjoy the thrill of chasing big wins and have a bankroll that can endure potential dry spells between significant payouts.
Min / Max Bets
River Dragons caters to a range of players, offering bet options that start from as low as $0.88 and, just like Dragon Lines slot machine, can go up to a maximum of $880. This wide betting range makes it an excellent choice for both casual players and high rollers.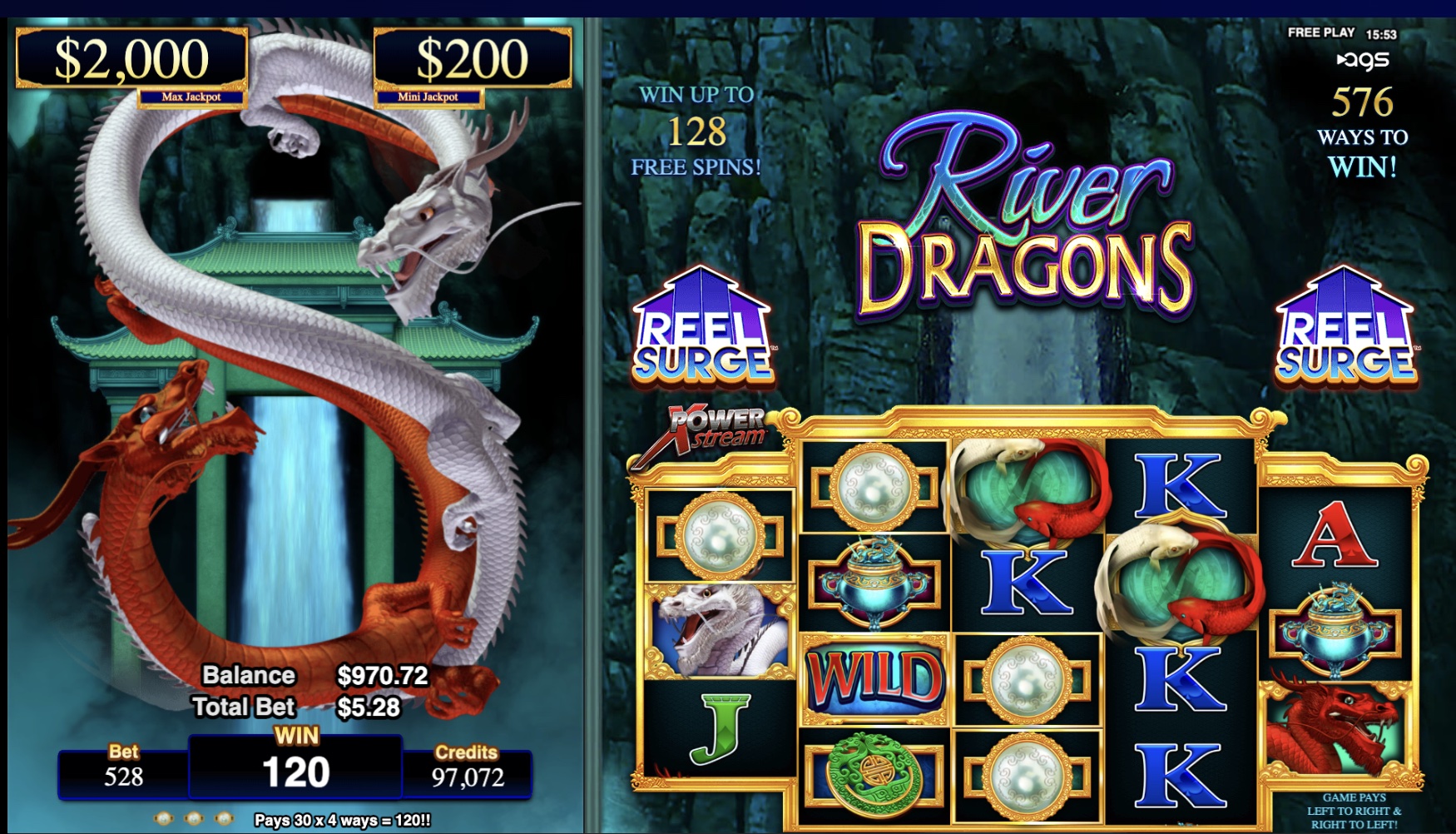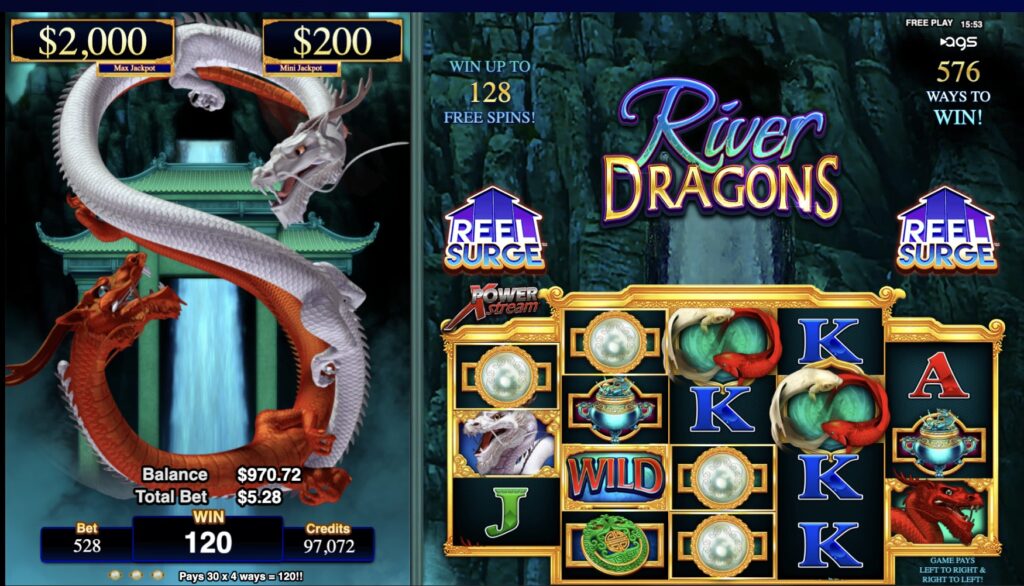 Jackpot And/Or Maximum Win
While River Dragons doesn't feature a progressive jackpot, players have the chance to secure a maximum win of 2000 times their stake, which can result in significant payouts, particularly for those placing higher bets.
Slot Features
The two standout features in River Dragons are the Reel Surge and the Free Spins. The Reel Surge feature is triggered by landing the red and white koi fish symbols, expanding the reels to offer up to 4,608 ways to win. The Free Spins feature can grant players up to 128 free spins, significantly increasing the chances of massive wins.
River Dragons Slot Bonus Games
River Dragons offers a unique bonus game in the form of its Free Spins feature. Triggered by landing the red and white koi fish symbols, this feature can award up to a staggering 128 free spins, providing players with an excellent opportunity to rake in big wins without wagering additional bets.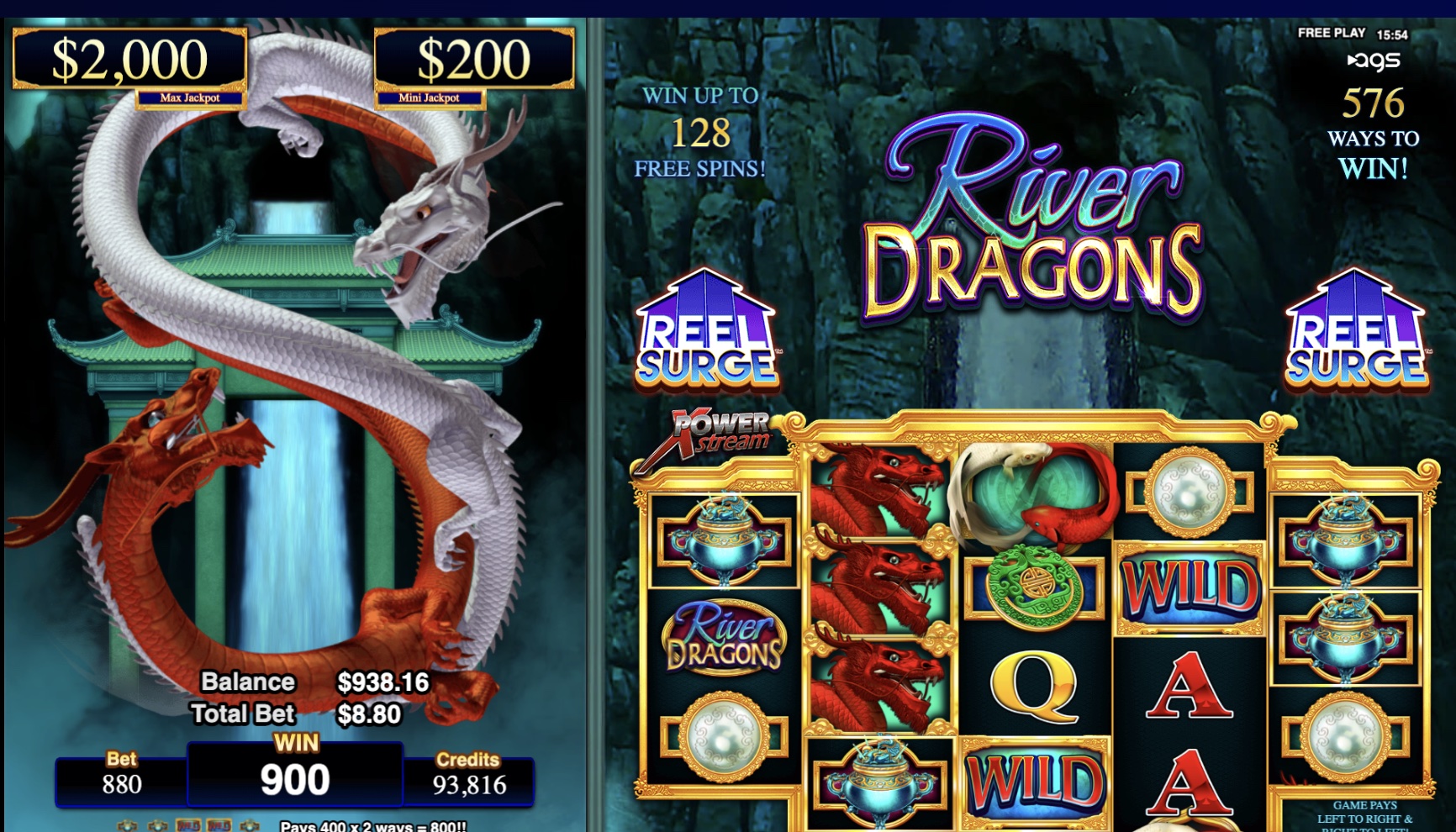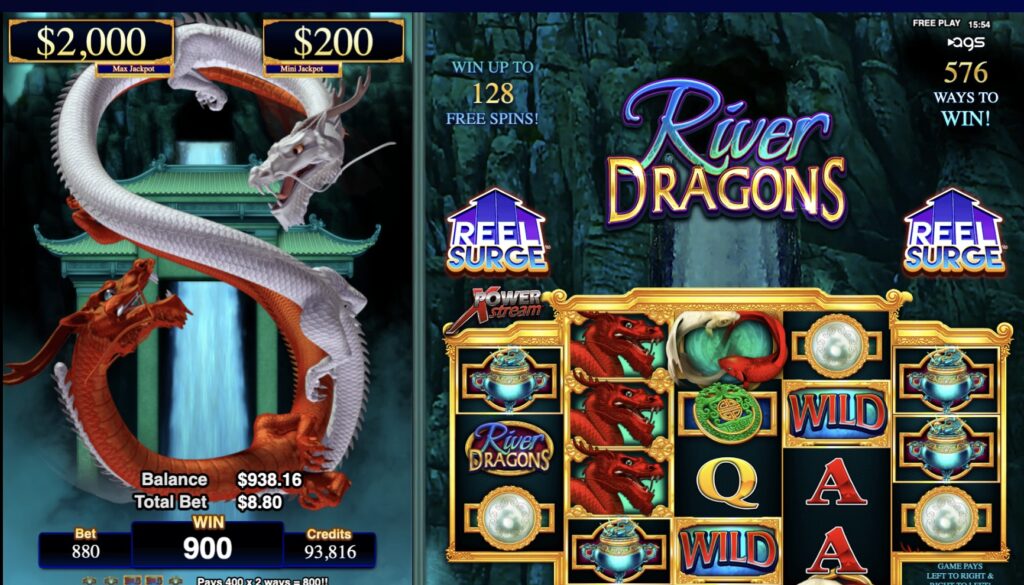 My Playing Experience
My experience playing River Dragons was truly immersive compared to Dragon Link slot machine and other games. The game's high-quality graphics, enticing soundtrack, and engaging bonus features made for an enjoyable session. The unique Reel Surge feature added an unexpected twist to the gameplay, and the possibility of winning up to 128 free spins kept the excitement levels high throughout. If the theme of dragons and legends is close to you, I also highly recommend trying to play in Floating Dragon slot machine to compare you impressions.
Graphics & Sound
The visuals in River Dragons are stunning and are similar to Fu Nan Fu Nu slot machine while the sound design complements the theme perfectly. The backdrop of a cascading waterfall and rugged cliffs add to the game's immersive environment. The presence of the two majestic dragons adds a mythical feel, with the soundtrack and sound effects enhancing the overall gaming experience.
FAQ for River Dragon Slot
What is the RTP of River Dragons slot?
The Return to Player (RTP) of River Dragons is 95.92%.
What is the volatility level of River Dragons slot?
River Dragons is a high-volatility slot game, which means it might provide larger payouts, but less frequently.
What is the maximum win in River Dragons?
The maximum win is 2000 times your stake.
What are the main features of River Dragons slot?
River Dragons slot offers the unique Reel Surge feature and a Free Spins feature, which can award up to 128 free spins.
What is the minimum and maximum bet in River Dragons slot?
The minimum bet is $0.88, and the maximum bet is $880.