Vegas Hot Slot: Review & Free Demo
Slot data
Volatility
MediumVolatility
What is Vegas Hot Slot?
Take a spin on the vibrant reels of Vegas Hot, a slot game from Wazdan that whisks players away to the glitz and glamour of Las Vegas from the comfort of their own home. This slot machine perfectly captures the nostalgic appeal of vintage gaming, featuring a retro aesthetic that's reminiscent of the mid-80s. The game doesn't shy away from its modest simplicity, a charm that's likely to appeal to both newbies and seasoned players.
Although it might initially appear unassuming, Vegas Hot packs a punch with its unique features like the elusive multiplier walls. The game is a good option for those who want to try more slots, balancing its simplicity with a sprinkle of modern features, ensuring a captivating gaming experience. Whether you're a high roller or playing on a tight budget, Vegas Hot makes sure everyone gets a piece of the Vegas excitement.
| | |
| --- | --- |
| Software | Wazdan |
| Reels | 3 |
| Paylines | 5 |
| RTP | 96.05% |
| Volatility | Medium |
| Minimum Bet | 0.10 $ |
| Maximum Bet | 100 $ |
| Bonus Features | Gamble Feature, Multipliers |
| Wild Symbol | Yes |
| Scatter Symbol | Yes |
| Multiplier | Yes |
| Progressive | No |
| Autoplay | Yes |
Vegas Hot Info
Vegas Hot Slot Symbols And Payouts
Vegas Hot captures the classic spirit of the slot game with its traditional symbols, consisting of fruits such as oranges, lemons, and blueberries, as well as bells. These symbols lend a nostalgic touch to the game while offering rewarding payouts. For bigger wins, players need to aim for a 3×3 grid of these symbols, which activates a multiplier feature. The multiplier amount isn't specified but is expected to be around 2x or 3x, which can significantly enhance the winnings of that round. Let's take a closer look at the symbols and their payouts in this slot game:
Symbols
This slot has different tasty symbols, making it similar to popular Fruit Party Online Slot with a great set of fruits. Thus, the Vegas Hot has the following symbols:
Cherries: They are a timeless symbol in slot machines. Combining cherries on a payline will reward you with a modest payout.
Lemons: These offer slightly higher rewards than cherries.
Oranges: Juicy oranges deliver more significant payouts when you line them up on the reels.
Plums: Such fruits add a splash of color to the symbols and bring higher rewards than oranges and lemons.
Grapes: In Vegas Hot, they bestow even more generous payouts.
Watermelons: Sweety watermelons offer substantial rewards, making them a sought-after symbol on the reels.
Bells: They are a traditional lucky symbol in many slot games. In Vegas Hot, they come with more powerful payouts.
Sevens: Lucky number sevens are a staple in classic slots, and in Vegas Hot, they represent one of the highest paying symbols. Aligning sevens on a payline can lead to exciting wins.
Stars: Landing them on the reels is your ticket to the game's most significant payouts.
Payouts
The payouts in Vegas Hot vary depending on the symbols and the number of symbols you land on a payline. Higher-value symbols and longer combinations result in more substantial payouts. The paytable will display the specific payouts for each symbol combination.
Understanding the payout structure and the game's mechanics will help you make strategic decisions while enjoying the thrilling experience of Vegas Hot Slot.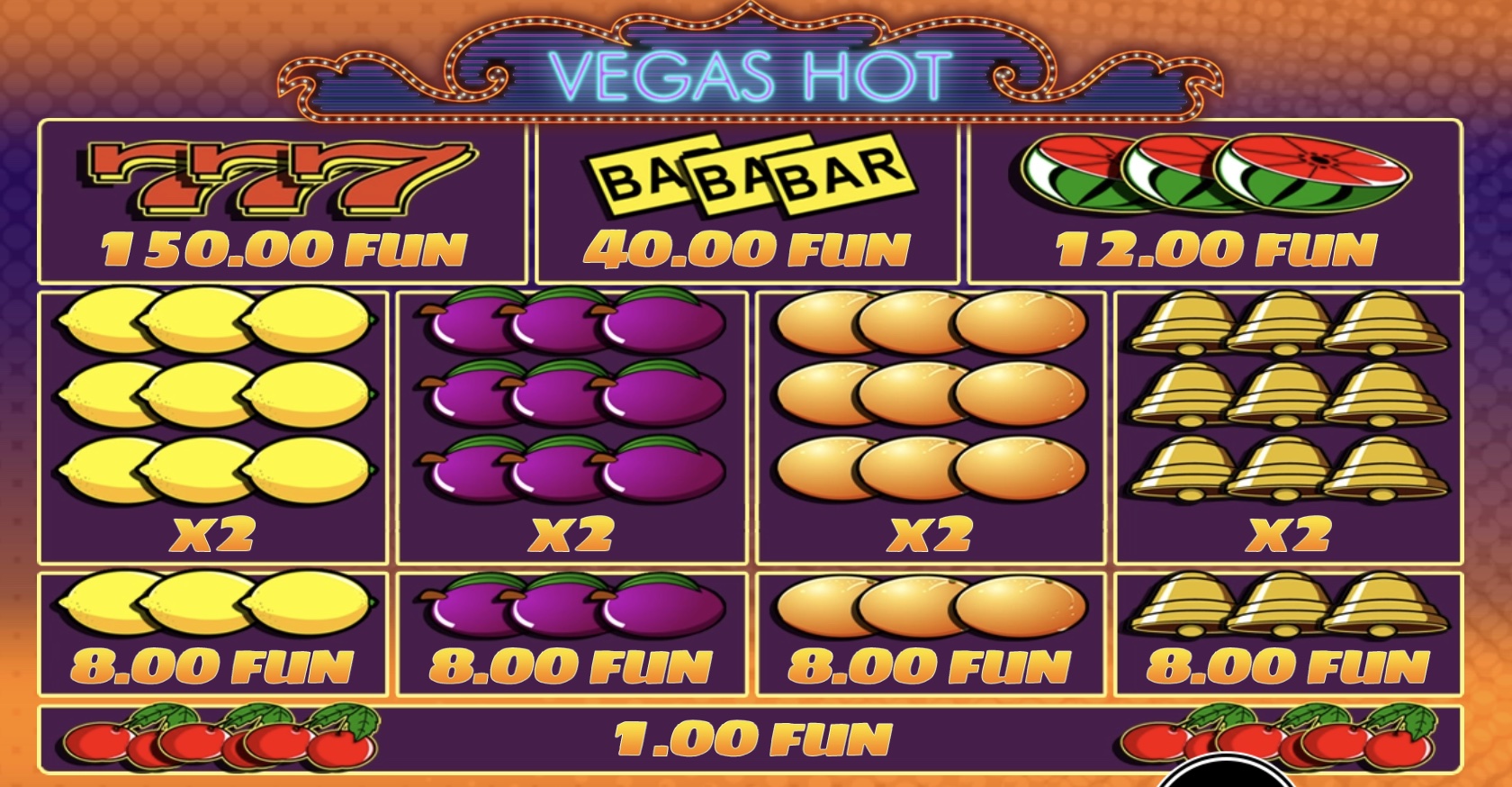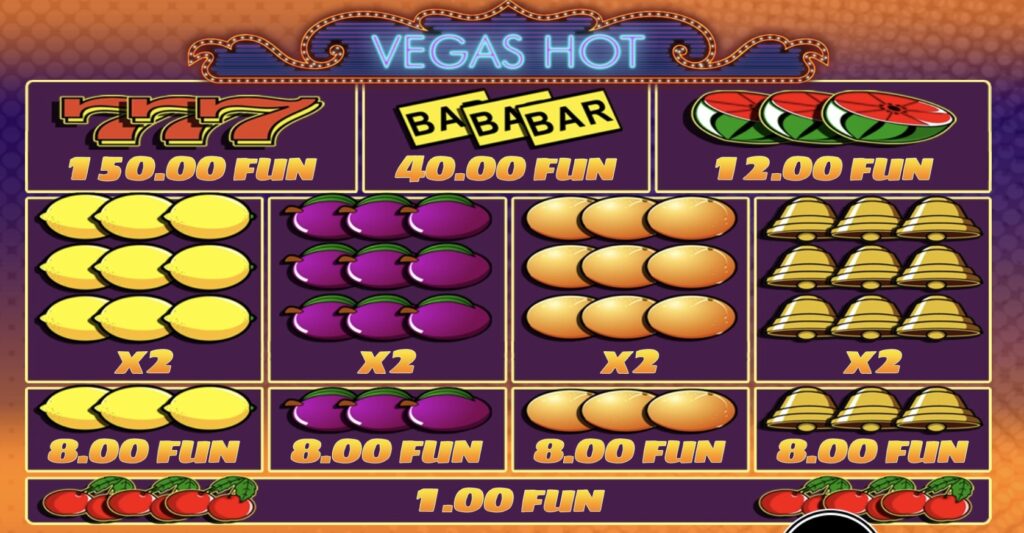 Paylines
Vegas Hot follows a simple layout, providing players with 5 paylines. This lower number of paylines makes the game more straightforward and less cluttered, offering a simple gaming experience that's easy for new players to understand. It also implies that winning combinations are less frequent but are more rewarding when they do hit.
Vegas Hot Slot RTP & Volatility
The Vegas Hot RTP is 96.05%, an excellent return for players. The Vegas Hot Slot has a high RTP, making it a good choice for players who want to play longer or more spins without losing their money quickly.
Like Reel Rush Online Slot, the Vegas Hot Slot has medium volatility, meaning there is a balance between the frequency and size of wins. This means that players will experience a mix of small and sizable wins, with moderate consistency. The average bet size for this slot machine is between $0.10 and $100 per spin, catering to a wide range of players with different budgets.
Min / Max Bets
Vegas Hot is accessible to a broad range of players, with a minimum bet starting as low as 0.10 credits, making it suitable for cautious players or beginners, along with Sweet bonanza online slot and other universal games. For the high-rollers or more adventurous, the maximum bet caps at 100 credits, providing ample opportunity to secure sizeable winnings.
Jackpot And/Or Maximum Win
Vegas Hot does not feature a progressive jackpot. However, like Wild Beach Party online Slot, it does offer the potential for big wins, particularly with its unique multiplier feature, which can multiply the round's winnings by 2x or 3x. To hit the maximum win, you'll want to line up a complete payline with stars, ideally across all five reels. The exact value of the max win will depend on the your bet size. The game's paytable will provide you with the necessary information on the payouts for each symbol and combination.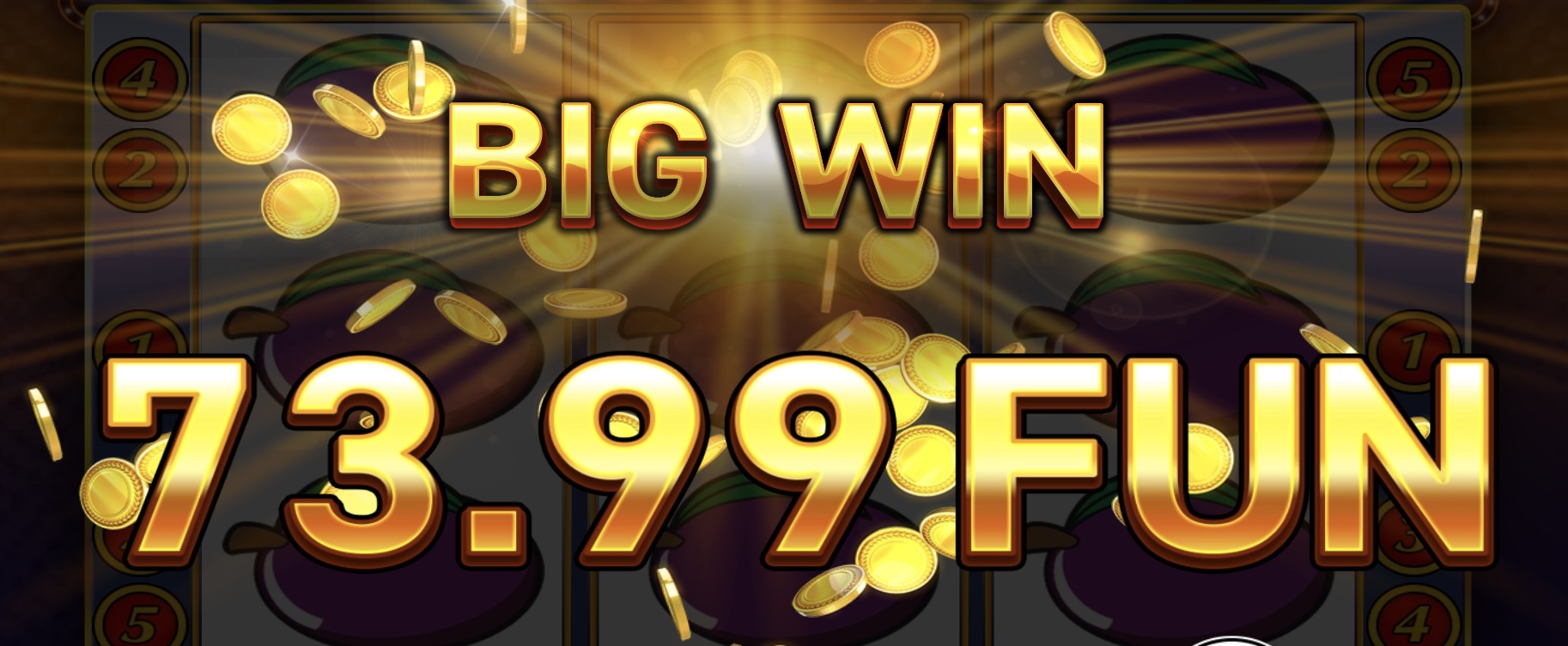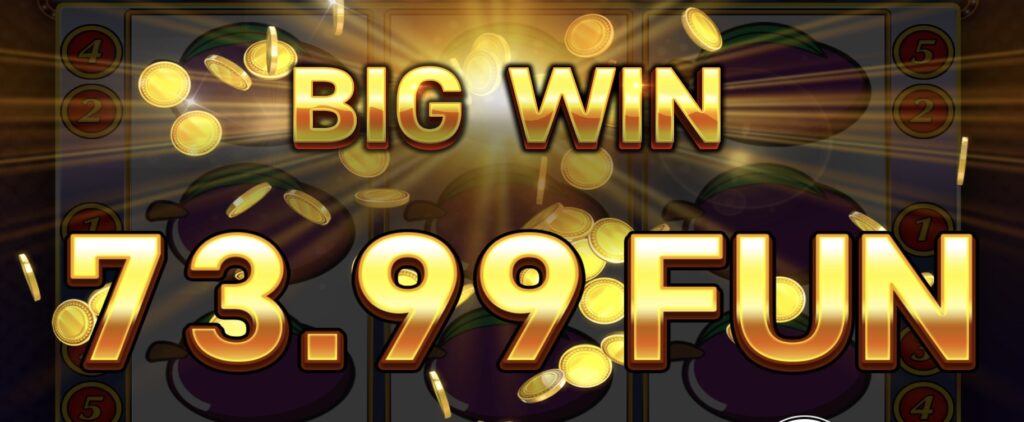 Vegas Hot Slot Features
Vegas Hot Slot has many features that make it an enjoyable game for all players.
Free Spins Feature is triggered by landing three or more "Wild" symbols on reels 1, 2, and 3 simultaneously. You will receive 10 free spins that can be re-triggered with two or more wilds during them.
The bonus round may be triggered randomly or by provoking the special scatter symbol that appears on reels 2, 3 and 4. In either case, the player will receive up to 9 free spins with nudges and wilds added.
The scatter symbol appears on reels 2, 3 and 4 only when at least two scatters are present anywhere on the board at any given time during regular gameplay.
Vegas Hot Slot Bonus Games
Vegas Hot does not feature specific bonus games, but it compensates for this with two exciting features that can significantly enhance your gameplay and winnings. The game offers a Gamble feature and a special multiplier feature. The Gamble feature is triggered after a win and gives players the chance to double their winnings. On the other hand, the multiplier feature is activated when players create a 3×3 grid of specific symbols, leading to a 2x or 3x multiplier being applied to the round's winnings.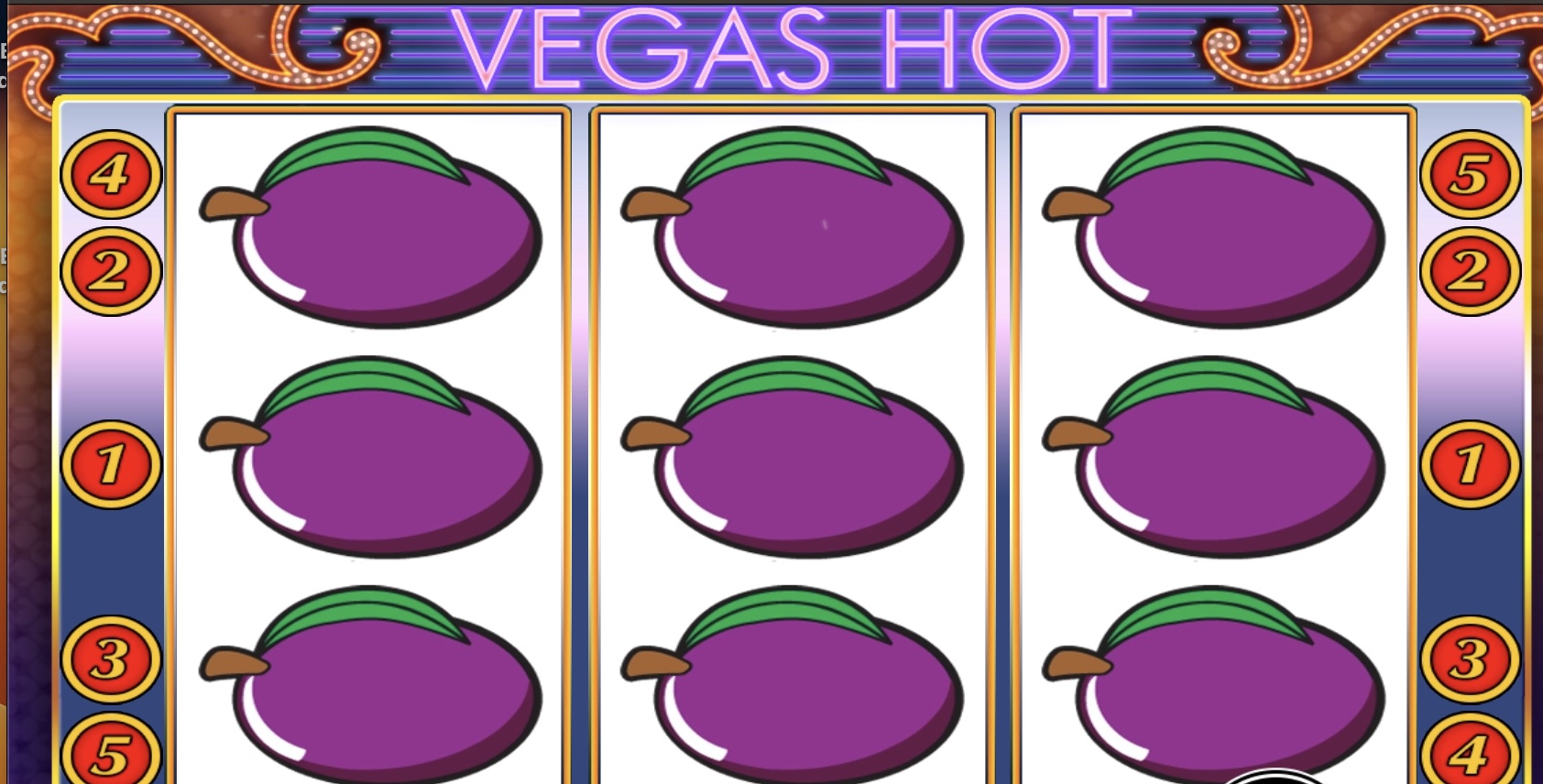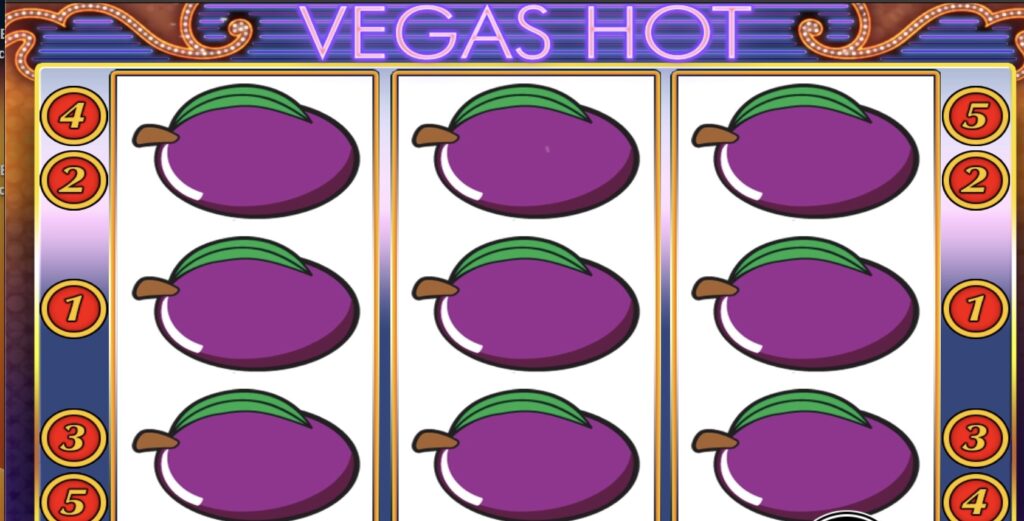 Vegas Hot Slot Graphics & Sound
The reels are adorned with colorful and familiar symbols. These are cherries, lemons, oranges, plums, grapes, watermelons, bells, sevens, and stars. Each symbol is beautifully rendered with vibrant colors and meticulous attention to detail. The backdrop features a glimmering city skyline, symbolizing the lights of Las Vegas at night. The user interface is user-friendly, with clear and easy-to-navigate controls.
The background music features a lively and upbeat tune, capturing the essence of the Vegas atmosphere. The rhythmic sound effects enhance the gameplay. When the reels are set in motion, players will hear the classic slot machine mechanical sounds, including the familiar clicking and whirring of the spinning reels. Landing winning combinations is celebrated with cheerful jingles and chimes, amplifying the joy of hitting a payout.
My Experience of Playing Vegas Hot Slot in demo mode
I have played Vegas Hot Slot in demo mode and I must say that it is a good game. It has 5 reels and 30 pay lines. The graphics are good and the gameplay is smooth. A lot of entertainment can be had while playing this game.
The only downside is that it has no bonus features or free spins, so there is not much to look out for in this game other than the betting options and the free spins functionality. But then again, if you are looking for good old-fashioned slot machine fun, Vegas Hot Slot will be just what you need.
FAQ for Vegas Hot Slot
What is the minimum and maximum bet in Vegas Hot?
The minimum bet in Vegas Hot is 0.10 credits, and the maximum bet is 100 credits.
Does Vegas Hot offer any bonus games?
No, Vegas Hot does not offer specific bonus games. However, it does have a Gamble feature and a unique multiplier feature which add an element of excitement to the gameplay.
Is there a jackpot in Vegas Hot?
No, Vegas Hot does not feature a progressive jackpot. However, the potential for big wins is present, particularly through its unique multiplier feature.
What are the symbols in Vegas Hot?
Vegas Hot features traditional fruit symbols like oranges, lemons, and blueberries, along with bells. These symbols can activate the multiplier feature when arranged in a 3×3 grid.
Can I play Vegas Hot on mobile?
As a game developed by Wazdan, a company known for its mobile-friendly games, you should be able to play Vegas Hot on mobile. However, it's always best to check with the specific platform hosting the game to ensure compatibility with your device.