DraftKings Sportsbook
Get up to $1000 Welcome Bonus
Our team has personally tested this platform, made deposits, and experienced first-hand the benefits of their enticing welcome bonus. With DraftKings Sportsbook, NJ residents have an excellent opportunity to enjoy a thrilling sports betting experience right at their fingertips. We're excited to share our comprehensive review and insights with you.
DraftKings Sportsbook NJ Promo Code and Welcome Offer in September 2023
At DraftKings Sportsbook, new users capitalize on an enticing welcome offer available in September 2023. The bonus offer is a match of 20% on a user's first deposit, potentially reaching up to $1,000 in bonus funds. This offer requires the user to play through a certain amount to release these funds, but it provides an excellent boost to get started with sports betting on the platform. Let's delve into the specifics:

| Bonus Information | Details |
| --- | --- |
| Minimum Deposit | $5 |
| Maximum Bonus Amount | $1,000 |
| Bonus Release Rate | $1 for every $25 played |
| Play-through Requirement | Must be met within 90 days from the date of the first deposit |
| Eligibility | First-time depositors only. Previous DraftKings depositors are ineligible. |
| Promotion End Date | 07/31/23 |
How to Sign Up and Claim the DraftKings Bonus
To claim the DraftKings Sportsbook welcome offer, follow this comprehensive step-by-step guide: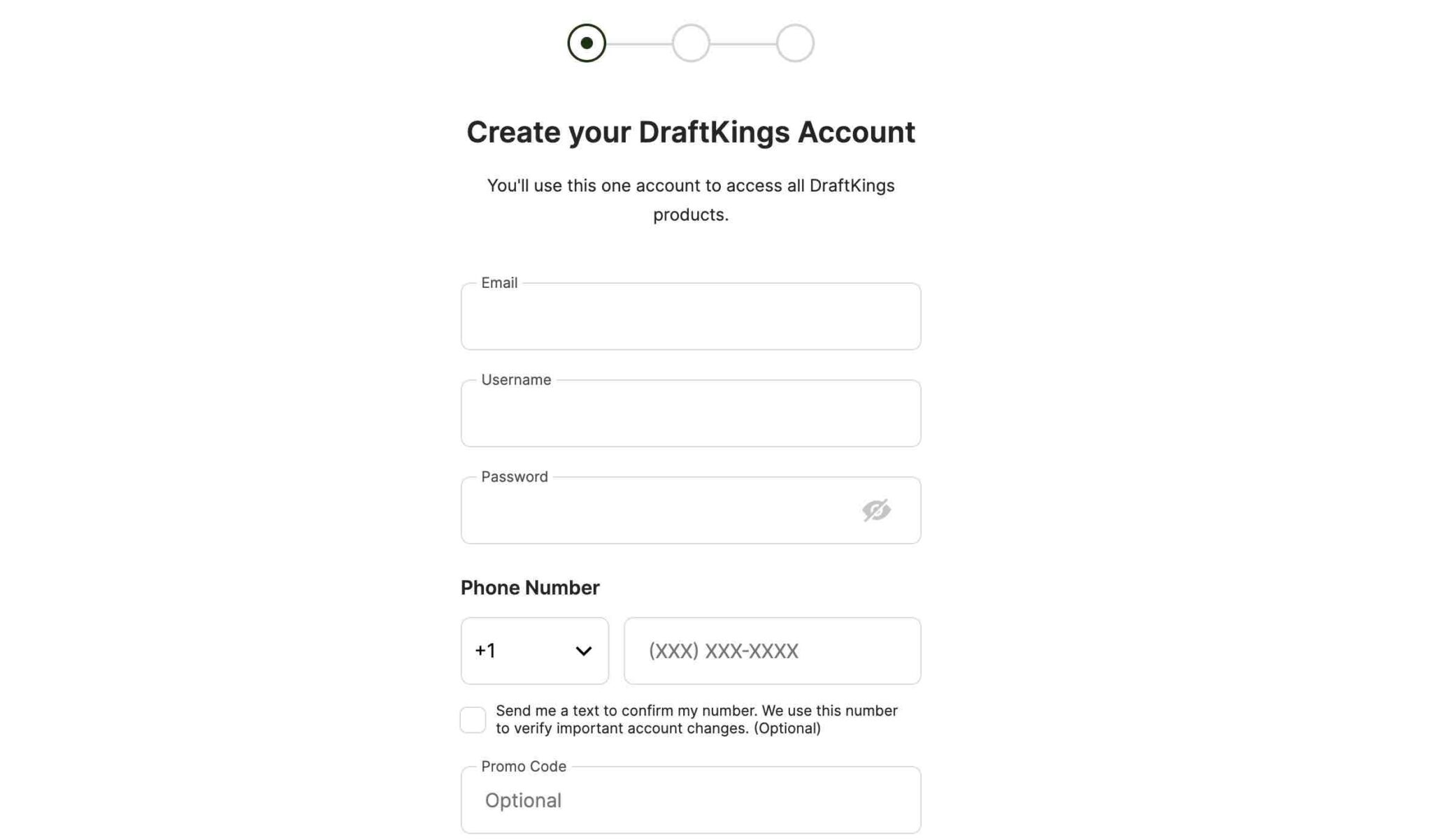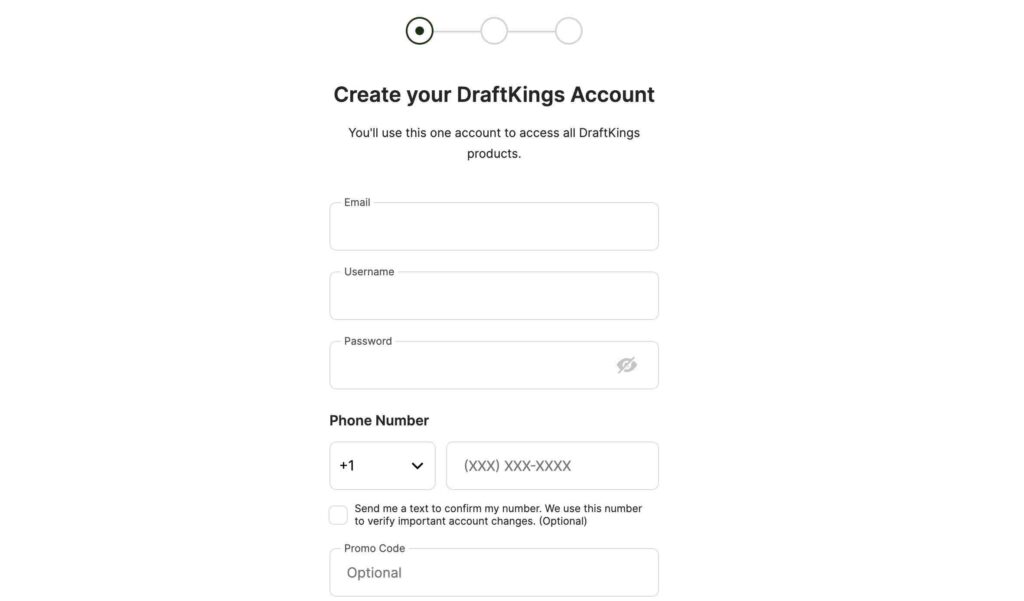 Step 1

Navigate to the DraftKings Platform

Start by visiting the DraftKings Sportsbook website on the browser or downloading the DraftKings Sportsbook app on the mobile device.

Step 2

Initiate Account Registration

Locate and click on the "Sign Up" button to initiate creating a new DraftKings account.

Step 3

Enter the Personal Information

In the sign-up form, enter your personal information. This includes an email address, username, and password for the account.

Step 4

Provide Contact Information (Optional)

You'll see a field asking for your phone number. This is optional and is used to verify important account changes. If you're comfortable with this, enter a phone number.

Step 5

Enter the Last Four Digits of Your SSN

As a part of the verification process, players from New Jersey need to provide the last four digits of their Social Security Number (SSN).

Step 6

Input Promo Code (If Available)

If you have a promo code, there is a field where you can enter it. This field is not required, but it's beneficial if you have a code.

Step 7

Confirm Account Creation

Once you've filled out all necessary information, click on "Create Account" to finalize your registration. By doing this, you agree to DraftKings' Terms of Use and Privacy Notice and confirm that you are of legal age to participate in sports betting in New Jersey (21 years old).

Step 8

Verify Your Identity

State and federal laws require verifying your identity to ensure account security and maintain game integrity expectations. This involves scanning a driver's license or state-issued ID for instant automated approval.

Step 9

Make the First Deposit

After creating an account and verifying your identity, proceed to make the first deposit. The minimum deposit to qualify for the bonus offer is $5.

Step 10

Start Enjoying Your Bonus

Following your deposit, the bonus funds will be awarded according to the play-through requirement. This involves playing through a certain amount on DraftKings to release these bonus funds.
Other Promotions at DraftKings Sportsbook New Jersey
DraftKings Sportsbook isn't just about the welcome bonus. Their catalog also contains many excellent rewards for regular customers and newcomers. Experts in their reviews note that one of the best aspects is a range of other promotions that add extra value to your experience on sport betting sites in New Jersey and open up new opportunities for big wins. Let's explore some of the key promotions currently available.


Get $150 in Bonus Bets DraftKings + $10 in Casino Credits
This promotion offers an instant bonus for new customers. Place a $5 or more bet, and you'll instantly receive $150 in bonus bets and $10 in casino credits. The promotion is open to first-time DraftKings Sportsbook customers.
| Bonus Information | Details |
| --- | --- |
| Bonus Amount | $150 + $10 Casino Credits |
| Deposit Required | $5+ |
| Bonus Release | Instantly upon wagering $5+ |
| Eligibility | First-time DraftKings Sportsbook customers only |
| Promotion End Date | 07/31/2023 |
Refer a Friend
The DraftKings 'Refer a Friend' promotion is a win-win. When you refer a new player to DraftKings, and they deposit $50 or more, both of you receive a $50 bonus bet and $50 in casino credits.
| Bonus Information | Details |
| --- | --- |
| Bonus Amount | $50 Bonus Bet + $50 Casino Credits for both parties |
| Deposit Required by Friend | $50+ |
| Eligibility | New DraftKings players only, limit 5 referrals per offer period |
| Promotion End Date | 08/30/2023 |
Available Types of Bets
At DraftKings NJ sportsbook, bettors have a broad range of betting options to choose from, similar to what one might find at Bet365 Sportsbook. This versatility allows you to tailor your betting experience to suit your preferences, strategies, and the specific sporting events you're interested in. Here are the types of bets you can place at DraftKings:


Moneyline Bets
This is the simplest form of betting where you're betting on the outright winner of a game or event.
Point Spread Bets
Here, you're betting on the margin of victory or defeat. The favored team must win by more than the specified points (spread), while the underdog team must lose by less than the spread or win outright.
Over/Under Bets
These bets are based on the total points scored by both teams in a game. You're betting on whether the total points will be over or under a specified number.
Futures Bets
These are bets on events that will take place in the future, like who will win the Super Bowl or the MVP of the NBA season.
Prop Bets
These are bets on specific outcomes within an event, such as how many touchdowns a player will score or how many yards a running back will rush for in a game.
Live Betting
This allows you to place bets on an event as it unfolds in real-time. Odds may change rapidly based on the progression of the game.
Placing Bets on DraftKings: A Step-by-step Guide
If you're new to DraftKings or online sports betting in general, here's a step-by-step guide to placing bets:
Step 1

Sign In to Your Account

Sign in to the DraftKings account. If you don't have one, you'll need to create one and make a deposit.

Step 2

Choose Your Sport

Once you're signed in, you'll see a list of sports on the DraftKings platform. Select the sport you would like to bet on.

Step 3

Choose Your Event

After selecting your sport, you'll see a list of upcoming events. Click on the event to bet on.

Step 4

Choose Bet Type

Decide on the type of bet you want to place (moneyline, point spread, over/under, etc.) and click on it.

Step 5

Place a Bet

Enter the amount to bet in the 'Bet Slip' on the right side of the screen. The potential payout will be displayed. If you're satisfied with your bet and the potential payout, click 'Place Bet.'

Step 6

Confirm Your Bet

A summary of the bet will be displayed. Review the information to ensure everything is correct, then click 'Confirm' to place this bet.
Supporting Home Teams: New Jersey Sports Teams to Bet On
If you're a fan of local sports teams, you're in luck. DraftKings NJ sportsbook offers plenty of betting opportunities on home teams. Here are some of the top NJ teams for your bets:
New York Giants (NFL): Although they're named the "New York" Giants, they actually play their home games in East Rutherford, New Jersey. Betting on the Giants adds an extra level of excitement to your NFL Sundays.
New York Jets (NFL): Like the Giants, the Jets are another football team that calls New Jersey home. Whether you're betting on individual games or futures bets like season win totals, the Jets offer plenty of betting opportunities.
New Jersey Devils (NHL): The Devils are the home team in the National Hockey League. From game outcomes and over/under to prop bets like which player will score first, you can support the Devils while potentially winning some money.
New York Red Bulls (MLS): The Red Bulls are a Major League Soccer team based in Harrison. Soccer betting offers various bet types, including moneyline, totals, and futures.
Seton Hall Pirates (NCAA Basketball): College basketball fans get in on the action by betting on the Pirates. DraftKings offers a range of college basketball bets, from individual game bets to tournament outcomes.
Depositing and Withdrawing on the DraftKings App in NJ
One of the key advantages is the wide variety of payment methods it offers. This flexibility allows bettors to choose the most convenient way to manage their betting funds. It's worth noting that all transactions are secure and protected by high-level encryption technology, ensuring that financial information stays safe.
Moreover, DraftKings NJ Sportsbook has a well-structured and user-friendly interface that makes depositing and withdrawing funds straightforward and hassle-free.
| Method | Deposit | Withdrawal | Minimum Amount | Maximum Amount | Processing Time | Fees |
| --- | --- | --- | --- | --- | --- | --- |
| Credit/Debit Card | Yes | No | $5 | Varies | Instant | None |
| PayPal | Yes | Yes | $5 | Varies | Instant | None |
| Bank Transfer | Yes | Yes | $5 | Varies | 1-3 Business Days | May Apply |
| Play+ Prepaid Card | Yes | Yes | $5 | Varies | Instant | None |
| Cash at Casino Cage | Yes | Yes | $5 | Varies | Instant | None |
Download the DraftKings Sportsbook NJ App
DraftKings Sportsbooks in New Jersey also has a dedicated mobile app. Available for both iOS and Android devices, the app brings all the features of the desktop version to your fingertips.
Downloading and using the Sportsbook app is as follows:
Step 1

iOS Users

Visit the App Store and search for DraftKings Sportsbooks NJ. Follow the prompts to download and install the app.

Step 2

Android Users

Visit the DraftKings NJ sports betting site and follow the link to download the app. Due to Google Play Store policies, gambling apps cannot be downloaded from the store itself.

Step 3

Login/Register

Open the app and log in with the DraftKings account details. If you're a new user, register for a new account directly within the app.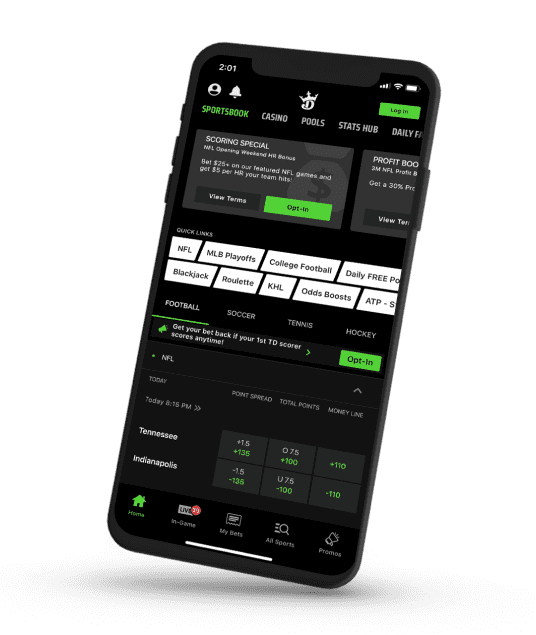 Benefits of using the app include:
Convenience: Place bets, track your wagers, and manage the account from anywhere, at any time.
User-Friendly: The app's design mirrors the desktop version, ensuring a seamless user experience.
Real-Time Updates: Stay updated with real-time odds, especially valuable for live betting.
Access to Promotions: Get instant access to DraftKings' latest promotions and bonus bets.
Secure: DraftKings New Jersey Sportsbooks use high-level encryption to ensure your personal and financial information security.
DraftKings Sportsbook Software and Platform Review
One of the standout features of DraftKings Sportsbook in New Jersey is its superior software and platform. Sportsbook delivers an exceptional gambling experience, combining sleek design with user-friendly navigation.
Speed of the Platform
Pages load rapidly, and transitions between different sections are smooth, ensuring you have an opportunity to place bets instantly. This speed extends to live betting, where odds are updated in real-time, providing an exhilarating betting experience.
Informing the Bettor
DraftKings does an excellent job of keeping bettors informed. The platform offers a wealth of information, from detailed statistics and betting odds to updates on promotional offers such as bonus bets on DraftKings.
Why Could DraftKings Be Your Best Sportsbook Choice?
Weighing these factors will help you decide if DraftKings is the best sportsbook for betting needs.
Wide range of betting options across various sports, including popular choices like football and lesser-known sports like fantasy sports.

Generous bonus for new players and the chance to earn bonus bets instantly.

User-friendly interface on both the website and mobile app, making it easy to navigate and place bets.

Promotions and bonus offers are regularly updated, giving NJ sportsbook users more chances to win.

Secure platform with top-notch encryption protocols to ensure user data is safe.
The play-through requirement for the welcome offer might be high for some users.

Live chat customer support is not available 24/7.

Not all deposit methods can be used for withdrawals.

Some betting options might be limited based on region and legislation.
How DraftKings Promotes Responsible Gambling?
DraftKings is deeply committed to promoting responsible gambling among its users. The platform provides various tools and resources to help users control their betting habits and prevent problem gambling. These include setting deposit and betting limits, cooling-off periods, self-exclusion options, and reality checks that inform users about the time they've spent on the platform. Moreover, Sportsbook supports and collaborates with organizations that help individuals struggling with problem gambling.
How to Contact DraftKings Customer Support?
Customer support at DraftKings is accessible and efficient, ready to assist users with any queries or concerns. Users contact the support team through the live chat feature on the website and mobile app. Additionally, DraftKings offers an email support option where users can send detailed queries. The support team strives to respond to email inquiries within 24 hours.
Physical Location of DraftKings Sportsbook in NJ: Where to Find It?
Address: DraftKings Sportsbook at Resorts, 1133 Boardwalk, Atlantic City
Website: www.draftkings.com
Amenities: A comprehensive sports betting experience with numerous betting windows, a bar, ultra HD video walls for game viewing, and a menu featuring pub-style food and drinks.
Placing bets: Various betting options are available, including moneyline bets, spread bets, over/under bets, and more.
Hours: Monday-Friday starting at 11 a.m.
Saturday-Sunday starting at 9 a.m.
Closing time: Based on the sports happening at that time.
Opened: DraftKings began its online operations in New Jersey in 2018, and the physical Sportsbook at Resorts followed soon after.
DraftKings Sportsbook FAQ
What Do I Get When I Use the DraftKings Bonus Code in September 2023?
When you use the bonus code in September 2023, you qualify for their generous welcome offer. This includes a 20% deposit bonus, up to a maximum of $1,000. If you deposit $5,000, you receive an additional $1,000 in bonus bets from DraftKings. Remember, the play-through requirement must be met within 90 days from the first deposit to receive the maximum bonus.
Does DraftKings Let Me Cash Out Bets Early?
It offers the option of cashing out bets early. This feature allows bettors to settle a bet before the event is over, which is useful if you want to secure a profit or cut your losses based on the current game situation. However, the availability of the cash-out feature varies based on the specific game and the betting market.
What is the Minimum Deposit at DraftKings?
The minimum deposit is $5. This low minimum makes this Sportsbook an accessible choice for bettors of all budgets among other NJ sportsbooks.
Is DraftKings Sportsbook Safe?
Yes, Sportsbook is a safe platform for online sports betting. It is licensed and regulated by the New Jersey Division of Gaming Enforcement, ensuring the platform complies with all state and federal laws. It uses secure, encrypted connections to protect your information and provides several responsible gambling tools to help maintain a safe betting environment.
What is the Jackpot Parlay Feature, and How Does It Work?
The Jackpot Parlay feature is a type of bet that allows bettors to place a single wager on multiple games. If all the picks in the parlay win, the payout is much higher than if the bets were placed individually. The "jackpot" part comes into play because the potential winnings can be very high, particularly if many games are included in the parlay.
Do You Have to Live in New Jersey to Bet on Sports?
No, you do not have to live in Garden State to bet on sports with such Sportsbook. However, you do need to be physically located within the state of New Jersey at the time you place your bet, as confirmed by geolocation technology. This is a standard requirement across all NJ sportsbooks due to state gambling regulations.